25/12/2007
Happy New Year 2008!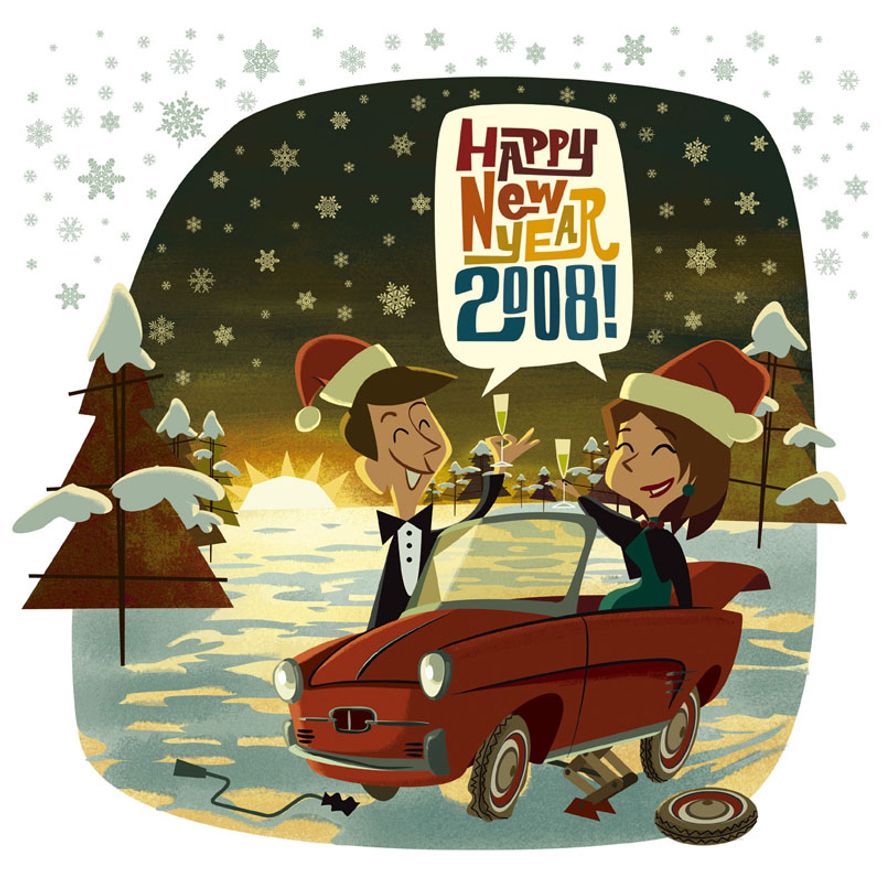 To celebrate the holidays, we have finally made our long-awaited wish come true by creating a festive holiday single to give away to our mates!
With this single we would like to give thanks to everyone who has helped us througout the years, especially fans of the label, without their help none of this would be imposible. A special single with songs which will make us forget all the hard times and help us ring in the New Year with bells and whistles.
Four songs from the latest signed Elefant artists. The most recent one, THE SCHOOL, a project of 8 restless musicians from Cardiff which put out their first song precisely on this single. Last September, they packed their bags and moved off to London to record, under the guidance of Ian Catt, seven delicious songs which will be put out in two singles at the beginning of the year, a sweet and exquisite carol with a very 50's holiday pop feel to it. Caitlin and Sauna [they are only 6 years old!], our kids HELEN LOVE show their adoration of Joey Ramone is more alive than ever and continues throughout the generations, they create a snowman out of Joey Ramone and this way, Santa Claus won't have any problems finding them!! Absolutely adorable! CORAZÓN inspires us with their brilliant, sad and melancholic carol highlighted with rural folk strokes, providing an authentic flavour of Christmas. Carlos and Nando are placing the final touches to their new and highly anticipated album, an album which includes the production of Ibon Errazkin, practically guaranteeing a classic spot in the Elefant catalogue. To culminate the single, Nicole and P, our friends from Hong Kong, wanted to celebrate the holidays in a special way; they always mention their friends in their songs, so it is of no surprise that the protagonists are the recently married Por and Macho to the happy Newlyweds!
2007 has been an intense year for Elefant. We've put out so many cds and gone on so many tours, concerts and events, but 2008 has a lot more in store for us filled with surprises and remarkable moments. LA CASA AZUL will continue on tour throughout Spain to present new songs from the latest hit album. SINGLE will play live on stage for the first time, all a big surprise, along with visits from various international groups from abroad. They are all groups which joined Elefant and 2007 and will put out their new albums in 2008.
We will kick-off January with two exclusive singles from TV PERSONALITIES and STEREOTOTAL. On top of it all, the Germans do covers of songs from LE MANS, LA CASA AZUL and NOSOTRÄSH!! And of course sung in Spanish! SINGLE will also put out "Pianístico" in January, a new single with three unedited, absolutely surprising songs. We'll also see the release of the latest video, "Pío Pío" starring, for the first time, Teresa Iturrioz herself and her first concerts! Concerts of LA CASA AZUL will also be enticing us in 2008 and we'll hear new music and new mixes!! New label groups such as THE SCHOOL, THE CARROTS, SPEEDMARKET AVENUE, LINDA GUILALA, SUCRETTE, SERPENTINA, COLAJET SET or MODULAR will put out albums this year and almost all of the old school groups will do something worth remembering, as well: LES TRES BIEN ENSEMBLE, COOPER, CORAZON, LA MONJA ENANA...
We wish everyone a Merry Christmas and hope that 2008 is the best year of your life yet!
Happy Holidays and Happy New Year 2008!!!
p.s.: Remember that this is a present for all friends of the label (groups, journalists, dj's, promotors, venues, radio stations...) and for all Elefant customers who place orders this holiday season!!!
We hope you enjoy this unique and special gift!!
Tracklist: 1. THE SCHOOL "Kiss you in the snow" 2. HELEN LOVE [Caitlin y Shauna] "Joey Ramone snowman" 3. CORAZÓN "El regalo" 4. MY LITTLE AIRPORT "Por and Macho got married"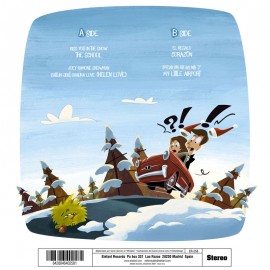 ELEFANT: Happy new year 2008!
picture: Happy new year 2008!
25/12/2007