Biography
P: casio, melodica, guitar and piano
Nicole: lead vocals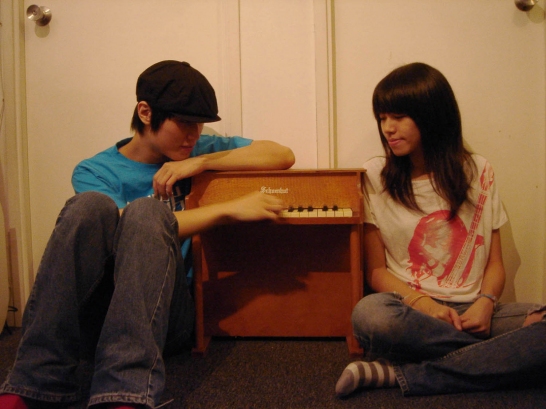 MY LITTLE AIRPORT is an indie-pop/electro-noise-pop band from Hong Kong (second signing from Hong Kong on Elefant Records, after THE PANCAKES), formed by P and Nicole, classmates in college since 2001. They studied journalism and communication, and graduated last year. The band was formed in 2001, when they used to fool and play guitar at their friend's shop after school ("Josephine's shop", hence the song on the album), and P got addicted to writing songs with stories about friends around him. Since then, their lyrics are usually about relationships and stories between P and his old friends. Really, about them. Just check out titles like "Victor, fly me to Stafford", "You don't wanna be my girlfriend, Phoebe", "Dee, it may all end tomorrow" or the waltzy "Leo, are you still jumping out of windows in expensive clothes?".

Their twee-pop approach shares the naïveté of the Sarah Records bands, the charm of THE SOFTIES and the vocal tones of HEAVENLY's Amelia Fletcher. Sometimes their sound veers towards punk-pop and HELEN LOVE (like on "Gigi Leung is dead"), and they also acknowledge their love for SLOWDIVE and MOJAVE 3. But, with a song named "When I listen to The Field Mice", how can
a band be anything but indie? However, the fact they sound indie and twee doesn't mean they don't have their own dark moments and secret thoughts. Or not so secret: the song "I don't know how to download good AV like Iris does" is a little ditty about wanting to download... porn (AV stands for Adult Video). But, of course, they sing it in a playful and sugary way.

Their first show was at The Warehouse Teenage Club, Hong Kong, on November 22nd, 2003. Their friend William helped on drums, P played guitar and Casio keyboard, and Nicole sang. After this first show, they have sometimes played as a full band with their friends, although most times they play by themselves, only P and Nicole.

As a music duo, MY LITTLE AIRPORT released a first album called "The OK thing to do on sunday afternoon is to toddle in the zoo". Yes, they like long titles. The album was an instant success. It had such a good reception that it sold out in a few weeks. It was a refreshing electro-pop album about memory, youth, growth, friendship, emotions, time and space. The title track hit the most important Hong Kong Radio charts and became the no.1 indie anthem in the summer of 2004: top 10 of Commercial Radio CR2's Ultimate 903 music chart; top 20 of CR1 chart. It even hit HMV's top selling chart at no. 19. Their first CD release party was a big success in Hong Kong with the venue fully packed with fans. Whilst a CR2 DJ described them as "First New Indie Star of 2004", Hong Kong's publications were flooded with their news: SCMP's Youth Post, MCB, MILK, Cream, Sing Tao, Sing Pao, CosmoGIRL, PM, Appledaily, East Touch, HK Economic Post...

They established their own label Harbour Records in 2004, with four other indie bands from Hong Kong, and in 2005, after slightly changing their music style to noise-pop/shoegazing and dream-pop, MY LITTLE AIRPORT released their 2nd album, called "Because I was too nervous at that time". If "The OK thing to do..." was about the emptiness left over by friends on their departure, then "Because I was..." turned out to be the hidden agenda among people roaming for a departure.
They were invited to perform in Taiwan twice in 2005, and release on Elefant Records "Zoo is sad, people are cruel", a fourteen-song album compiling the best moments from their two previous releases. A wonderfully cute selection of songs that will make you laugh and it will make you sigh, and above all it will fill you with joy.

Merchandise
Elefant Records
Turntable Slipmat


Buy
view all products
Latest activity