31/08/2018
PAPA TOPO & YURENA: "Ese Hombre" Single Digital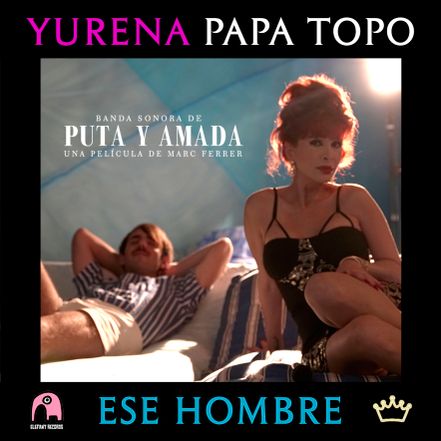 A major event in pop is happening! Yurena, many years after her debut (which included the work of composers like Carlos Berlanga, Nacho Canut, Luis Miguélez, Tito Pintado, Teresa Iturrioz and Ibon Errazkin), is flirting with underground Spanish pop again, in a flaming collaboration with PAPA TOPO. The song, "Ese Hombre", is a highly danceable disco-pop duet cover of the marvelous original written by Manuel Alejandro and Ana Magdalena in 1980 and made famous with the voice of Rocío Jurado.

This Single is the advance of the release of the soundtrack for "Puta Y Amada", the new movie by Marc Ferrer, in which both Yurena and Adrià Arbona (the frontman for PAPA TOPO) have acting roles and show off their more interpretive sides. Yurena has always been an esthetic reference for Adrià from the beginning, and in many PAPA TOPO concerts they have performed a cover of the pop anthem "A Por Ti". Their meeting in the filming of "Puta Y Amada" made it possible for this duet to become almost inevitable. The movie had its world premiere at the D'A FILM FEST in Barcelona, and has also been shown at the Atlántida Film Fest and on Filmin.

The "Puta Y Amada" soundtrack album is a three-song Digital Single, released by Elefant Records, which also includes the long-awaited duet with PAPA TOPO and another of the great divas of pop today, La Prohibida, who gives voice to the heartbreaking love story told in the song "Telenovela", which Adrià and the director Marc Ferrer wrote together for the movie, with influences ranging from the PET SHOP BOYS and MOMUS musically, to Giallo and film noir cinematographically.

The song "Extasis Total", sung by the trashiest pop duo at the moment in Barcelona, BELINDA Y DELFINA, will also be included on the Single. BELINDA Y DELFINA are a kind of dirty version of "The Young Girls Of Rochefort", whose references are DIVINE and John Waters, Warhol, the most punk version of Almodóvar, and Violeta Gómez. They also appear in the movie performing this song, which is an anti-anthem criticizing the level of accommodation fostered by the system, a call to disorder and diversion from a pop perspective, with close ties to "The Society Of The Spectacle" and zombie movies, and which is also written by Adrià Arbona and Marc Ferrer.

"Puta Y Amada" is Marc Ferrer'sthird film. The soundtrack of his earlier films, "La Maldita Primavera" and "Nos Parecía Importante" were released digitally as one album, and include songs like "La Llamada" and "Mátame Cariño". Marc has also recorded several videos for PAPA TOPO as well as the video for "La Pubblicità (Un Mondo Ideale)" for La Prohibida.