Biography
PAPA TOPO arrived from Mallorca (Balearic Islands) and ever since they put their first songs online they became an overnight success, as one of the most searched for groups online and one of the most talked about groups on all kinds of blogs and forums. The power of the Internet made it clear how far they could go, and their demos were cause for worship. When their debut single, "Oso Panda", came out, it was heard all over the world and didn't even last a week in stores (500 copies). It sold out as if it was a primary necessity in the midst of an interstellar war. They create super-catchy melodies, halfway between the urgency of HELEN LOVE, the immediacy of LA CASA AZUL, and the simplicity of REGALIZ.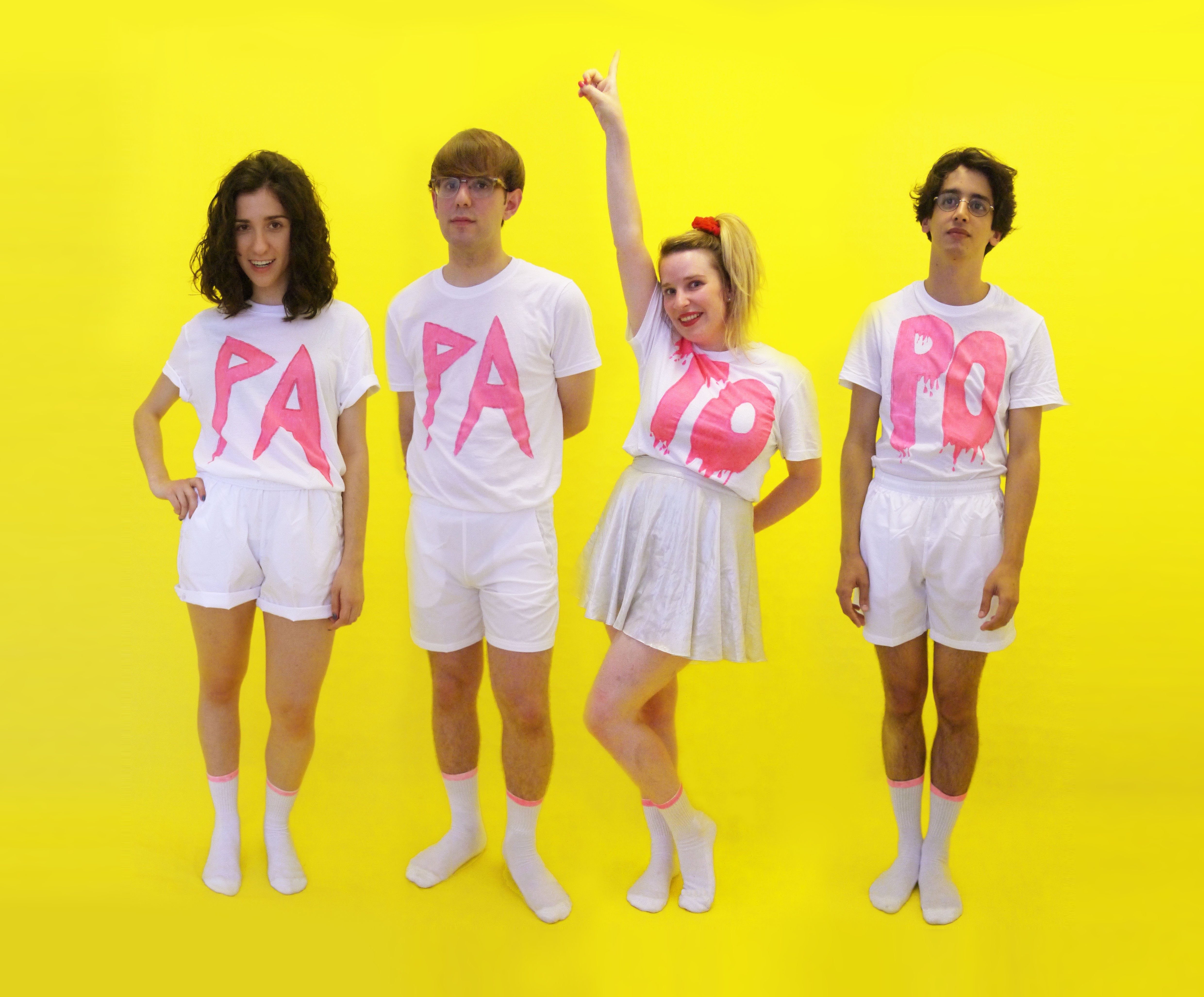 The story of PAPÁ TOPO begins with Adrià making music from his earliest infancy in Binissalem, a small town in Palma de Mallorca. But the world opens up for them when, at 13, Adrià, thanks to an article in a magazine, becomes interested in indie-pop. Here's how he describes it in an interview on the Discotraxx web: "I've been listening to indie-pop since I was 13 or 14, and I started listening by coincidence: I read an article about independent cinema in the magazine Fotogramas and, since I didn't really know what indie meant, I Googled it. One of the first groups I found was CAMERA OBSCURA, and that was really important for me: thanks to them I discovered other groups on the Elefant label and when CAMERA OBSCURA played in Mallorca in 2006, that was the first concert I went to without my parents. I think it was one of the concerts I've enjoyed most in my life. Since then my musical taste has gone on evolving and I've discovered twee pop, which is what I listen to most. Apart from that, I listen to (and am influenced by) other styles like riot grrrl, punk pop and yé-yé. Here on the island there weren't any other teenagers who were listening to what I was (or at least none that I knew of), but I kept giving my friends music to listen to and now all of the people I hang out with listen to the same kind of stuff."
While summering, he spends his days listening to CAMERA OBSCURA, LA CASA AZUL and BELLE & SEBASTIAN, among others. At the same time, he listens to a Rough Trade compilation, thanks to which he comes into contact with pop from the 80s/90s (HEAVENLY, BEAT HAPPENING...). His love for this style grew stronger and he starting writing some songs.

2007

Adrià begins the adventure of putting a group together and he talks to some friends he occasionally got together with to sing and play piano and guitar, but they only made two songs (one of those songs, "Cancion de un Estegosaurio", was recovered for PAPA TOPO's first demo) and in the end the whole thing was forgotten about.

2008

In the summer of 2008, Adrià writes "Canción para Jordi" as a present and, pleased with the result, he puts it up on Myspace. That is where PAPA TOTO at that moment becomes defined, with him as their main songwriter.

"I'm a rebellious teenager and I like pop. I spend my time with toy instruments that I collect (and some are things I held onto from my childhood), writing and recording silly songs that make me momentarily happy. I'm a defender of DIY and the lo-fi sound. My songs are usually about: corny love and stories about animals. I recorded a demo and I'm making a second. Other things I like: plaid blankets, flower-printed paper, a cup of tea, panda bears, ramen, little outdoor markets…"
One of the first comments he receives is from Guille Milkyway, who said:
"SPECTACULAR!!! A simply marvelous song. Please let me know if you put any more up. I'll be waiting for it!!! xo, Guille"
Moved by that and other comments, he writes more songs that he records with the internal microphone on his computer and uses the toy instruments that he collected. He puts the songs together on a demo that he puts up on Myspace for free downloading.

Through the Internet, he begins to make his first contacts in the music world (EL MAGO HOWL, GUATAFAN, OKLAHOMA...). That is how he meets Johnny, the leader of a Mallorcan band called MONTA-MAN. He becomes something of a godfather to Adrià, and introduces him little by little into the island's music scene. Later, and thanks to these introductions, he was able to play in various places, as he helped him organize the concerts and played guitar in some of PAPA TOPO's shows.

In November, he is offered to play his first concert in the Cultura Club, one of the island's most popular venues. The concert took place on November 20th. Adrià played a solo show using only a few metalophones and a casiotone. He brought everything else prerecorded. Adrià remembers it as one of the most nerve-wracking moments of his life, he was trembling throughout the whole concert and wishing it would be over.

He repeats this same format in two more concerts, one of which is a special Christmas concert in the Cultura Club (sharing the stage with AMARILLO, one of the island's most well-known indie bands).

At school he meets two guys who play the guitar and the bass (Juanjo y Sebastià) and he begins practicing with them. Knowing that he could now play with them live, he records a few songs with guitar and bass, evolving the sound of PAPA TOPO considerably.

2009

Adrià meets Paulita in the middle of February, in an audiovisual arts meeting, an in a short time, he suggests that they see how her voice fits for PAPA TOPO's music. They had an intense weekend of three concerts in a row and, after that marathon, Adrià asked her to become an official member of the group. Shortly after, Juanjo and Sebastià leave PAPA TOPO to focus on their own projects. Carlos and Alicia take over for a period of time. Currently, the band's members vary with each concert, counting on collaborations from friends in the music world, like Johnny MONTA-MAN or Alberto Iniesta of LOIS CASINO.

In one concert, they meet Alberto Lozano, a young musician who was getting a recording studio together. He suggested recording a few songs for them and they did: the now mythical "Oso Panda" and "Lo que nos gusta del verano es poder tomar helado" were released the first month of summer. When they put the new recordings on Myspace, the popularity of the group grew in leaps and bounds. This popularity brought them to appearances on two local summer television programs (Canal 4 e IB3), playing a few of their new songs.

The subsequent posting of the videos from these performances on Youtube is what sets off the wave of blogs talking about PAPA TOPO: the blog "360 grados de separación" publishes a post showing their surprise and from that moment other blogs begin to write about the band. Everyone has something to say and they all especially point out the mix of rebelliousness and ingenuity of their songs, their tremendously catchy melodies and their influences, which range from LA CASA AZUL to TALULAH GOSH and ENRIQUE Y ANA and REGALIZ: "We love this, this music is so much fun for us. In fact, this year for my birthday my present was the vinyl of "Aprende a multiplicar con Enrique y Ana". We love the youthful pop style, but we're not as cheesy as we seem. It's true that our interests aren't the most typical among teenagers of our generation and we're proud of it, but that doesn't mean that we don't have a social life or that we spend the day talking about lost pandas. And musically we don't try to be an original or innovative group, just to have fun making music that we like, as cliché as that may sound".

Their appearance on "Je Ne Sais Pop", one of the most important music webs/blogs in Spain, must be mentioned. In the last months of 2009 they publish a few articles that have an enormous effect: according to the writers of "Je Ne Sais Pop", no other demo-group had ever generated so many hits on their website as PAPA TOPO did. Later, that article made history as the fifth most visited of the year on the website.

They participate twice on "Radiocassette", the radio program of Marcos Javega from RAYUELA DJS (both the radio program and RAYUELA DJS were considered one of the best of Spain on Rockdelux magazine's 2008 list). The first visit is an interview and on the second, Paulita and Adrià play music they like with Johnny MONTA-MAN.

In the summer they give a concert as a part of the Verbena that the collective "Es Papagayo" organizes. The audience sings along with the choruses of all of PAPA TOPO's songs, leaving everyone, including the band, amazed at the requests for them to play "Osos Panda" and "La chica vampira" again.

Around this same time they receive various offers from record labels but it was Elefant in the end who got in touch with them and, as you can see, turn out to be their best choice. Paulita and Adrià used to joke about how great it would be to sign with Elefant, though they never thought it would ever happen.

The group's name is mentioned more and more and the quantity of articles about them online makes PAPA TOPO an incredible cyber-phenomenon, to the point that they get two important dates at the end of September off the island: one in Barcelona, in the Razzmatazz's Pop Bar and the other in the 9th anniversary of Ocho y Medio in Madrid. Adrià (17) and Paulita (15) have become, on their own merits, one of the youngest promises of international indie-pop.

2010

In March, PAPA TOPO's first single is released; it's the first release of the collection "New Adventures in Pop", a new project with which Elefant is trying to help and support new national and international demo-groups, through the release of limited edition colored-vinyl singles that have the first recordings of the groups.
PAPA TOPO's single includes "Oso Panda" and "Lo que nos gusta del verano es poder tomar helado", the versions recorded by Alberto Lozano, but also handled by Guille Milkyway, who rerecorded some parts and mixed everything with love and care to maintain the demo-spirit of the collection. The single also includes a B-side, two remixes of "Oso Panda" by Guille Milkyway (Switched on Nashville Milkyway remix), one with vocals and another instrumental, a fun and spectacular remix, a clear homage to the discs made with Moog synthesizers at the end of the 60s with an air of panda country.
Since they put their first songs online, PAPA TOPO became one of the groups with the most online searches, one of the most talked about in blogs and forums of all kinds, almost overnight. The power of the internet made it clear how far they could go and their demos were cherished. When their debut single "Oso Panda" came out, it quickly made its way around the world and didn't last a week in stores, selling out as if it were an item of prime necessity in the midst of an intergalactic war. The video was another online boom, and had more than 20,000 views just a few hours after going up on YouTube. After just one day it had already received 9 awards on the most famous video website in the world, from the number 1 position in "superfavorite music videos" to the number 2 position in "today's most watched", as well as other important rankings like "most liked", "most commented", "most viewed" and superfavorites… To date, three mere months since its online release, "Oso Panda" is quickly reaching 150,000 visits on YouTube and is way passed that on their MySpace profile. Lluís Prieto (director) and the whole team at Llaüt Digital (a young and promising production house from Palma de Mallorca) knew exactly how to get the most out of the audiovisual part of one of the biggest indie hits of the year. The video is equal parts fun, carefree, caustic and youthful, the same sharp humor that, like in the album cover photo, gives the clear message that, despite the young age of our heroes (Paulita is 15 and Adriá just turned 18), both have got their heads on straight and have more than enough attitude and talent.
In a few short weeks they managed to get the attention and affection of thousands of fans all over the world, and the most incredible, Martian-like things have happened to them: Ortega y Pacheco immortalized them in an "El jueves" comic strip; the prestigious British music critic, Everett True - collaborator at New Musical Express, Melody Maker, The Times, author of books about THE RAMONES, THE WHITE STRIPES and NIRVANA (he introduced Kurt Cobain and Courtney Love in a BUTTHOLE SURFERS concert and is most probably the reason NIRVANA played covers of THE VASELINES), founder of the magazine Plan B and a member of the group THE LEGENT! (with albums released by Creation, Sub pop and K records) – chose none other than "Oso Panda" as the song of the day on his prestigious blog. The video for "Oso Panda" reached the number one position on MTV's Top 20 and it was one of the most played on Sol Música. LOS PUNSETES invited them to play as the opening act at their album release party in Madrid in June, and MySpace invited them to participate in their space at Primavera Sound… There are so, so many things that have happened since their debut single was released that we could almost write a book of anecdotes.
Their new video "Lo Que Me Gusta del Verano Es Poder Tomar Helado" is super-refreshing and summery, directed by Lluís Prieto (Llaüt Digital). Lluís is back to play in a fun way, with an explosion of colors; dreamy, cinematographic imagery; mixing and playing with fiction and reality in the ample universe that surrounds PAPA TOPO, without a doubt the best new indie group of 2010.
On July they play with LINDA GUILALA (they played a song with them) at the Indietracks Festival in England.
2011

If "Oso Panda" represented the poppiest part of the group formed by Adrià and Paulita, "La chica vampira" is the punk part. Once again Guille Milkyway is responsible for the production, and our friends from Mallorca leave all the fans of the Twilight saga dumbstruck with their defiant and unpretentious song, that definitely has some of the posings of the best of LOS PEGAMOIDES and the urgency of HELEN LOVE and PLASTIC BERTRAND, with Paulita playing up her brazen and rebellious innocence, which has already won her so many fans. Attitude. The limited edition, 7" single's B-side has "Capuchas de lluvia", which, despite starting off like something between THE BEATLES, Francis Lai and Claudine Longet, is soon invaded by distorted guitars soaked in the first songs by LUSH or RIDE, the PALE SAINTS or SLOWDIVE and becomes a song with a certain air of melancholy. This is definitely a new release that will satisfy our ravenous appetites for new songs from our current favorite group. We'll see what new limits they're capable of blowing out of the water. The world is theirs.
Click here to watch the video-clip of "La chica vampira"