29/10/2021
MARIA RODÉS Y LA ESTRELLA DE DAVID "Contigo" LP/CD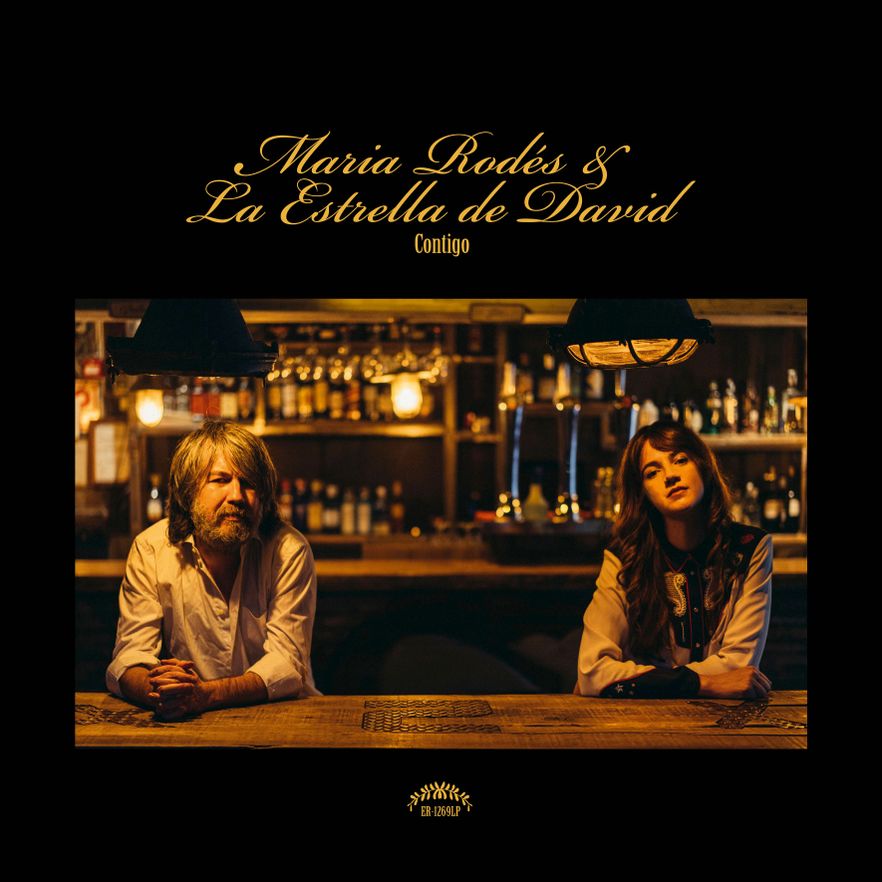 Chemistry is magical. Just ask Heisenberg. Its laws constantly defy the logic of what we call common sense, and open doors to new worlds that are hard to explain, but absolutely fascinating. And music? Music is magic. Nobody knows what type of frequencies move our insides, and why it takes them to such great heights, but neither physics nor specialized critics can explain the reasoning they follow and that provoke such emotional chaos. And what happens if you mix chemistry and music? Oh, my friends, oh my… Don't wait for us to explain it, after these lines to present this album. We'll just help you set some precedent: Lee Hazlewood and Nancy Sinatra, Kathleen Brennan and Tom Waits, Marvin Gaye and Tammi Terrell, Isobel Campbell and Mark Lanegan, Jane Birkin and Serge Gainsbourg,Bobbie Gentry and Glen Campbell… Something similar has occurred with Maria Rodés and David Rodríguez. It is hard to define, but it gives us the feeling that on "Contigo", their first album, everything flows, everything works, everything is in the right place, balanced, exciting.


We can't forget the important work of the (please allow me here) chaperone, Sergio Pérez (SVPER, PEGASVS, THELEMÁTICOS), who has done a titanic job on production and who plays almost all the instruments. In recent years, Sergio has stood out for his tremendous work as a producer. Joe Crepúsculo, LA BIEN QUERIDA, MUJERES, CHUCHO, Lidia Damunt, CARIÑO, PAPA TOPO, SIBYL VANE, LOS PUNSETES, CABIRIA and dozens of key albums from the last decade. And in this case, he somehow makes the twelve songs on this album connect the most characteristic aspects of our protagonists' individual careers: a sense of humor, sensitivity, imagination, tenderness, irony… Don't make us tell you which belongs to whom; we're not completely sure. With a costumbrist air and an eye towards country. And so, so much chemistry. It is a conceptual album about a relationship that begins and ends, but above all it is an album that has the ability to talk about love and beautiful things honestly, with touches of irony, without pretense or empty tropes, staying away from sentimentalism and suffering. They are so transparent they are like water you want to swim in for the rest of your life.
They already showed it on "Hacer El Amor", the first song they released, and that is the bluegrass rhythm opening track of this album, makes it clear from the start what is going to define this album: attention to detail, lyrics full of references, dazzling touches, and a certain country-folk orthodoxy that fits them like a glove: lyrics about harmony and affection ("Querernos lo justo / Para amarnos siempre / Será pedir mucho / Quizá, no lo sé") [We want just enough / To love each other forever / It might be asking too much / Maybe, I don't know], with a sly smile, that touch of humor that lets you peak behind the curtain and see that, ultimately, this is very serious. Or not. "Lo Que Venga Ya Vendrá" brings on the Tex-Mex rhythm, evoking Dolly Parton herself in the very voice of Rodés: "Después de tanto años de revolotear / He encontrado un nido en el que me quiero quedar" (After so many years of fluttering around / I found the nest I'm going to stay in). David gives her a turn at the lead vocals with the ranchero spirit that seeps out of every pore of "Viernes", with its melancholy and its woeful evocations, and those trumpets that would excite CALEXICO themselves. How wonderful is "Un Mundo Ideal". It perfectly reflects that moment of romantic tension, of being aware of loving, and the unawareness of the object of that love. And those melodies, that pop urgency. It is exquisite.

"Venga Va" is probably the peak of that magic we were talking about in the first paragraph: a new exercise in melancholy that brings to a culmination what was just beginning on "Un Mundo Ideal", a perfect duet where each of them gives a little push toward the peak in a song full of inspiration, capable of turning the quotidian into pure excitement. Those nerves, typical of the most inexperienced lovers, that any of us can identify with so completely. And then they go for it: "O lo haces tú o lo hago yo / Lo nuestro es como una canción / Del Festival de Eurovisión" (Either you do it or I do / What we have is like a song / From the Eurovision Festival). The sense of humor to wrap up a magical moment, to keep the levels of saccharine low and make everything feel much more realistic.
"Eres" is closer to fifties soul from a country-folk perspective. It is an exercise in intimacy from Maria Rodés, who puts her all into it, showing the sensitivity her voice is capable of expressing. "Milagro" pulls out all the stops on a night of dancing: clapping, Tex-Mex, and the euphoria of the culmination of a desired love. The celebration, Maria and Davidin unison. Incendiary.


"Zombi" is "Zombi". The second advance single is something only they could have written. The first time you realized that the things that seem perfect don't always last forever. Accepting defects. A glorious chorus. Again, excitement and a sly smile. They've done it again. "La Última Vez" continues to glorify ternary rhythms and uses sounds as rising emotions. Maria's voice is incredible, so expressive. Distances begin to show, space is created, because of love and the lack of it. "Ahora que tu cuerpo es un extraño / Que ya no me atrevo ni a tocar / Ahora echo de menos el misterio / De esos grandes ojos negros / Que me querían mirar" (Now that your body is a stranger / I wouldn't even dare to touch anymore / Now I miss the mystery / Of those big, black eyes / That wanted to look at me).


"Fantasmas" begins riding away, fleeing. The anxiety, the pain, the spite, the feeling you'll never be able to love again, and the belief that you must rise up again. She knows it's going to be intense. The song unfurls with Mediterranean echoes and spaghetti western airs, connecting music on two different shores (that's what Morricone did, isn't it?). Then it's his turn: "Lo Que Yo Quería". David, intense and calm. Accepting mistakes, understanding that wrong choices were made, and that they all led inevitably to the break-up.
And just like on so many songs we find a sly smile, this one has as much bitterness as sweetness; this song winks knowingly at all the other songs. "Nos Vamos A Divorciar": liberation, the irony of looking back and thinking about what we felt for a person who doesn't mean anything to us anymore, who we don't want to be close to. And finally, recognizing the idiosyncrasies of being human: "Me volveré a enamorar" (I will fall in love again). The never-ending story, the eternal return. And the steel pedal that represents our protagonists walking off in opposite directions, in search of the next story to live.


"Contigo" is nothing more and nothing less than the product of two of the most representative and personal names on the Spanish indie scene, where together, they strengthen each other's virtues and make them shine, where they show us who they are as musicians, as story-tellers, as creators. Where the math doesn't make sense – the sum of one + one becomes some unresolvable unknown. Because, didn't you know it, math is also magical.
TRACKLIST: 01 Hacer El Amor 02 Lo Que Venga Ya Vendrá 03 Viernes 04 Un Mundo Ideal 05 Venga Va 06 Eres 07 Milagro 08 Zombi 09 La Última Vez 10 Fantasmas 11 Lo Que Yo Quería 12 Nos Vamos A Divorciar