29/06/2018
LIA PAMINA & DARIO PERSI: "So Far Tonight" Single 7" Vinyl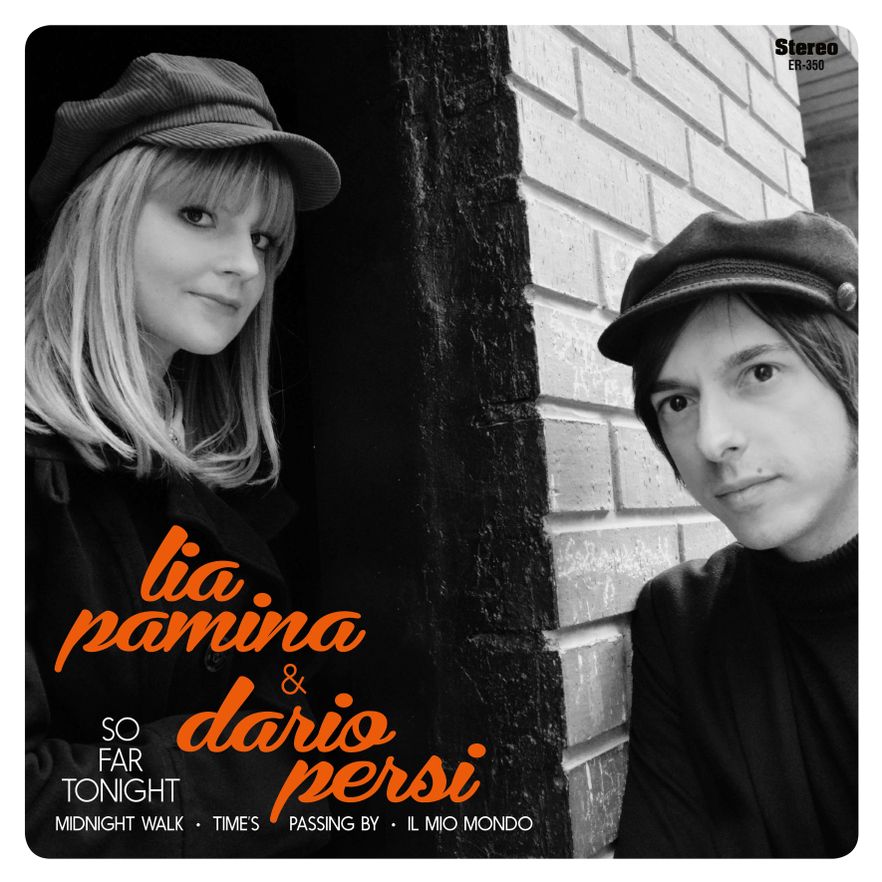 We have a really special release in our hands. A 7" Single arising from the collaboration of two artists who make different sounds, but who have the same references and inclinations. Something like the two sides of the same coin, maybe in its most potent version. And on "So Far Tonight", a numbered, limited-edition, orange-colored vinyl, Spain's Lia Pamina and Italy's Dario Persido an absolutely marvelous exercise in sixties sounds, with each of them contributing their own vision and qualities.
Dario Persiis the singer from RADIO DAYS, one of the most important power pop and sixties sound groups in Italy and all of Europe. They released 3 albums, 2 EP's and 2 vinyl Singles shared with bands like THE RUBINOOS and PAUL COLLINS BEAT. They have given more than 300 concerts in Italy, Japan, France, Switzerland, Austria, Germany, Belgium, UK, Sweden, Denmark, Hungary and the Czech Republic, with stops at international festivals like Purple Weekend in Leon (Spain), International Pop Overthrow in Cavern Club in Liverpool, Fuengirola Pop Weekend in Málaga (Spain) and Festival Beat in Salsomaggiore Terme (Italy). And our Lia Pamina is building her fan-base, spread out all over the world, even bigger, and is still accumulating a list of the most respected producers and collaborators, release after release.

On this Single, Dario, other members of RADIO DAYS like Mattia Baretta, the regular producer for RADIO DAYS, Marco Alberto Matti andLia have made an absolutely organic recording, on which the presence of vintage material abounds, in order to maintain a sound that is loyal to their original releases.

They shared the song- and lyric-writing work, and the result of this "So Far Tonight" is a joint effort that gives us fantastic moments that are full of magic. "So Far Tonight" is a song by Dario that could perfectly have been one THE BEATLES' greatest hits, with a touch of fantastic garage and amazing choruses. Lia Pamina's entrance opens the palette of colors and gives everything an especially exciting tone of sweetness. "Midnight Walk" is one of Lia's songs, which has enjoyed a more electric and nervous production, and which breathes a folk spirit the musician from Castellón usually celebrates, but this time takes on a more THE KINKS-like touch, thanks to Dario's guitars. Marvelous. The B-side opens with a song by Dario. "Time's Passing By" reminds us more of LOVIN' SPOONFUL and THE HOLLIES, with a pure touch of pop and ye-ye, and a very Phil Spectorinspiration. It's a solid song. And to close, we have a version of "Il Mio Mondo" that Umberto Bindi and Gino Paoli wrote in 1963 and that Cilla Black later made popular. Our protagonists truly overwhelm us with their performance, with Lia singing in Italian and backed by Dario, with totally unleashed drums and strings that remind us of the best Italian pop from the sixties.

This Single will win over all fans of the sixties sound, fans of both Lia Pamina and of RADIO DAYS, and above all, anyone who is a fan of solid, unforgettable music.