16/09/2021
interrogación amor: "vómito y mariposas" LP 10"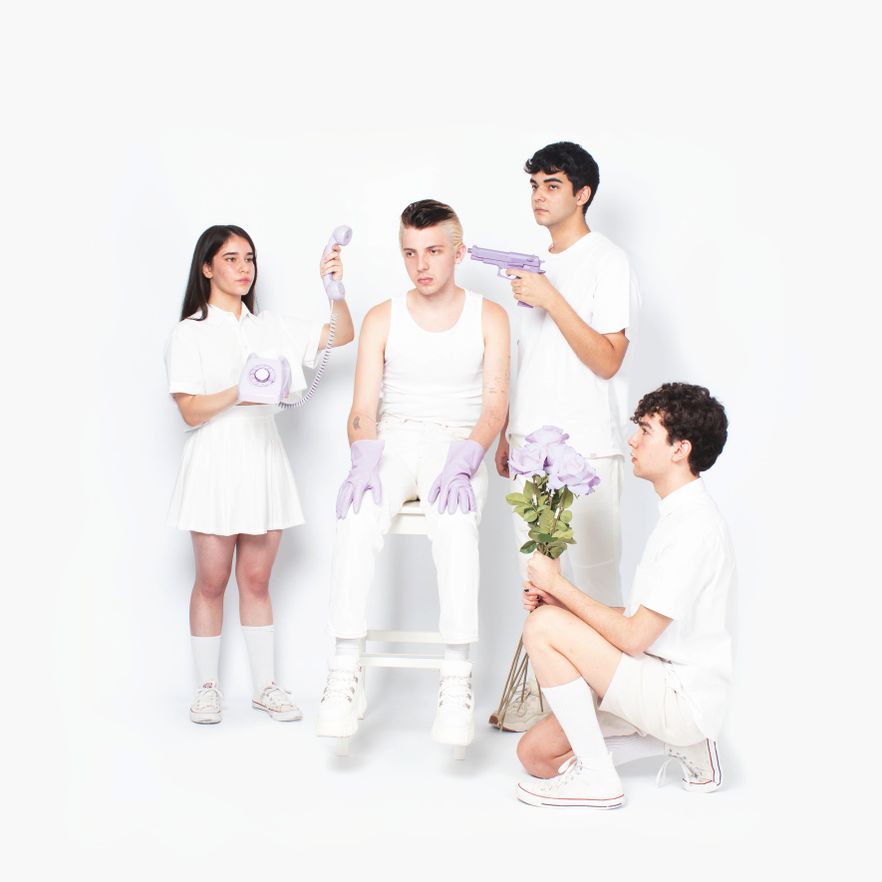 They are one of the more personal projects to come out of Madrid in a long time. Somehow, they are the heirs to that tradition of mixing risk, vanguard sound and pop melodies, with a taste for a specific esthetic and an artistic spirit that has marked bands like KRAFTWERK, THE RESIDENTS, STEREOLAB, OVIFORMIA SCI, Björk, PORTISHEAD, Ela Minus, DÉCIMA VÍCTIMA, Arca and so many others. That's why we wanted their debut album to have a physical release in line with the esthetic and musical content. INTERROGACIÓN AMOR's first album, "vómito y mariposas", came out on September 16, 2020, when they were still a quartet formed by Yolanda Martín, Daniel Salgado, Carlos Martínez and Javier Sanz. One year later, the project has taken a turn, with just Carlos and Javier on board, and the end of the era confirmed with the release of "mariposas y vómito", an album that is a sort of reaction to the original, where all of the songs from the original are revised with the help of special guests like SHEGO, DANI, Valdivia, LISASINSON and GINEBRAS. But the original was one of the albums that we have most listened to since it came out, here at Elefant Records. It is the embodiment of a cult album, and that's why, a year after its digital release, we are releasing this marvelous collection as a precious transparent, limited-edition, 10" vinyl. But let's take advantage of the opportunity to dive into each of the songs on this incredible collection once more.
The instrumental opening track, "8,2 segundos", spoken-word, ambiance, like THE XX blowing up autotune, starts things off by putting all the cards on the table: this is not status quo, but their ability to get to the greatest depth is astonishing. "chicas guapas" is the hit. Definitely. It has it all. It's slippery but magnetic. An impeccable, epic chorus that is under cover and contained. After the guapas (pretty girls, in Spanish) come the ugly boys - "chicos feos". Who can resist a chorus that begs, almost whispering, "Sólo pienso que eres guapo / Cuando pasas por mi lado / Montando en tu skate / Ojalá que fueras gay" (I only think you're cute / When you pass by / On your skateboard / I wish you were gay)? Playing with the sexes, without restrictions, without holding anything back. "tú y yo" (with the collaboration of ALGO) gets back to the immediacy through synth-pop, much more luminous, open and direct.
"mentira" returns to weaving ambiance, silky textures among guitars with choruses and rhythmic bases that remind us of the most inspired moments of LALI PUNA and BOARDS OF CANADA. But "vómito" is a stylistic leap: post-punk with a thundering, saturated bass, rebellion and resentment, lies and reproaches, elimination. It is a significantly dark song, that stands out among the rest because here the epic genre opens up unabashedly, with devastating consequences for the listener. The answer is "y mariposas". Soothing, the calm after the storm. Instrumental, evocative. Like when you need to isolate yourself and reflect after having inevitably lost your temper. "mala fama" has a smoother, more fluid, mysterious, deep phasing. The song contains the reason behind the group's name. Detailed, sinuous arrangements. Hypnosis. Broken rhythms. Goosebumps.
"canción de amor" is a journey to the darker side of relationships. The toxicity. The need for suffering. The rush of making up. The roller coaster emotions. "De cita en cita, me gusta cuando me evitas" (Between datese, I like it when you avoid me) is the chorus of another of the album's big hits. The closing track is another instrumental "(sin estar enamorado)" that continues developing the previous subject amid noise and turbulence, very close to bands like CHROMATICS and COLLEGE. Because beyond the specific achievements of great songs, "vómito y mariposas" is one of those albums that is an emotional journey, capable of describing a turbulent mood. It has that inexplicable and incomprehensible magic; it makes you tremble, but it excites you and it draws you in. It is captivating.
TRACKLIST: 01 8,2 segundos 02 chicas guapas 03 chicos feos 04 tú y yo (Feat. Algo) 05 mentira 06 vómito 07 y mariposas 08 mala fama 09 canción de amor 10 (sin estar enamorado)