30/06/2023
CAMERA OBSCURA: REISSUE [2023] "Let's Get Out Of This Country" in Clear Vinyl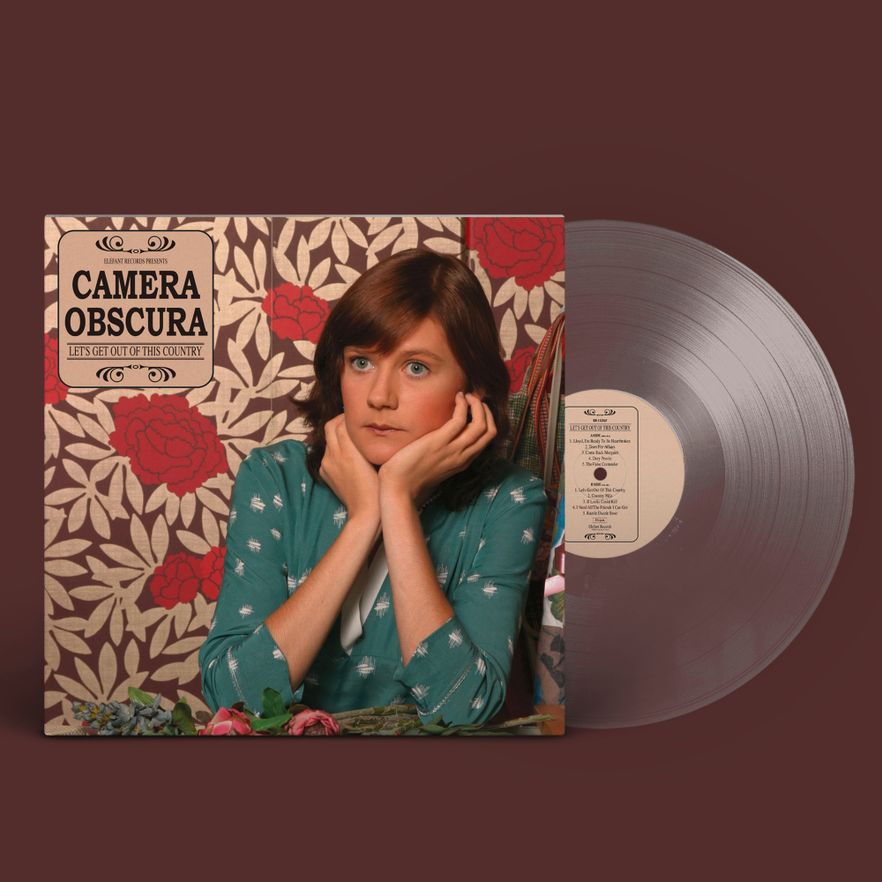 There are groups who grew up with Elefant Records, who were a turning point for the label and its development, and who fill us with pride when we look back and see their discography and the milestones they have reached. All of this is coming up because of CAMERA OBSCURA, that group that Stuart Murdoch (BELLE & SEBASTIAN) discovered and which he became obsessed with, to the point of producing their third single ("Eighties Fan"), directing the corresponding music video, doing the arrangements on their first album, and so many more things. We fell in love with that song and it made us license their first album, "Biggest Bluest Hi-Fi" for the whole world, and then sign them with Elefant Records and release their following two albums on our label for the entire planet, until they wound up signing with 4AD, the label that groups like COCTEAU TWINS, STEREOLAB, THE NATIONAL, GRIMES and the PIXIES spent time with.
The time has come to re-release those two sought after albums that have been out of print for so long on vinyl, "Underachievers Please Try Harder" (2003) and "Let's Get Out Of This Country" (2006). The latter was their definitive confirmation, the album that brought them to perform halfway around the world and made them known by a larger audience than the gem hunters who already loved them from their first album "Biggest Bluest Hi-Fi". "Underachievers Please Try Harder" is the album with "Teenager", "A Sister Social Agony", "Keep It Clean" and "Suspended From Class"; it is the album on which Stuart Murdoch continues showing his support for the band with the cover photo; the album produced by Geoff Allan (who has also worked with other illustrious Scottish bands like MOGWAI, TEENAGE FANCLUB, THE DELGADOS, ARAB STRAP and BELLE & SEBASTIAN); the album that quickly surpassed 100.000 sold copies, a number that causes a bit of vertigo nowadays; the album that put them at the top of indie lists in the United States, and that was included on an episode of our beloved "Gilmore Girls".
"Let's Get Out Of This Country" is the album of maturity, the album of a group that has a solid international position and how they approach this third album that will immortalize them. It was recorded in Sweden and produced by Jari Haapalainen (Ed Harcourt, THE CONCRETES), and with it, Tracyanne Campbell and company made the definitive leap with their arrangements, energy, harmonies and composition. Some of the musicians that recorded the strings had recently toured with Brian Wilson and Arthur Lee & LOVE. The album's collaborators include Victoria Bergsman from THE CONCRETES,Britta Persson and members of Swedish groups like THE TOURETTES, LAAKSO and SPEEDMARKET AVENUE. And we get "Lloyd, I'm Ready To Be Heartbroken", "Tears For Affairs", "Razzle Dazzle Rose" and "Let's Get Out Of This Country" to confirm this. And of course, they toured the ENTIRE world. And they were sounding on "Grey's Anatomy". And in the end 4AD came to sign a group that had become gigantic.
This is a special opportunity to acquire two vinyls that haven't been available in stores for many years, and that are absolutely delicious, and absolutely necessary for any pop lover's music collection. "Underachievers Please Try Harder" is being reissued in orange colour vinyl and "Let's Get Out Of This Country" in transparent vinyl.
With almost seven years of working together, we shared some of the most exciting and wonderful moments we have ever had here at Elefant, and that bonded us all together forever.
TRACKLIST: 01 Lloyd, I'm Ready To Be Heartbroken 02 Tears For Affairs 03 Come Back Margaret 04 Dory Previn 05 The False Contender 06 Let's Get Out Of This Country 07 Country Mile 08 If Looks Could Kill 09 I Need All The Friends I Can Get 10 Razzle Dazzle Rose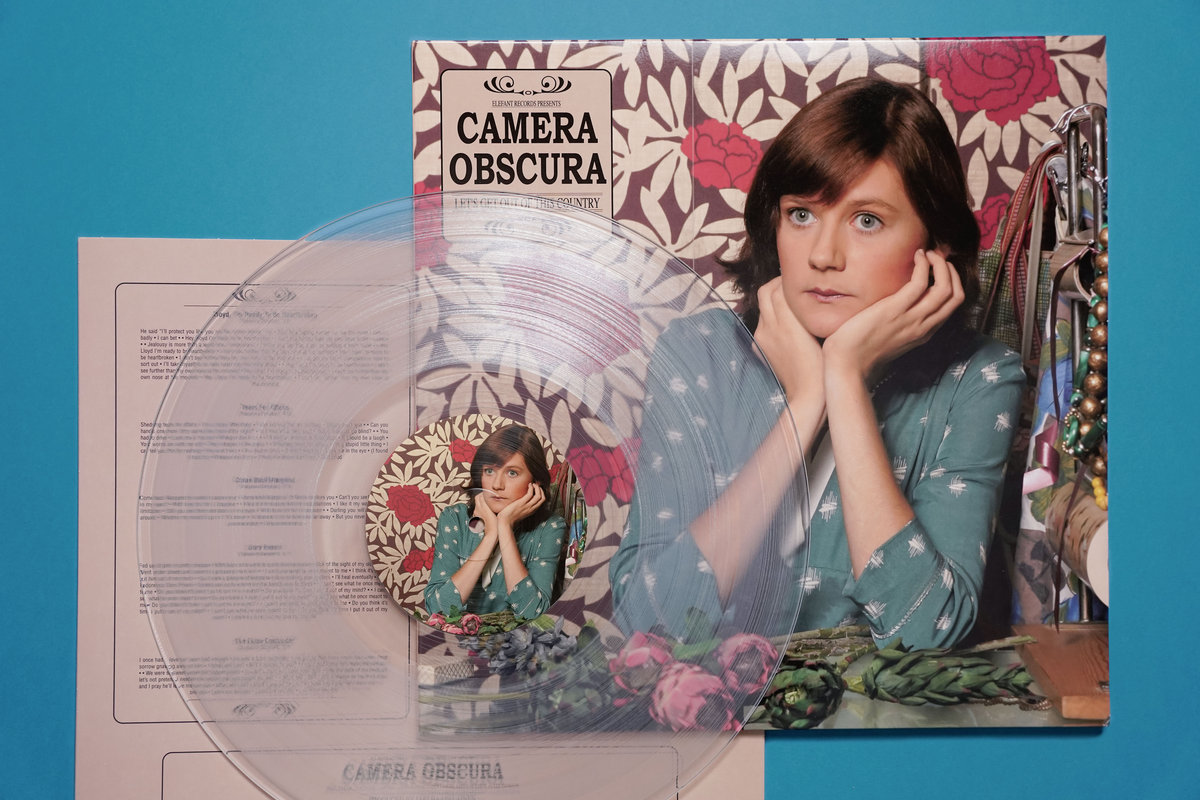 ORIGINAL PROMOTIONAL TEXT
Slowly but firmly, winning the love of the in-crowd with great songs, good taste and a passion for music, CAMERA OBSCURA have grown to become an important name in the international pop scene. More than 100.000 copies sold to this moment are good prove of their ascending career, and seeing how many good songs are included on this new album we can only expect their progression to keep rising more and more.
With the highlight of recent sold-out shows in New York and SXSW, witnessed by high profile fans Mike Myers and Conor Oberst (BRIGHT EYES), the eyes of the international pop scene are set on "Let's get out of this country": a collection of ten perfect pop songs, absolutely no filler, where the band from Glasgow looks at classic pop through country and soul tinted lenses, influenced by a wide variety of heroes - from Jimmy Webb to Lloyd Cole, from Connie Francis to Skeeter Davis, from the SUPREMES to David Lynch.
In Autumn 2005, Camera Obscura travelled from Glasgow to Stockholm to begin work on their third album with acclaimed producer Jari Haapalainen (Ed Harcourt, THE CONCRETES, INTERNATIONAL (NOISE) CONSPIRACY), and the choice couldn't be more positive. Besides the good job done by Haapalainen behind the desk, in Sweden CAMERA OBSCURA were surrounded by a great team of people with whom they've worked in the country's best studios: some of the string musicians have recently toured with Brian Wilson or Arthur Lee & LOVE; the album was recorded in the same studios where Neneh Cherry or Robyn have previously recorded, and it was mixed at the same place used by THE MAGIC NUMBERS or Per Gessle from ROXETTE fame. Among the contributors to this album we find Victoria Bergsman from THE CONCRETES, singer-songwriter Brita Persson or members of Swedish pop bands such as THE TOURETTES, LAAKSO or SPEEDMARKET AVENUE.
These ten romantic, melodic pop songs (there's songs in here that you can sing along to forever) start with the first single, "Lloyd, I'm ready to be heartbroken", a country soul track with a fantastic ending. "Tears for affairs", the next song, is a ballad with organ and accordion, which seems as if it had been written in the early 60's, and "Come back Margaret" has got a delicious girl-band atmosphere, and a melody that could have been taken from an indie-pop 45 from the early 80's. On "Dory Previn" they go back to the country pop style they feel so comfortable with, whilst "The false contender" is a romantic track with a waltz beat, and "Let's get out of this country" goes back to the classic, sunny pop style. On "Country mile" the cozy atmosphere grows slowly with the help of the beautiful string arrangements. "If looks could kill" is destined to be danced to death in the best pop clubs anywhere in the world, with an unbeatable Motown beat and a Phil Spector atmosphere, and "I need all the friends I can get" " is a funny, careless soul song with a midtempo beat.
Finally, on "Razzle dazzle rose" Tracyanne sings from afar, with a lot of echo, as if she was waving goodbye to us and to this timeless album, delicately orchestrated, with which we're sure CAMERA OBSCURA will confirm the importance of their song legacy. These are songs that last forever, that will go with you forever.