Biography
Tracyanne Campbell: guitar and vocals
Gavin Dunbar: bass and guitar
Kenny McKeeve: guitar
Lee Thomson: drums
Carey Lander: keyboards
Nigel Baillie: trumpet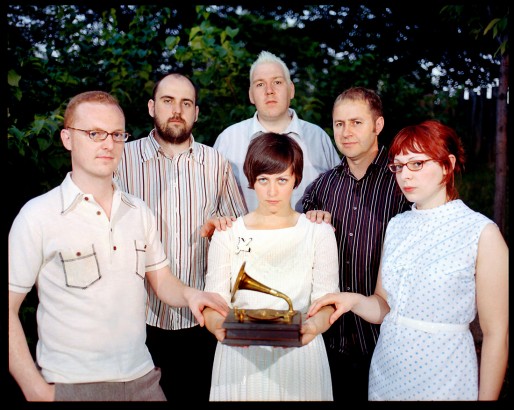 1996

The band forms in Glasgow (Scotland) in 1996, when Tracyanne, John and Gavin started to meet at Gavin's parents' cellar to write songs and rehearse. At first, David Skirving helped them with the guitars.
1998

In March, the Scottish label Andmoresound releases the band's debut single, "Park ride". This single appears only on vinyl and is quickly sold out. At the end of the year comes "Your sound", the band's second single, this time on vinyl and CD, again released by Andmoresound. On these two first singles the drums are played by Richard Colburn (BELLE AND SEBASTIAN); both of them are compiled on the CD mini-album "Rare UK Bird", released by the Japanese label Quattro. During this time the band plays live gigs at several clubs in their city, playing along with SNOW PATROL at the Maryhill Community Central Halls.
David Skirving leaves the band to form a new one of his own, CALIFORNIA SNOW STORY. Kenny —band guitarist up to now— and Lindsay —on keyboards— become part of the band.
On March 3rd they play Hyndland Church Hall, along with ASTRID and Stevie Jackson. The same year they also share the bill with AC ACOUSTICS in Glasgow.
2000

Lee joins the band to replace Richard Colburn on drums, a duty he still holds in CAMERA OBSCURA.
They record their debut album at Glasgow's Cava Studios, with Geoff Allan as sound engineer. Geoff has also worked with other acclaimed Scottish bands, such as MOGWAI, TEENAGE FANCLUB, THE DELGADOS, ARAB STRAP and BELLE AND SEBASTIAN.
2001

On June 25th, the "Eighties fan" single is released, a perfectly introduction to the band's sound: a sweet female voice, close in tone and warmth to the first recordings by Tracey Thorn (EVERYTHING BUT THE GIRL), Astrud Gilberto or Harriet Wheeler (THE SUNDAYS), with a personality as strong as those of Dusty Springfield, Nancy Sinatra or Bobbie Gentry; acoustic guitars and relaxed backgrounds; wonderful string arrangements; and simply unforgettable melodies. This single featured their famous Glaswegian neighbour Stuart Murdoch, leader of the essential BELLE AND SEBASTIAN. It was chosen as Single of the Week by English magazine "Record Collector", and both John Peel and Steve Lamacq (BBC) played it over and over again.
They premiere the single live at the Westport bar in Dundee, the Hyndland Church in Glasgow and The Spitz in London, along with TOMPAULIN in the latter occasion.
On August 14th they record their first Peel Session in BBC's Radio 1. They play "Anti Western" and "Sun on his back", as well as two new songs: "Number one son" and "Before you cry", which would be later on re-recorded for their second album.
Soon after that, CAMERA OBSCURA's debut album, "Biggest bluest Hi-Fi", is released on November 12th by Andmoresound. This album is an exquisite collection of acoustic pop songs, simple but moving. Stuart Murdoch collaborates with them once again; apart from producing "Eighties fan", they entrust him the subtle but majestic orchestral arrangements that appear from time to time. Stuart is also the director of the excellent video clip for "Eighties fan".
The album is very well received by the media, getting to be Album of the Week on XFM radio station and the famous Rough Trade shop. "Biggest bluest Hi-Fi" turns into one of the all-time best selling albums on Prime distribution.
They play along with HER SPACE HOLIDAY on November 15th in Brighton.
On December 20th they are invited to play at John Peel's Christmas party, the "Christmas Carol Special", along with MELYS, LIANNE HALL and GORKY'S ZYGOTIC MYNCI.
"Eighties fan" climbs up to the 8th position on John Peel's Festive Fifty list. The Quattro label also releases their first album in Japan, as does Gifted Records in Australia; in Spain, Elefant Records is the label that releases the fantastic debut album by CAMERA OBSCURA. The Elefant edition has two excellent bonus tracks ("Shine like a new pin" and "Let's go bowling"), which had originally appeared as B-sides on the CD-Single "Eighties fan", rounding up this marvellous CAMERA OBSCURA introduction to the Spanish audiences.
Lindsay leaves the band and is replaced by Carey (present keyboard player in the band).

2002

They record a session for Radio Scotland's Air radio program on January 10th.
On March 7th they play another John Peel Session, featuring five songs.
They play at the "Pow to the people" festival in London, along with BUTTERFLIES OF LOVE and CANE 141.
On May 17th 2002 they play their first gig in Spain, at Barcelona's Primavera Sound Festival along with bands such as PULP, TINDERSTICKS, SPIRITUALIZED, APHEX TWIN, NOSOTRÄSH, BIS, LE TIGRE... They appear in magazines as Rockdelux, Mondosonoro, Neo2, Alter Ego... and are interviewed on air by Catalunya Cultura, COM Ràdio, Disco Grande (Radio 3)... The "Eighties fan" videoclip is very well received in many music shows on MTV, Sol Música, 40 TV, TV3, Telecinco, Antena3, Telemadrid, LaOtra, etc...

Radio 3's Disco Grande chooses "Anti-Western" as their International Song of the Month in April.
Cadena 40's "Viaje a los Sueños Polares" radio show chooses "Eighties fan" as the Best International Single of 2001 and "Biggest bluest Hi-Fi" as the second Best International Album of 2001.
On September 28th CAMERA OBSCURA play the tenth anniversary party of the excellent American fanzine Chickfactor, at the "Black and White Ball" festival, in London Bush Halls, along with FUTURE BIBLE HEROES, PIPAS, THE MONTGOLFIER BROTHERS and WOULD-BE-GOODS.
In November they come back to Spain, to tour the most important clubs and winter festivals in the country. They play at the Tanned Tin Festival in Santander, Pamplona University's "Ciclo de Sonido Emergente", Cadiz University, Madrid's El Sol, Sta. Pola's Camelot, Valencia's Roxy, Madrid's FNAC. More than 5.000 fans saw CAMERA OBSCURA during their Spanish gigs; Tracyanne Campbell's lovely voice and their liking for acoustic and sweet pop charmed the audiences since the first time. It was a success backed up to a certain extent by the excellent feedback that got their debut album "Biggest bluest Hi-Fi" in Spain. During their Spanish gigs, the band was interviewed by radio shows, appeared in the press and specialized magazines, and did radio sessions —Radio 3, Telemadrid Radio, 40 Principales...—. They also played live on Radio 3/TVE2's show (11-11-02) and Telemadrid's LaOtra Unplugged (11-12-02).
They start the recording of their second album, again at Glasgow's Cava Studios. Once again, they work with the renowned Geoff Allan as engineer and co-producer, along with the band. The album is recorded on different sessions between April and December.
2003

On February 14th they play with THE LADYBUG TRANSISTOR at the Hyndland Church Hall in Glasgow.
Also in February, Frank Arkwright masters "Underachievers please try harder" at London's Town House Studios; Frank has worked in the past with BELLE AND SEBASTIAN, JOHNNY MARR AND THE HEALERS, GOMEZ or ARAB STRAP.
On July 25th, "Teenager" is released as their second album's advanced single, featuring "Teenager" as the main track plus two other previously unreleased and exclusive songs: "I don't want to see you", recorded during the same album sessions, and "Footloose and fancy free", an intimate pop piece recorded in April in Kenny's room. During the month of July, the videoclip for "Teenager" is shot in Glasgow. Luis Calvo —Elefant design— does the single's summery cover.
Radio 3's Disco Grande chooses "Teenager" as their International Song of the Month in June.
In August, the band comes back to Spain to premiere the new album at the Benicassim Festival (featuring BLUR, BECK, MOBY, SUEDE...), where their fans can purchase the first copies of "Underachievers please try harder", a delicious handbook which summarizes the best pop keys, proudly released by Elefant worldwide from now on.
On August 25th this second album is finally released. This LP collects the virtues of their successful first album and announces a new stage full of big achievements and unforgettable moments. With hard work and good taste, CAMERA OBSCURA have reached an enviable worship state which takes them closer to massive success everyday. CAMERA OBSCURA's songs grip the listener with each new hearing: they're the perfect example of classic pop with that "something special" that is so hard to define: is it Tracyanne's voice? Is it the varied and always delicious influences - from 50s girlbands to 60s soft pop or country-pop? Is it just that songs like "Teenager" are simply, absolutely perfect? CAMERA OBSCURA know how to touch people deeply with sweet melodies, subtle arrangements and bittersweet lyrics. A marvellous proof of maturity, wisdom and elaborate pop jewels. Cover design is by Divine INC. The album pics are signed by Stuart Murdoch. A limited edition on vinyl is also released.
In September they come back to Spain, to play at the Lemon Pop Festival in Murcia and also at the premiere parties of Elefant's "Modapop" compilation, at the Clamores Club in Madrid and the Mond Club in Barcelona, where they share the stage with fellow Elefant acts NIZA, LA CASA AZUL, LES TRÈS BIEN ENSEMBLE and ENTRE RÍOS. Halfway through September they begin the premiere tour in England, and record a new John Peel Session.
"Suspended from class" is chosen as one of the Best International Songs from 2003, according to the staff at Rockdelux magazine.
2004

In January, Merge Records (LAMBCHOP, THE CLIENTELE, THE MAGNETIC FIELDS) releases "Underachievers please try harder" in the United States, and the record climbs up to the highest positions in the independent charts on the second week after its release. That summer, the band will tour the States extensively.
In March they travel back to Spain, where they take part on the second edition of the Soft Pop Tour, along with TREMBLING BLUE STARS, THE CLIENTELE and LA CASA AZUL.
In May, Elefant releases "Keep it clean", second single taken from their second album. This Cd-Single features "Keep it clean" as the main title, plus two exclusive, previously unreleased tracks: "San Francisco song" and "Amigo mío", the latter being their first song in Spanish, written and sung by Kenny McKeeve, the band's guitarist. An additional track is included, featuring the videoclip for the song "Teenager", directed by Blair Young, a name we find in many videoclips by FRANZ FERDINAND, BELLE & SEBASTIAN, SONS & DAUGHTERS or MY LATEST NOVEL, and who also took part in the making of "Eighties fan", the first videoclip by CAMERA OBSCURA.
The record walks a triumphant path all over the world, and it's licensed to many different countries: Konkurrent is releasing it in Belgium, Holland and Luxembourg, whereas Pop Frenzy does the same in Australia, adding as bonus tracks the songs "SF song" and "Amigo mío" (both B-sides to "Keep it clean"), plus the videoclip for "Teenager". In Asia, a territory that has always shown a big interest in the band, Ales Music releases the album in South Corea (featuring the same bonus tracks as the American release on Merge); Avant Garden Records does the same in Taiwan, but with a different artwork; and Imperial Records releases it in Japan, adding as bonus tracks the four B-sides on both singles, "Teenager" and "Keep it clean".
At the end of the year they included and acoustic song on the "Sunsets and Silhouettes" compilation, released on Planting Seeds Records, where they share the line-up with FREEHEAT and SISTER VANILLA, the new bands fronted by the Reid brothers (ex JESUS AND MARY CHAIN).
2005

In March, CAMERA OBSCURA do a lightning visit to Spain in order to promote "I love my Jean", a new single featuring three previously unreleased songs. Two of them are based on the poems by Scottish national poet Robert Burns, who lived in the XVIII century and is since then a myth in Scottish culture. Tracyanne puts his poems into pop music, and the outcome could perfectly be a song of her own. They premiere the single at the Southpop Festival, in Seville, where they share the bill with such artists as LALI PUNA and THE MONTGOLFIER BROTHERS. This show is as well one of the first ones they play without founder member John Henderson, who had just left the band.
A new videoclip is shot of the song "I love my Jean", the title track on the new single, which is once again directed by Blair Young.
On the British Independent Lists issued on March 27th, "I love my Jean" is featured on number 28th after its first week out, sharing space with such artists as MERCURY REV, BRIGHT EYES o DIZZEE RASCAL.
On March 25th they record an acoustic version of "I love my Jean" for the Fred Macaulay show on BBC Scotland, and on the 28th they record three other songs for the "Air" show, on the same station.
In April, the band goes out on a short tour of Sweden, promoting the songs on their latest single.
In September, the band enters the studio in Stockholm in order to record the follow-up to the successful "Underachievers please try harder".
At the same time, the band have just renewed their website, a full refurbishing of it that has proved to be a great job: by clicking on www.camera-obscura.net you can get to know them better (their recommended links, Nigel's recipes, Kenny's Q&A's...), you can find pictures from their tours, participate in their forum, and even read their own blog (which you can also enter directly by clicking on http://cameraobscura-.blogspot.com), where they will surely write the day-to-day story of their recording of this third album, due to be released on Elefant Records in 2006.

This is the first time the band works under the supervision of a producer, apart from the collaboration with Stuart Murdoch on the "Eighties fan" single: the chosen man this time has been Swedish producer Jari Haapalainen, whose CV includes previous work with Ed Harcourt and, especially, with Swedish band THE CONCRETES (with whom he also works as a satellite musician; in fact, Haapalainen keeps a side-project, named HEIKKI, along with Maria Eriksson from THE CONCRETES).
2006

"Suspended from class" is included in the original soundtrack of "Imagine me & you", a refreshingly unconventional and witty comedy presented by Ealing Studios and BBC Films. The movie, starred by actress Piper Perabo in a lively departure as a quintessentially modern British woman, is about love's myriad forms and constant surprises: on her wedding day, the bride discovers love at first sight ...and falls in love with the wedding's florist.

Perabo's male counterpart is played by Matthew Goode, well known in Spain for having played Gerald Brennan in cult movie "South", directed by Fernando Colomo, but much better known internationally for his part in "Match Point", the latest movie by Woody Allen, along with Scarlet Johansson and Jonathan Rhys-Meyers.