t
18/02/2016
Musikitas [En]: Interview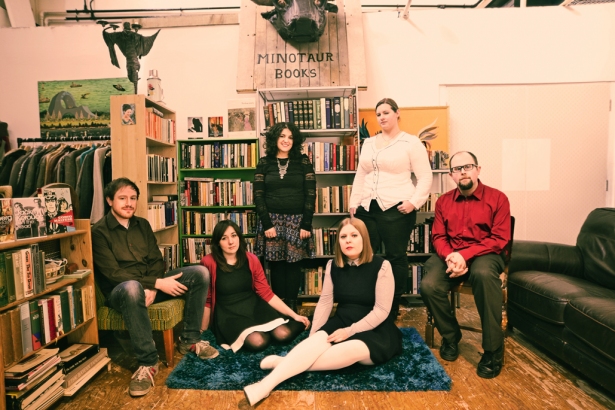 1You are here (in Spain) to present you new album. What can you tell us about the recording precess? It's great to be back in Spain! We recorded our album in Mid Wales with Rob Jones, who was also our first drummer. He recently produced an album for Sweet Baboo which I really love, and he always understood the pop sound we were going for so he was perfect. I'd written all the songs in advance, I don't think we could ever just show up and write songs in a studio! I take a long time to write songs because I'm very fusy. Once we'd finished the instruments and I'd added vocals, Rob went off to add extra brass, and Steve Sweet Baboo added a very brief sax solo too on the track 'Wasting Away and Wondering'.
2 Musically people situate you somewhere between band from the 60s like THE RONETTES, THE SHANGRI-LA's and more current groups like como BELLE & SEBASTIAN, CAMERA OBSCURA. Would you agree with that? Yes definitely, it's lovely to be compared to those bands. I'd add some influences in the middle too - I grew on up decades of pop music so I pick up bits from everywhere - like The Ramones and Blondie, and lots of 80s pop like Dexys and Madness.
3 Some people also see similarities with the Beach Boys or The Beatles. What do you think about that? That's so nice to hear! Yes I have been a huge fan of both since I was a child. I love all the harmonies of the Beach Boys and their beautiful songs, and I love the simple and perfect melodies of The Beatles, and how they both grew in such a short time. I'm actually buying Brian Wilson tickets in the morning!
4 One of your songs, "Valentine" was chosen by LG for a TV and internet advertising campaign. Interestingly, the product advertised is an innovative and elegant refrigerator called "God". I guess you must be happy as this could give the band a lot of exposure, right? We've had a lot of music used on adverts, tv shows and 1-2 small films too, and it's great to reach people who may not have heard us otherwise - like fans in Japan or America, and people who watch shows like (popular UK tv series) 'Made In Chelsea'. In 2014 'Valentine' was used in a trailer for 'The US Office' which was surreal!
5 And that's not all. You've had songs in a spanish film, hit singles an international tour, sessions for the BBC and critical recognition. This must really encourage you to keep going and fighting, right? Yes we have been very lucky! And there are still plenty of people that don't know the band so we will keep going! We know there are some bands who get famous quickly and then it fizzles out, but the bands that last the longest really put in the years and experience, writing and developing their sound - like Camera Obscura, Belle and Sebastian - they encourage us to keep going! It still feels like we're a new band anyway (even though we're 8 years old!) and I've barely scratched the surface of pop influences, so I hope there'll be many more years and School albums!
6 In february you're in Spain to present your new album. In you share the stage with COLA JET SET, do you know them? Yes we have played with them before, we love Cola Jet Set! It will be very good to play with them again and I love their new album, we are bringing them over to the UK to play a show with us too!
7 Have you ever performed in our country before? Yes several times, Spain is like our second home! We always have such a warm welcome in Spain and love meeting all our fans there. We've played Madrid a few times, Murcia Sound, Lemon Pop, South Pop, Contempopranea, Nocturama and Mini-Fest. It helps that our record label Elefant is based there too.
8 What are you lyrics generally about? Your passion for 60s music seems clear. Our lyrics are always about love, relationships and friendships. I don't really write about anything else, it wouldn't feel right. But I think it suits the band and our sound - and yes I love 60s lyrics - they're so simple and innocent, when it's sad it's really dramatic and when it's positive it's always so joyful.
9 What message would you send to the spanish public to get them to check out your music to listen, to come out and see your concerts? Well, the Spanish are always so happy and love dancing, and we hope our music will make you smile and dance. You can listen to all our albums on http://www.soundcloud.com/theschoolband and find out more about us on http://www.elefant.com/bands/the-school