t
02/12/2015
El Giradiscos [Es]: "Wasting Away and Wondering" [Review]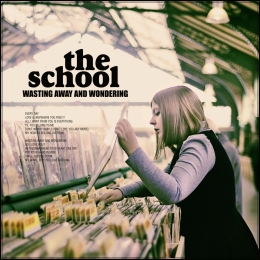 Uno de los discos de este 2015 y que pasará inadvertido para muchos es el tercer larga duración de los galeses The School. Para quienes nunca hayan escuchado esta banda, decirles que se trata de una formación de ocho músicos pop muy asemejados a los Belle & Sebastian menos electrónicos, a los Camera Obscura más marchosos o losVeronica Falls si estos los hubiera producido Phil Spector. Con unos aromas retro respirables desde el primer momento de poner el plástico "Wasting Away And Wondering" suena a la vez novedoso, fresco y para nada repetitivo. Fichajes de lujo de la discográfica españolaElefant Records (Cooper, La Bien Querida o La Casa Azul), los de Cardiff vienen liderados por Liz Hunt, compositora ingeniosa, teclista consumada y voz dulce a la que acompañan un elenco de buenos músicos que explotan cada uno de los espacios de las canciones.
Guitarras Shadows, Wall of sound, girl bands, trompetas Stax, instrumentación compleja, voz cándida, violines de fondo pomposos, ritmos sixties, letras minimalistas de desamores juveniles, y mil sorpresas más. Como la melodía de fondo de "Every Day" que podría pasar por la de "Me & The Farmer" de los Housemartins. En cambio en "Love Is Anywhere You Find It" y "Do I Love You" se recuperan las esencias de las Supremes, mientras que "All I Want From You Is Everything" roban las guitarras a Ennio Morricone.
A destacar "Don' t Worry Baby (I Don' t Love You Any More)" que es una preciosa balada que no solo comparte título con la de los Beach Boys, sino también su estructura, arreglos y preciosismo, si bien ésta lleva unos violines celestiales que acompañan a una voz que se asemeja a la de divas francófonas como Françoise Hardy o France Gall.
Más dinámicas son "Wasting Away And Wondering" que remite a los Belle And Sebastian de principios de milenio y la optimista "Put Your Hand In Mine" de ritmo insaciable y melodía de cuerdas rasgadas deliciosa. En "He' s Gonna Break Your Heart One Day" se arranca con percusiones a lo "Be My Baby" pero a diferencia de aquella se vuelve ruda, oscura y tenebrosa.El fantasma de los Smiths aparece en " I Will You Soon" a pesar de que su instrumentación barroca diste mucho de la de los mancunianos. "My Arms, They Feel Like Nothing" es un cierre precioso al disco, voces dobladas, melodías Northern Soul, guitarras funkies y un cierto tono épico ideal para dejar un gran sabor de boca.