t
30/07/2012
Diario Abierto [Sp]: "Reading Too Much Into Things Like Everything" review
The School, un nombre apropiado
- Los de Cardiff montan un guateque en su nuevo álbum.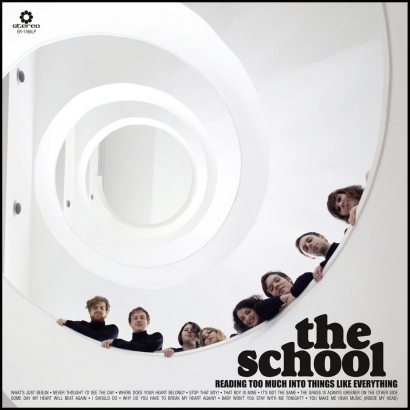 Proliferan actualmente los grupos de pop y rock and roll con raíces en los años 50 y 60. Tanto en discos como en conciertos ponen todos los mimbres para que salga un cesto en forma de guateque y música de "cole". The School es una de las bandas con nombre más apropiado y pioneras de este movimiento que reivindica la canción "beat", aquella que, como dice Kiko Veneno, esta hecha para cantar y bailar.
Arreglos, voces, coros, todos buscan el tarareo mientras bailas, a veces alejado y otras arrimándote, según el ritmo de las canciones que componen este "Reading Too Much Into Things Like Everything". Como no podía ser menos, hay momentos de "grupo de chicas años 60", como la risueña "Where Does Your Heart Belong".
Se echan en falta dos versiones encantadoras que habían incluido en el ep de adelanto. Una, del tema "When He Kisses Me", ese pedazo de canción de Jonathan Richman que Liz, cantante de The School, ha cambiado a femenino. Otra, la sosegada lectura que hacen de "I Wouldn´t Know What to Do" de los Honeydrips. Recomendable, entonces, buscar tanto el álbum como el ep.
Sello: Elefant. Precio: 15. Discografía: "Loveless Unbeliever", "Let It Slip" (single), "All I Wanna Do" (single). Influidos por: Sandie Shaw, Dusty Springfield, Ronettes. Influyen en: Papa Topo, Lucky Soul, Gigi.