04/09/2015
THE SCHOOL: Release their third album, "Wasting Away And Wondering"
We have finally gotten our hands on it; THE SCHOOL are back with a huge album, where their maturity and freshness combine to create an unusual formula that, based on soul, pop, and rhythm 'n blues, goes above and beyond the limits of brilliance and optimism, despite the sad title. Along with their traditional eight-musician line-up, led by Liz's omnipresent voice, there are three more musicians with them, helping to create an album with lush instrumentation, and stunning completeness. This third album is anxiously awaited by so many of the fans the group has gathered (earned) all around the world with the success they achieved with their previous albums and their fantastic concerts.
"Every Day" is a trademark song in every way. Sixties-inspired folk-pop with precious arrangements, delicious choruses, and delicate but brilliant melodies. The first rays of sunshine are shining through. "Love Is Anywhere You Find It" picks it up a notch. It has a Motown base, a solid rhythm, a bridge that is a chorus in and of itself, and it reaches new levels, along with close cousins like "Your Easy Lovin' Ain't Keeping Nothing" by Mayer Hawthorne and "You Can't Hurry Love" by THE SUPREMES. From "All I Want From You Is Everything", we were already talking about the advance single for this album: outbursts of ye-ye and a band that is perfectly geared up to make a wall of melody, a solid and simultaneously gently exciting framework "Til You Belong To Me" has fascinating brass instruments. Optimistic, lively, with echoes of Wilson Pickett's rhythm 'n blues. "Don't Worry Baby (I Don't Love You Any More)" stands with THE SHIRELLES' "Will You Still Love Me Tomorrow" as one of the songs that excites us the most, and also leaves us in the greatest despair, using Phil Spector's legacy. Melancholy and sadness run high. "My Heart's Beating Overtime" is a small piece of dreamy folk pop, a brief message traced by hand and hidden in a handful of incredible songs.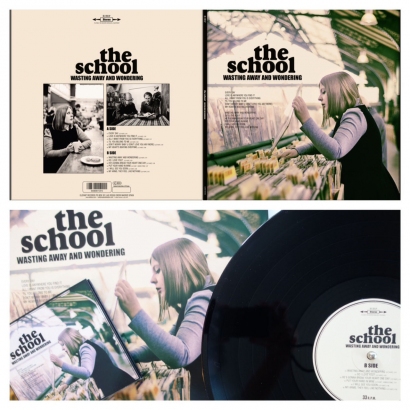 "Wasting Away And Wondering" gets back to rhythm 'n blues in the best way, with the push and the strength of THE COMMITMENTS, the blues of Rufus Thomas, and an ever-present revitalizing pop spirit. "Do I Love You?" keeps the voltage high with an exceptional example of northern soul that will definitely play thousands of times this year in the best pop clubs all over the world, and that we will definitely dance to until we've had our fill. "He's Gonna Break Your Heart One Day" takes us to the best tradition of french pop, from Jacques Demy's musical "Les Parapluies de Cherbourg" to singers like France Gall and Françoise Hardy, with a bridge that Ennio Morriccone could perfectly have set to music.
This is solid proof of how the Welsh group's discourse has diversified, reaching magisterial levels in all cases. Northern soul reappears with "Put Your Hand In Mine", with a huge starring role for the string instruments, that give a lyrical tone to a song with an incredibly, highly hummable, really energetic chorus. "I Will See You Soon" was one of the songs that we already heard on the advance a few weeks ago. Straight-forward pop, solid, with small loving nods to ye-ye that play perfectly with the minor chords (another of features that could be said about the rest of the album).
And the album closes with "My Arms, They Feel Like Nothing". This song deserves a special mention. With its choral scheme, its solid soul, it works like the ideal closure for such a perfect album. Once again, the solid rhythm that comes from Rob Jones (SLOW CLUB's live bassist and also the producer of this new album by THE SCHOOL, and of SWEET BABOO's album "Ships") pushes the song until the wind instruments reach their apex, coming to an end that is like the tail of a sardine: there is no other choice but to listen to the album all over again from the very beginning.

THE SCHOOL has already given us more than enough reasons to include them among the best pop groups of the international panorama, but this marvellous "Wasting Away And Wondering" confirms it definitively. Either way, don't miss out on the fun!

TRACKLIST: 01 Every Day 02 Love Is Anywhere You Find It 03 All I Want From You Is Everything 04 Til You Belong To Me 05 Don't Worry Baby (I Don't Love You Any More) 06 My Heart's Beating Overtime 07 Wasting Away And Wondering 08 Do I Love You? 09 He's Gonna Break Your Heart One Day 10 Put Your Hand In Mine 11 I Will See You Soon 12 My Arms, They Feel Like Nothing
LP [Numbered Limited Edition of 750 copies] / CD DIGIPAK / DIGITAL ALBUM