10/12/2012
ELEFANT: Christmas Album "A Christmas Gift For You From Elefant Records"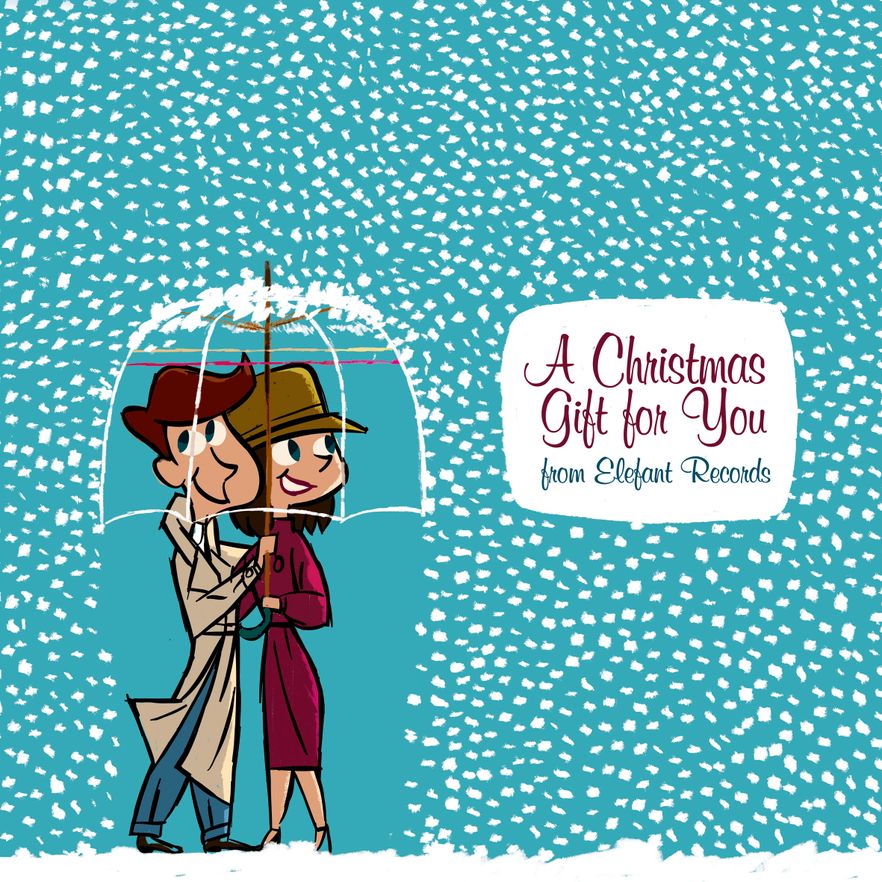 Release Date: **CD Digipak and **Digital Album [10 December] // ** LP White Colour Vinyl [Numbered Limited Edition of 1000 copies] [20 December] • The vinyl format includes a free digital MP3 download [320 kbps]
TRACKLIST: 01 Why Should Christmas Be So Hard? (Attic Lights) 02 Holding Hands Around The World (Guille Milkyway And The Jelly Jamm Sound Orchestra) 03 Christmas Lights (The Magic Theatre) 04 La Luz Del Mundo (Single) 05 El Viaje Mágico De Santa Claus (Modular) 06 X-mas Song (Edine Avec Lisle Mitnik Et Son Orchestre) 07 I Just Wanna Hold Your Hand (On Christmas Day) (The Yearning)08 Let Me Be The Fairy On Your Christmas Tree Tonight (The School) 09 Los Anillos De Alcyone (21-12-2012) (La Casa Azul) 10 You Trashed My Christmas (The Primitives) 11 Te Espero En Navidad (Axolotes Mexicanos) 12 Bells To Ring And Jingle (YouDoMeToo) 13 Donde Todo Sigue Igual (Band À Part) 14 You're Coming Home Tonight (The School) 15 Let's Make Christmas Love (BMX Bandits) 16 Su Šventom Kalėdom (Fitness Forever)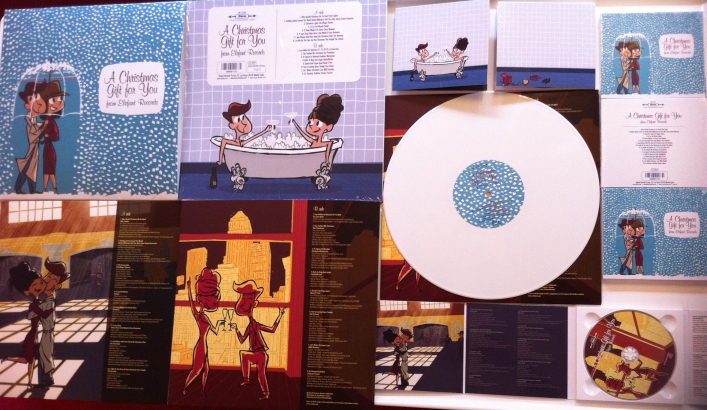 Here at Elefant, we have always been huge fans of Christmas albums, so we finally decided to get our act together, and we've put a lot of energy and excitement into our first Christmas album. "A Christmas Gift For You From Elefant Records" is full of previously unreleased songs that look toward that luminous side of life, a fantastic excuse to feel optimistic, colorful, and, why not, irony and a sense of humor, to help us get through the hard times. And since we want nothing less than the best, it's wrapped up in the marvelous design work of the great Duprez, always full of that unmistakable pop spirit that was already his in his own right. This is a gift from Elefant Records for all of our fans.

The album opens with one of Elefant Records' new groups, the Scottish group ATTIC LIGHTS, who already knocked our socks off with their incredible harmonies (up to 4 voices) on their debut album "Friday Night Lights". And as you might expect, they remind us of the exciting sweetness of the Wilson sisters' vocals, and small details of the sonic landscape evoke the bitterness that often end up associated with Christmas-time. The second track is one of the songs that Guille Milkyway made for the children's TV show "Jelly Jamm", and which was put out under the name GUILLE MILKYWAY AND THE JELLY JAMM SOUND ORCHESTRA, with the unmistakable mark of our beloved Guille, and a precious children's choir giving a special color to "Holding Hands Around The World" – a total hit. THE MAGIC THEATRE is another of Elefant's new groups; they are a duo formed by Dan Popplewell and Sophia Churney, who formed OOBERMAN at the end of the 90s. That group split up in 2003, and now, years later, they are beginning a new adventure – THE MAGIC THEATRE – together. Elefant Records will soon release their second album, after that fantastic orchestrated story that was "London Town", and here they give us a precious and delicate "Christmas Lights", somewhere between the theatrical and the sweetest side of Bobbie Gentry, Blossom Dearie or THE PARIS SISTERS.
The presence of a group like SINGLE on an album like this a must. They distance themselves from all Christmas clichés both sonically and lyrically in "La Luz Del Mundo". Musically, they have some of that electronic pop with dub airs that Ibon likes so much, and lyrically, they put everything into an ambiguous view, so personal, like only they can do. MODULAR also does things their own way. On "El Viaje Mágico de Santa Claus", they appeal to all those things that have made them such a special band: that cosmos that any fantastic persona that exists feels so at home in follows their gravitational pull, this time it's Santa Claus himself, between tropical choruses, analogical synthesizers, and dazed vibes. With them, Christmas takes on a whole new dimension.
From Edine and Lisle Mitnik we were able to get a take from their marvelous new project EDINE AVEC LISLE MITNIK ET SON ORCHESTRE which they debuted with the latest release from New Adventures in Pop. The revisited "X-Mas Day" is a great example of the fantastic results: a playful and delicious sweetness that only they can achieve. Dreamy. THE YEARNING has been one of our biggest discoveries in 2012, and we just had to ask them to contribute to our Christmas album. On it, they once again show their wonderful taste for arrangements and melodies on their incredible "I Just Wanna Hold Your Hand (On Christmas Day)", a song that, once again, makes us think of Phil Spector, who is definitely one of the strongest influences on the whole album, starting with the title of this Christmas album, which is a clear homage to that marvelous album he released in 1963.
THE SCHOOL's "Let Me Be The Fairy on Your Christmas Tree Tonight" is the only previously released song on the album, and it bears all the marks of the group: fifties spirit and a really catchy, fascinating chorus. Either way, these guys from Wales make up for being the only previously released song with another song, this time previously unreleased, and just as wonderful as the other song: "You're Not Coming Home Tonight". LA CASA AZUL coincides with MODULAR to give a Christmas a touch of outer-space on "Los Anillos De Alcyone" (21-12-2012), a mid-tempo that shows so much compositional versatility. As he himself says, "a galactic catharsis", a science fiction Christmas tale with an extraterrestrial visit and all, with the visitors bringing us light from the cosmos. THE PRIMITIVES once again give a good dose of electricity and disappointment with "You Trashed My Christmas", one of those unforgettable punk-pop hymns, with their trademark incandescent riffs and a fantastic chorus, and an especially inspired Tracy Tracy.
The AXOLETES MEXICANOS are one of the surprises we have ready for 2013, and here we have their first song for Elefant Records, before even their first single which will come in a few short weeks on the new release from our New Adventures in Pop collection. Four young Asturians, fresh and full of energy, who make their energetic, highly addictive pop, as this "Te Espero En Navidad" shows. The Brazilian duo YOUDOMETOO also gives us their own perspective within the parameters they showed on their fantastic debut for New Adventures in Pop: playful, slippery, almost low-fi, but full of energy and vitality, as they clearly show us on "Bells To Ring And Jingle". BAND À PART show their passion for northern soul and sunshine pop on a fantastic "Donde Todo Sigue Igual", probably one of their best songs so far, with really special and surprising arrangements. Another of our big groups this year, Duglas T Stewart and his BMX BANDITS, couldn't be left out of the party, and they gave us the precious "Let's Make Christmas Love", showing us their great creative abilities with compositions and arrangements, a wonderfully delicious piece of work. And to pleasantly wrap up this album, FITNESS FOREVER leave their Italian behind and close with a beautiful, intimate instrumental piece, delicate and lovely with extraordinary arrangements.


Full Playlist on Youtube