19/05/2021
SOLEÁ MORENTE "Iba A Decirtelo" Single and video-clip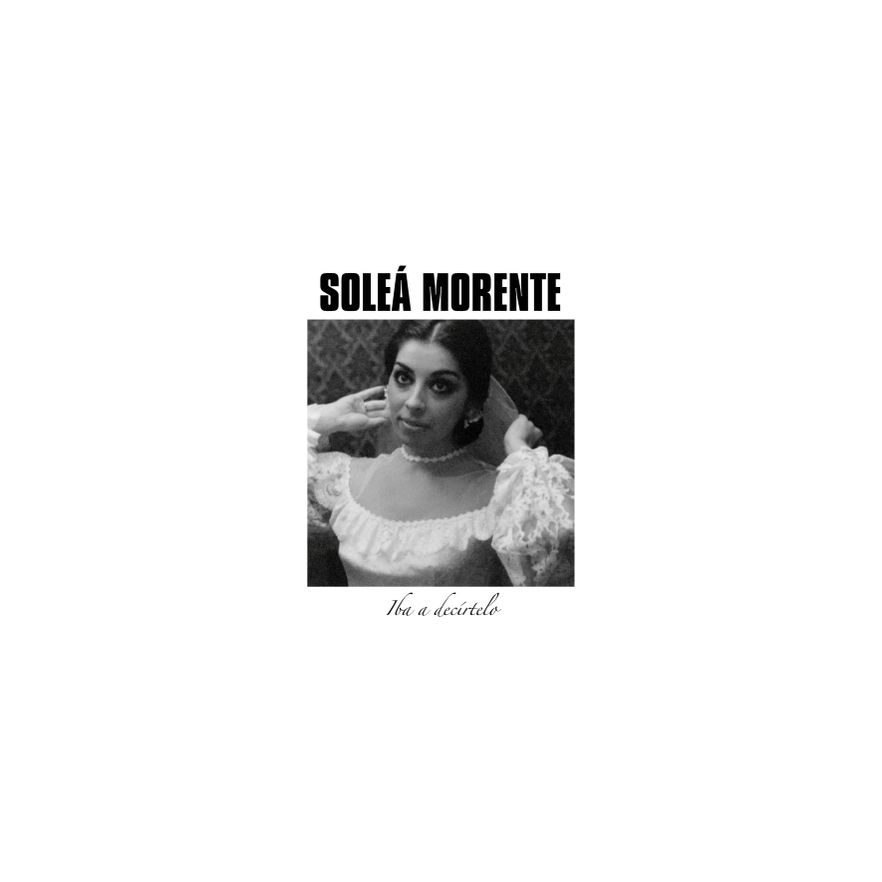 When we are still savoring the sweetness of that marvelous "Lo Que Te Falta", its incredible reception by the media and the public (it made it to the cover of Rockdelux and Time Out, was included on the year's best of lists in media like Efe Eme, the Tribuna, Qualsevol, JNSP... And won album of the year from Rockdelux and El Periódico). What could we expect now from our beloved Soleá Morente? A new, effervescent and exciting union between pop, rock, and flamenco? A new mutation with touches of electronica and full of spirit? A little bit of all the above, but really nothing like that at all. Because she is unpredictable. Essential. The new songs from Soleá Morente are completely her own; for the first time in her career, she is presenting an album composed entirely on her own. This work, unexpectedly, turned out to be a delicate collection of shoegazing and ambient pop songs, that can make us think of THE CURE as much as of BEACH HOUSE, of Camilo Sesto and Cecilia, of CIGARETTES AFTER SEX and THE WAR ON DRUGS, of COCTEAU TWINS and Sufjan Stevens, but with the unmistakable touch of her voice (which is already a personality trait in and of itself) and that has a knack for those melodies that drink from the great Spanish pop classics of the 70s. Once again, she is breaking ground, exploring unknown territory, shattering expectations, carving out her own path, and letting herself go with the flow. The album is a journey into the past to find herself in a new, different, unexpected present, which shines a light on this past incombustible 2020. Her new album, "Aurora Y Enrique", is going to be a new landmark, a new chameleon-like twist in Spain's own Bowie, a reflection on her parents to find herself as a new being full of essential love.
While we are waiting for this new work to get here, we are so excited and thrilled to be able to give you the first advance, "Iba A Decírtelo", where we can catch a glimpse of some of the things we have been talking about. Developing ethereal ambiances that seek out that crystalline beauty, the endless search for the essence of pureness itself, Soleá wrote this song in the depths of confinement. The song is about the importance of the things left unsaid, and it comes with a spectacular video where we can see a radiant Soleá in the four elements: earth, water, fire and air. She is accompanied by Nasser Reef, and together they build an intimacy in a paradise where nature is renewed and the world is alone, but much better. A futuristic dream. Marvelously done by Juanma Carrillo, who had this to say about it:

Working on "Iba A Decírtelo" was challenging in several different ways. The first challenge was working with an artist whom I have respected and admired from the very beginning and from her family roots. The second was working with music that seems simple on the surface but that has a very specific mood that makes it seem like time has stopped and with instrumentation that took me, from the very first time I heard it, to brutal and cold architecture. And the third and biggest challenge – lyrics and a title that made me think directly of a sacred place and an aseptic "performance" (paying tribute to the master, Bill Viola), where water represented love and at the same time freedom and purification.

There is still so much left to be discovered about "Aurora Y Enrique", and considering that we are talking about Soleá, that also means a lot of surprises. "Iba A Decírtelo" is just the beginning of so many things and is a new leap of faith from one of the most fascinating artists on the current scene. But she is not alone in this new adventure – the production work for the album is being handled by Manuel Cabezalí, an imperative piece in shaping Soleá's ideas. Nieves Lázaro is on keyboards and backing vocals, Juan Manuel Padilla plays the drums and percussion, and Dany Richter is taking care of the mastering.

Soleá, who won the 2020 El Ojo Crítico award from RNE for Modern Music, is living one of the most intense and inspired moments of her life – not just musically, but also as an actress; in 2019, she participated in the movie "The August Virgin" by Jonás Trueba and now in 2021 we can see her in the Movistar+ television show "Reyes De La Noche" and in the movie "La Novia De América" by Alfonso Albacete. And that's not all – she is also making her debut as a television host along with Miguel Poveda, with whom she has spent the last few months recording "Caminos Del Flamenco", a geographical and musical journey that will show viewers the flamenco of today, and which will be aired in 2022 on TVE's channel 2.
TRACKLIST: 01 Iba A Decírtelo