08/07/2012
SINGLE: "Anexo" recorded live, limited-edition vinyl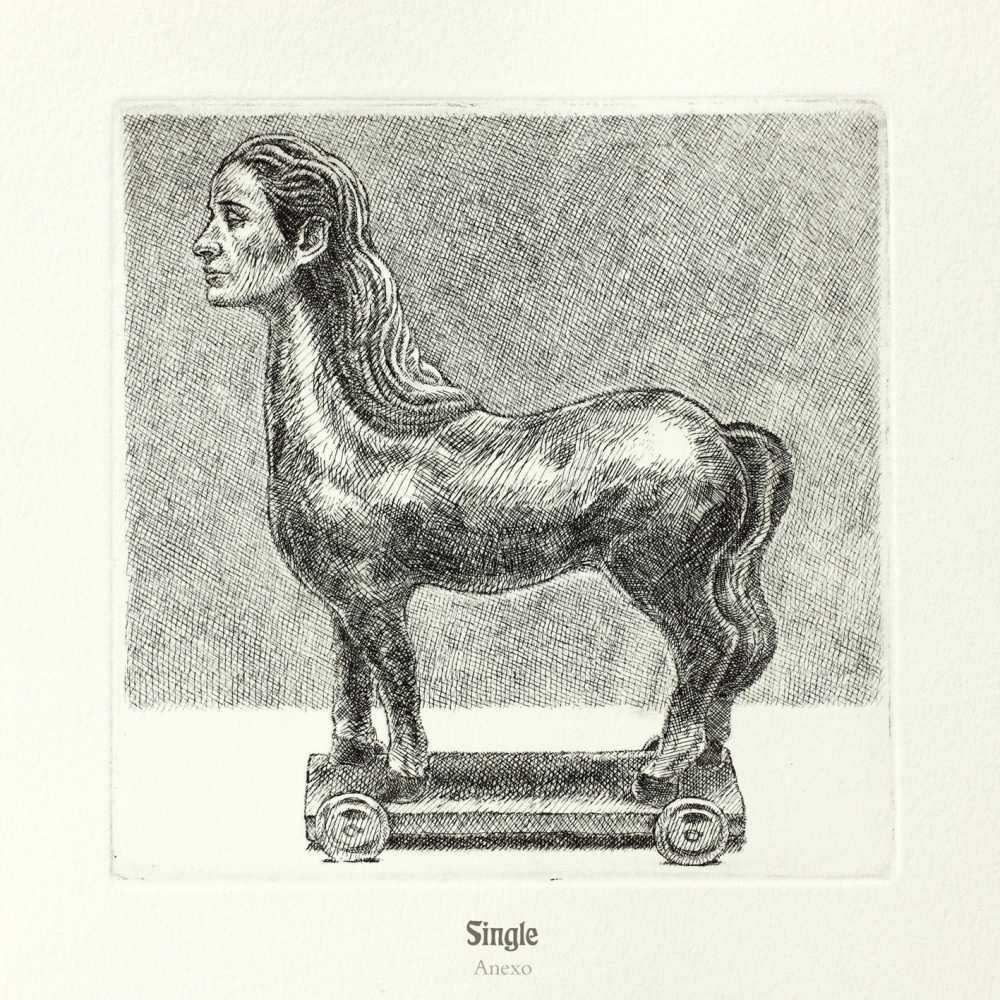 SINGLE "Anexo": Recorded live, 300 copy limited-edition vinyl, with the cover art by the always infallible Javier Aramburu

Ready for pre-order!

When we talked about "Monólogo Interior", we said it was a more intimate and compact album than its predecessor, "Pio Pio", though the overflowing imagination of Ibon Errazkin's production work and the amazing synthesizers of Genís Segarra still mark SINGLE as a group with tremendous personality and overwhelming creativity. For the release of said album, which reinforced their legions of fans and the admiration of critics, the did a series of concerts in minimalist format, in harmony with the base on which they built the album, and which have ultimately given way to what is the third album from the group from San Sebastian, "Anexo". Ibon and Teresa themselves explain it like this:
"In this past year we have played a lot of SINGLE concerts playing the songs from our repertoire with just vocals and an electric guitar.
As we continued playing these songs, we saw how they were getting farther and farther away from the versions we had recorded for the album, and were becoming something quite distinct.
So we decided to record the songs in the right conditions to leave a record of our concerts February 2011 (the date of our first "acoustic" show in the Cerralbo Museum in Madrid) and February 2012 (the date of our last performances).
The result is "Anexo", an album recorded live on March 1st, 2012, in our recording studio in Madrid."
And here it is, an album that will only see the light in digital format and in a 300 copy limited-edition vinyl, with cover art by the always infallible Javier Aramburu, and obviously, with the big star being their last album, "Monólogo Interior". However, the album opens with "El Amor En Fuga", their version of the original song by Alain Souchon and Laurent Voulzy for the movie by François Truffaut ("L'amour en fuite", 1979), which they had previously recorded for the single "Su Recuerdo". "En El Restaurante" abandons its dream-like ambiance and embraces melancholy and elegance. "Pio Pio" is the first song to suffer a noticeable deconstruction, leaving those ambiguous landscapes somewhere between Caribbean music and hip hop for a lyrical sobriety that is ultimately profoundly exciting. "Miau" recovers a pop spirit, avoiding the crazy ambiance of the original and opening up the playing field for Teresa's free interpretation in a state of grace – unpredictable, feline and at the same time warm, without equal, changing the phrasing, making the words flow in a thousand different ways and exciting our imagination with her impossible lyrics. Another song that has gone through a serious transformation is "Tu Perrito Librepensador" which, without the Jamaican touches and the synth-pop interludes, turns into an authentic pop delicacy.
The tour de force that is "La Ola" is reduced to a delicate gesture, accentuating its poetic power, and other songs from "Posponias", "Oda A Los Negros" and "La Cama", stay pretty close to their original versions, conceived in a manner close to their execution.
Recroded in the Audiomatic studios, live, in one single day, with Jose María Rosillo working the controls, "Anexo" is a revealing, impatient album, demanding of the listener, but that puts one more step on a pedestal that seemed like it couldn't get any higher.
TRACKLIST: 01. L'Amour En Fuite (El Amor En Fuga) 02. En El Restaurante/Chinese White 03. Pío Pío 04. Oda A Los Negros 05. Fotos 06. ¡Miau! 07. La Cama 08. Tu Perrito Librepensador 09. La Ola 10. Posponías



Video-clip of "Tu Perrito Librepensador [Anexo]" on sale on iTunes


Video-clip of "Oda A Los Negros" on sale on iTunes