20/10/2014
OVIFORMIA SCI: Release their first album, "Hablamos De Nosotros", in LP, CD, and digital format, as part of the "Recuerdos Que Olvidé" collection, thirty years after their disappearance [songs recorded between 1981 and 1983]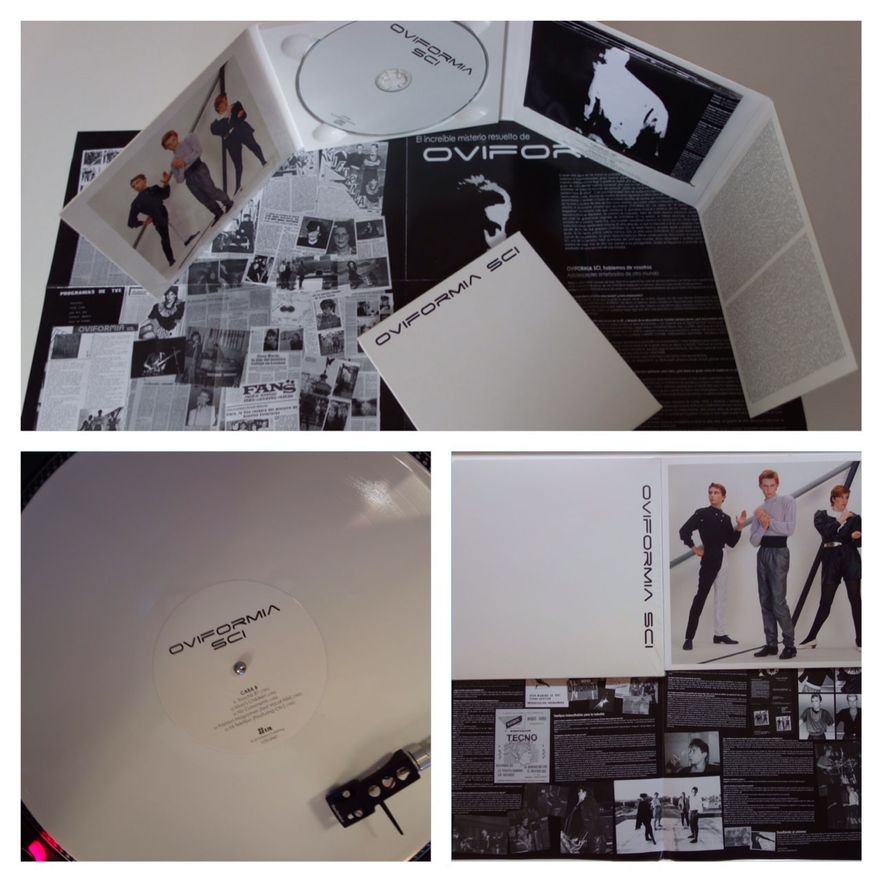 Release Date: 20-10-2014
Available for PRE-ORDER Here!!
LP [White Vinyl] Numbered Limited Edition of 750 copias / CD Digipak
Digital Edition [iTunes, Bandcamp, Spotify, Deezer, Elefant .... ]
TRACKLIST: 01 Hablamos De Nosotros 02 Mi Teletipo 03 Una Nota Di Bianco 04 La Luna La Nuit 05 Fashion Magazines 06 Touche 81 07 Mao's Children 08 No Comments 09 Fashion Magazines (Test Vocal Mix) 10 Mi Teletipo (Featuring Clic) || Extra Tracks (Formatos Digitales): 11 Fashion Magazines (Instrumental) 12 Fotografía 13 Buscar Razones 14 Metal Plastique 15 Su Voz 16 Magazines 17 No Comments (Instrumental)
Memory is a strange and magical thing. While time hides small wonders in the most inscrutable corners, memory, like an surprise spark that ignites when you least expect it, sets off a series of memories that help us to better understand ourselves, to enjoy more what we were, and, therefore, what we are. This is the story of OVIFORMIA SCI. They were a cult group that got together in the early eighties and became something that all of Madrid was talking about, with a fan base that included ALASKA Y LOS PEGAMOIDES, ZOMBIES, PARAÍSO (Fernando Márquez himself asked if he could join the band, though it ultimately never happened), and so many more, and who never released anything. Their recordings were lost for years, but Elefant Records, with the invaluable help of Jesús Ordovás and the forces from beyond, was able to rescue some original reels and put together the scattered pieces to release OVIFORMIA SCI's first album, thirty years after their disappearance. This is, without a doubt, a really special and even imperative release for our "Recuerdos Que Olvidé" collection.
Lucho's (Luis Prosper),Clara's (Clara Morán)and Ger's (Germán Espada) first foray into music was in 1980, with a friend, Miguel Bañuelos, who had worked with Manolo Campoamor (KAKA DE LUXE) before. That group was called FALSOS FANTASMAS and it was, like they themselves explained it, "a summer love". A brief but intense summer love, because by autumn Miguel was already thinking about WAQ and the other three were taking the first steps towards OVIFORMIA SCI. Locked up in Lucho's attic apartment, they spent hours and hours playing, making plans to record their demos (which are what are going into this album now), preparing their style and dreaming of fashion, robots, and synthesizers. Practically nobody played with only drum kits and synthesizers, but they believed in a future and in technology, and that is made clear in a few songs with small hints of influences from bands like CAN, NEU!, DEVO, ROXY MUSIC and KRAFTWERK. Their first performance in the Primer Simposium Tecno in Madrid's Marquee club, where they shared the stage with LOS INICIADOS, EL AVIADOR DRO, EL HUMANO MECANO, and LA TERAPIA HUMANA, was mythical and the beginning of a legend. Soon after that, thanks to the insistence of Paloma Chamorro (an important activist for the music and art of that period and known, above all, for being the director of the legendary TV program "La Edad De Oro" from 1983 to 1985), Paco Iriarte joined thegroup, putting the finishing touch on a line-up that created different, effervescent, dynamic, fresh sounds, until they broke-up in 1983. In those two years of existence, OVIFORMIA SCI created their own sound, escaping the traps and demands of the music industry and developing their own idea of what making music meant. All of these circumstances are what cause us to celebrate the release of this album now.

It's the best thing in the world to listen to these songs again and feel like you're travelling to the future and the past at the same time; there is no comparison possible. The roughness of a new sound mixed with warm melodies, impossibly cosmopolitan and arty lyrics, and the hallucinogenic sound of the synthesizers. The album opens with two incredible songs – "Hablamos De Nosotros" and "Mi Teletipo" (just as relevant and contemporary, 33 years later, in every way), which unleash memories of VISAGE, and of RHEINGOLD's, OMD's, and THE HUMAN LEAGUE's first recordings. Those songs are followed by the martialist kraut tune "Una Nota Di Bianco" and the unclassifiable evocation of "La Luna La Nuit". "Fashion Magazines" would be the perfect soundtrack for a new Nicolas Winding Refn movie, while "Touche 81" could take the Tour de France back to its golden age. "Mao's Children" is in unexplored territory, somewhere between TELEX, SPARKS, and TALKING HEADS, while "No Comments" reminds us of a famished, acerbic YELLOW MAGIC ORCHESTRA. If that is the main part of the album, then the final part consists of different remixes of "Fashion Magazines" and "Mi Teletipo" (sung by children (!!) and destined to be on the soundtrack of a movie about that period).
But that's not all – it also comes with seven extra tracks (on the vinyl they're included as downloads). There are instrumental versions of "Fashion Magazines" and "No Comments", five songs recorded live with a cassette in a concert on March 23rd, 1982 in the art gallery Amadis, which includes songs that were never recorded on demos before, like "Fotografía", "Buscar Razones", "Metal Plastique" or "Su Voz".

It gives us so much pleasure to release this album, from a group whose songs marked and motivated teenagers who, a few years later, influenced by everything that happened in that period, went on to create their own independent record label called Elefant Records. We hope you enjoy it as much as we do, and that it helps bring back this much-needed memory.