21/10/2016
NIZA: Vinyl release of "Canciones De Temporada" [Double LP]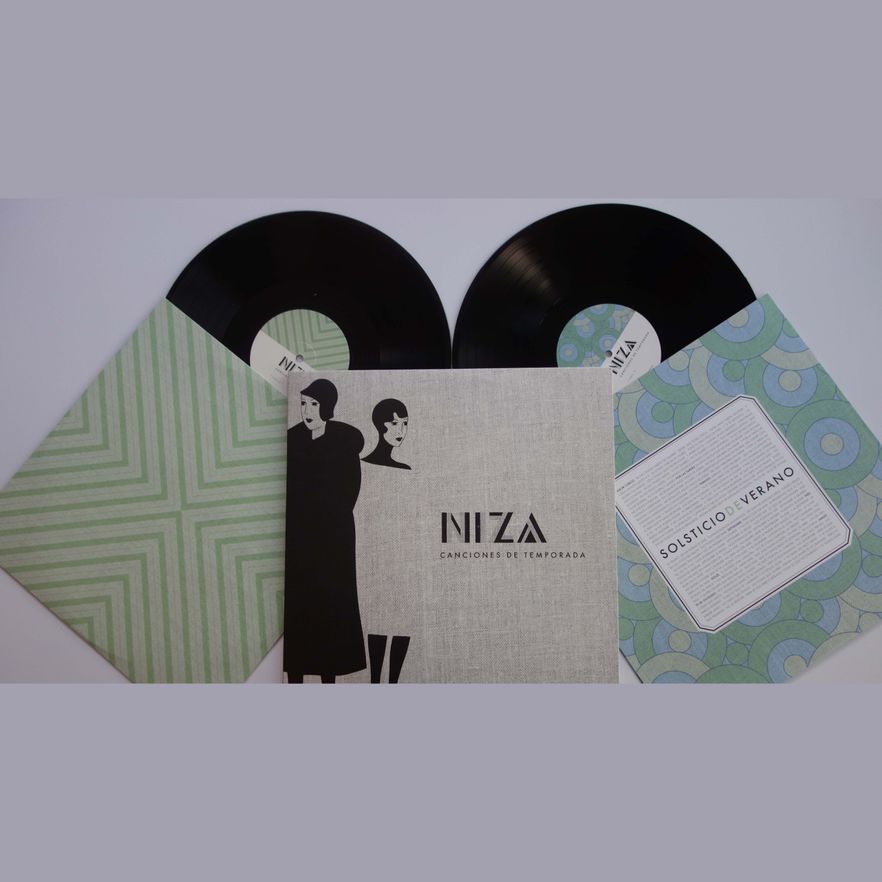 We are continuing with the re-releases for Elefant Records' 25th anniversary collection. This time, we're back with a small gem that turned out to be the only full-length from the group formed by Roberto Martín and Silvia Sanz, or as they were also known, NIZA. Their moment on the Spanish pop scene was as fast and bright as a shooting star, and with only one LP and two singles their music was heard in France, England, USA, Taiwan, South Korea, Japan… Their releases sold out at the speed of light, and the rarities, B-sides, and lesser-known work that were scattered by labels half the world over turned them into collector's items. "Canciones de Temporada" (2002) was such a special album, marked by those two solstices – summer and winter – that closed each of the sides of the vinyl. In hindsight, we have the feeling it was an unpredictable incident, an exquisite earthquake, something inimitable.
Mark Radcliffe played them on the BBC; LAMPCHOP had them as special guests in three concerts in Spain; the first edition of their album sold out in less than a month; they were at the top of best-seller lists in FNAC after being named "Talento FNAC"; they participated in the Gira Soft Pop Tour in Madrid; they performed with Britain's TREMBLING BLUE STARS, HARPER LEE, and LOVEJOY; their albums were licensed for sale in Taiwan, South Korea, and Japan… What they did worked so well it seemed simple, but it wasn't. Songs that mixed pop with a soul accent, lounge music, chamber folk, electro-pop, and bossanova. Influences like Claudine Longet, Astrud Gilberto, Jeanette, and LE MANS. That delicate and precious pop spirit, with great attention paid to every single detail that makes up the album, is what brought them national and international recognition. The album credits made it clear that this was not a public secret, but something much bigger: Guille Mostaza (ELLOS) on bass; Eric (LOS PLANETAS) on drums and percussion; Guille Milkyway (LA CASA AZUL) singing on "Parasol"; the Granada City Orchestra giving prestige to the wind and string arrangements; produced and mixed by Ian Catt (SAINT ETIENNE, THE FIELD MICE, SHAMPOO, THE SCHOOL, and a long etcetera); recorded in the Air-Raid Shelter in Granada by Carlos Hernández (LOS PLANETAS, COOPER, AIRBAG...) and all of that is wrapped up in an extraordinary cover designed by Gregorio Soria, which was readapted by the designer himself, with a few minor adjustments, for this new special vinyl edition.

This release recovers some of the lesser-known work from the Korean and Japanese releases: "Jamás Te He Olvidado" (taken from the "Modapop" compilation), "Radio Star" (the song dedicated to Juan de Pablos, which appeared in November 2004 on the commemorative CD for 25 years of the "Flor de pasión" program, also included on the compilation "Momentos perdidos") and "No Me Digas Que Estoy Sola" (this was one of their first songs, taken from "Elefantdiez", 1999, but this is a different version that has never been released before). This vinyl re-release also includes a surprise, a wonderful souvenir: live tracks from their show in Tokyo's Club Kay from 2005, when the group had already broken up, and where they played their famous cover of "El Niño De Los Ojos Tristes" (in the key of electro-pop, which was produced at the time by Guille Milkyway himself), and another of NEW ORDER's "Bizarre Love Triangle".
An album that was never released on vinyl and that is now going to be, in a numbered, limited-edition, double-vinyl release of 500 copies. To be enjoyed and, above all, to remember a group that, despite their brief time making music with us, has left an indelible mark.
Merchandise
Elefant Records
Turntable Slipmat


Buy
view all products
Latest activity