Biography
Roberto: guitars and programming
Silvia: vocals and programming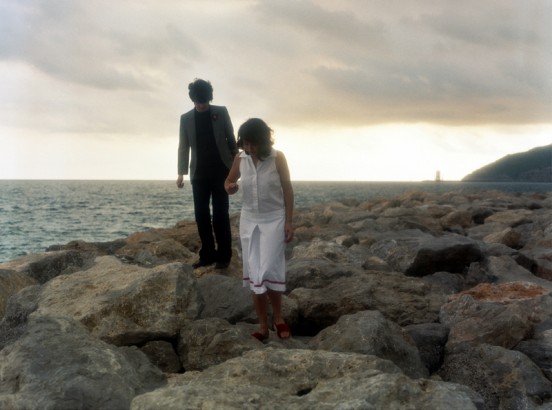 1998-1999

NIZA is a duo formed by Roberto and Silvia. NIZA's music is basically acoustic, delicate pop, with girlie vocal harmonies and sweet lyrics in Spanish, with many influences of bands from San Sebastián, like LE MANS or LA BUENA VIDA, or classic singers like Claudine Longet or Jeanette.
Their first gig took place in Automarte Festival in Murcia, in April 1999, with METEOSAT, LA PEQUEÑA SUIZA and MUSIDORA.
On May '99 they played their second gig, at a festival in the Madrid Autónoma University. Some days before they had played a couple of acoustic tracks in Jesús Ordovás Radio 3 show.
On May 21st they played an Elefant party at the Maravillas venue (Madrid), with LA MONJA ENANA and VACACIONES.
In June they recorded the songs for their first CD-Single, for which they were helped, as in their live shows, by Edu METEOSAT and Marta. The sleeve would be made by graphic artists Rubenimichi, who also took part in the collective exhibition in homage to VAINICA DOBLE, which stayed in the Círculo de Bellas Artes Gallery (Madrid) during the month of February 99.
On June the 8th NIZA played with Uk band SALAKO in a party organized by radio show "Viaje A Los Sueños Polares" and the net of European radios Euromuse. The show was broadcasted by most of the radios of the net, and was also recorded to be shown on Spanish Tv show "Estación Polar".
The first song released by NIZA, taken from their demo tape, appeared in "Consuma Pop Español", a CD compilation released by Madrid club Supergen. On August 99 they release their first single and CD-Single on Elefant Records.
They play in several Elefant parties in different parts of the country. They also make a TV appearance in Via Digital. At the end of 1999, Japanese online shop Syft Records makes "Niza" single of the month. In the Uk they get some airplay by famous BBC DJ Mark Radcliff.
2000-2002

In October 2000 appears a new single with three songs: "Topolino". One of the songs in this single, "Por las tardes" would be included in a CD given away with the March 2001 issue of exquisite Japanese pop magazine Beikoku Ongaku. A video of "Por las tardes" is shot in June 2001. This video is premiered in Madrid's FNAC store in July 2001; NIZA and LA MONJA ENANA play live in this premiere.
In November the band plays in Madrid's Cafe de la Palma, presenting new songs. The band is accompanied by an accordion player; Gregorio Soria (graphic designer) plays drums in some of the songs.
On March 2002 they play a new Juan de Pablos night in Madrid, this time with LA MONJA ENANA, COLAJET SET, L-KAN, SOUVENIR... They also play an Elefant night in Granada with ME ENVENENO DE AZULES, and they also take part in the Otros Mundos Pop Festival in Leon, with SHIZUKA among others.
On July 19th, the band plays in Valencia's "Le Festipower" with DON JULIO Y LOS CHOCOLAS.
On September 21st, NIZA and NOSOTRÄSH play an Elefant night in Paris. The night is organized by French zine Lollipop and takes place in La Guinguette Pirate Club, a boat in the river Seine. This is the first time both bands play in France.
At the end of November 2002 their first album, "Canciones de temporada", is released at last. Ian Catt, known for his work with ST ETIENNE and TREMBLING BLUE STARS, is their record's producer. The twelve songs that make up "Canciones de temporada" go all over a sentimental relationship across the four seasons: from the bright spring to the unwelcoming and dark winter. With this album, NIZA strengthen their hold as masters of elegant and sophisticated pop bathed with charm and delicacy, halfway between Saint Tropez and Rio de Janeiro. Specially indicated for fans of Astrud Gilberto or Claudine Longet. Collaborations in the record come from Guille Mostaza (ELLOS) on bass, Eric (LOS PLANETAS) on drums and percussions, David (LA CASA AZUL) who does backing vocals on "Parasol", and Granada City's Orchestra (winds and strings). Produced and mixed by Ian Catt at Cat Music Studios (London); Recorded at Refugio Antiaereo (Granada); mastering and recording engineer: Carlos Hernández.
2003

NIZA are chosen as FNAC New Talent, and during the months of January and February 2003 they premiere "Canciones de temporada" in an acoustic format. They play in Barcelona, Valencia, Alicante, Madrid, Zaragoza and Asturias.
They have great success of public, the album appears amongst the Top selling albums at some FNAC stores (reaching number one in Madrid) and the first edition, of 2.000 copies, is sold out in only one month.
In February 2003 they play at the Soft Pop Tour stop in Madrid, with British bands TREMBLING BLUE STARS, HARPER LEE and LOVEJOY, bands which are very close to NIZA, and with whom Ian Catt (producer of "Canciones de temporada") usually works too.
The video clip for "Parasol", first single taken from "Canciones de temporada", is shot in August 2003. Independent film studios Entre Líneas produce this video clip.
In September the play at the premiere parties of the Elefant "Modapop" compilation in Madrid and Barcelona, along with CAMERA OBSCURA, LA CASA AZUL, ENTRE RÍOS and LES TRES BIEN ENSEMBLE. This compilation includes two of the band's songs: "Parasol" (taken from "Canciones de temporada") and "Jamás te he olvidado" (a previously unreleased song, recorded during recording sessions of the album).


During the months of October and November, they play their new songs in clubs, with Guille Milkyway from LA CASA AZUL playing bass and melodica on several songs.
NIZA take part in the "Tribute to FAMILY", covering "Dame estrellas o limones".
2004-2006

In May they are invited to support LAMBCHOP on the American band's Spanish concerts in Madrid (Sala Arena), Barcelona (Sala Apolo) and Pontevedra (Pazo de cultura).
In June, news broke: NIZA had split. Silvia and Roberto take different paths, leaving behind a legacy of elegant and sophisticated pop, succinct in discography (two singles, one album and two videoclips), but still as prevailing as it was in the beginning, keeping the band's name on a leading position in the current music scene.
However, apparently news about their split didn't affect their career: "Canciones de temporada" was released in Japan in the beginning of 2004 by Rambling Records (a strong label specialized in reissues of 60's classic albums or soundtracks such as Ennio Morricone's), enjoying a great welcome and selling thousands of copies, as it was to be expected after, back in '99, their debut CD-Single was selected by an important Japanese record shop as one of the most recommended of that time.
This Japanese edition of the album has a different cover, adapted from their second single "Topolino", and as it is usual in Japanese releases, it includes some extra tracks. In "Canciones de temporada", these tracks are: "Jamás te he olvidado" (taken from the "Modapop" compilation), "Radio Star" (a song dedicated to Juan de Pablos, included in the tribute CD that celebrates the 25th anniversary of his "Flor de pasión" radio show, and also included in the "Momentos perdidos" compilation) and an exclusive song (for the time being) for the Japanese audience: "El muchacho de los ojos tristes", a Jeanette cover wrapped in euphoric europop, produced by Guille Milkyway (from LA CASA AZUL).
In the summer of 2004, NIZA's album is also released in Taiwan (by Avant Garden Records).
And the good news is that the success of this album in Japan is so enormous that NIZA re-form temporarily! This is not a proper comeback, but only a short reunion for two shows in Tokyo's Shibuya district, as a part of the Expo Aichi activities in July 2005. There they played along with LA CASA AZUL and DJ Polar in two Elefant Records parties taking part at club Cay (at Spiral Hall in Shibuya, Tokyo) on July 23rd and 24th 2005.
After the success achieved with "Canciones de temporada", their label in Taiwan is releasing now a complete compilation of NIZA's recordings under the title "Archivando mis recuerdos [1998-2004]" ("Filing my memories"), a compilation as wide as the complete career of the duo, featuring stops in all the band's different periods: here we find their two singles, plus a series of rarities and hard-to-find recordings: new and different versions of songs appeared on the band's only album; live recordings (acoustic radio sessions, or onstage featuring Guille Milkyway from LA CASA AZUL on the piano, as in their cover of the classic standard "Fly me to the moon"); rarities that only appeared in compilations before (such as "Radio Star", the song they dedicated to Radio 3's DJ Juan de Pablos; and also "Jamás te he olvidado", previously released on Elefant's "Modapop" compilation); cover versions of favourite songs by FAMILY ("Dame estrellas o limones"), French chanteuse and 60's pop idol Jeanette ("El muchacho de los ojos tristes") and even THE VELVET UNDERGROUND. A total of eighteen songs which are the perfect companion to go along with the band's only album, which seemed too short a legacy to many of us.
This Taiwanese compilation is already available through Elefant Records' mail order service, so fans of the band from elsewhere can complete their collections. Besides of all this, a similar compilation (same cover but different title and, above all, different tracklist) will be soon released in Japan via Rambling Records.
Three songs by NIZA ("Inés", "Por las tardes" and "Isolée") are included in the original soundtrack recording of the movie "Romancing the bride": a romantic comedy directed by Kris Isaacson ("Down to you") which also features the music of Brazilian singer Bebel Gilberto.
Starred by actress Laura Prepon (well known for her part in the TV series "That 70's show"), the movie premiered on December 3rd, 2005 on NY channel Oxygen.
In the first months of 2006 two new records by NIZA are released in the Asian territories, which have always been very keen on their music. "Canciones de temporada", the only official full-length album by the couple, comes out in South Korea through Ales Music (a record label that had already released other labelmates like CAMERA OBSCURA). Ales Music's release is a gorgeous digipack with a full booklet including the lyrics translated into Korean!

On the other hand, Japanese label Rambling Records -which released to great acclaim "Canciones de temporada"- releases the compilation "Todas las canciones (1998-2005)".

The album shares its beautiful artwork with another compilation previously released by Taiwanese label Avant Garden, but both the tracklist and even the title of the album (the one from Taiwan was called "Archivando mis recuerdos") are different.
2016
21/10/2016
Vinyl release of "Canciones De Temporada" [Double LP]. An album that was never released on vinyl and that is now going to be, in a numbered, limited-edition, double-vinyl release of 500 copies. To be enjoyed and, above all, to remember a group that, despite their brief time making music with us, has left an indelible mark.
This release recovers some of the lesser-known work from the Korean and Japanese releases: "Jamás Te He Olvidado" (taken from the "Modapop" compilation), "Radio Star" (the song dedicated to Juan de Pablos, which appeared in November 2004 on the commemorative CD for 25 years of the "Flor de pasión" program, also included on the compilation "Momentos perdidos") and "No Me Digas Que Estoy Sola" (this was one of their first songs, taken from "Elefantdiez", 1999, but this is a different version that has never been released before). This vinyl re-release also includes a surprise, a wonderful souvenir: live tracks from their show in Tokyo's Club Kay from 2005, when the group had already broken up, and where they played their famous cover of "El Niño De Los Ojos Tristes" (in the key of electro-pop, which was produced at the time by Guille Milkyway himself), and another of NEW ORDER's "Bizarre Love Triangle".
Discography in Elefant:
ER-215 NIZA "Niza" Single 7" (August 1999)
ER-322 NIZA "Niza" CD-Single (August 1999)
ER-228 NIZA "Topolino" Single 7" (October 2000)
ER-335 NIZA "Topolino" CD-Single (October 2000)
ER-1098 NIZA "Canciones De Temporada " CD Digipak (November 2002)
Songs in compilations:
- "El viaje", in CONSUMA POP ESPAÑOL (CD Supergen, 1999)
- "Niza", in VERANO DEL 99 (CD ER-1062, 1999)
- "No me digas que estoy sola", in ELEFANTDIEZ (CD ERDL-001, 1999)
- "Por las tardes", in ELEFANT DOSMILUNO (CD ER-1083, 2001)
- "Por las tardes", in CD free with BEIKOKU ONGAKU magazine (Japan, March 2001)
- "Por las tardes", in ELEFANT 2002 (CD Suave, México, 2002)
- "Universo", in ROCKDELUX canciones nacionales según los lectores (CD SM-055, 2003)
- "Jamás te he olvidado", in MODAPOP (CD ER-1094, September 2003)
- "Dame estrellas o limones", in HOMENAJE A FAMILY (CD SM-064, 2003)
- "Radio star", in MOMENTOS PERDIDOS (CD ER-1115, 2004)