20/10/2009
"Yo, tambi?n" [Me too] Original sound track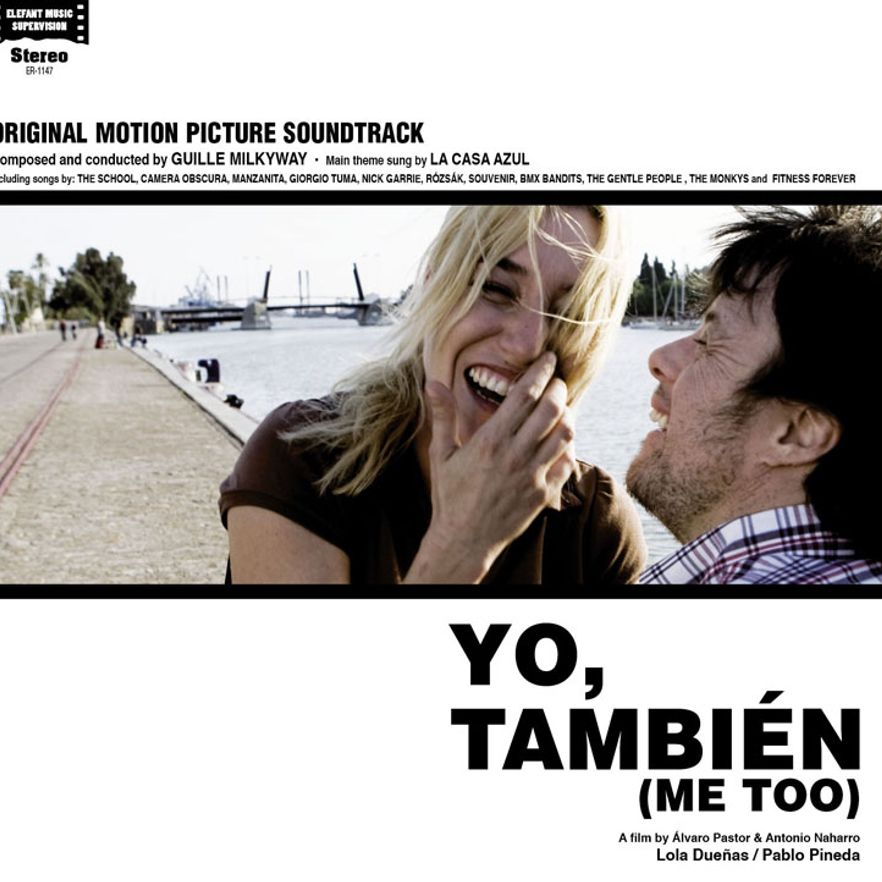 "YO, TAMBIÉN" [ME TOO], triumphs in the San Sebastián Film Festival: The movie was awarded two Silver Conches, for best actor for Pablo Pineda and best actress for Lola Dueñas.
YO, TAMBIÉN [a new movie by Álvaro Pastor and Antonio Naharro, starring Lola Dueñas and Pablo Pineda]
GUILLE MILKYWAY [LA CASA AZUL]: original movie soundtrack composer.
ELEFANT MUSIC SUPERVISION: artistic musical director.
The passion we feel for music at Elefant is something logical and evident, but from the start we have also been involved in and collaborated on artistic projects that go beyond the musical realm but that also need music to complete and fill out the work and make it more personal.
A few years ago, our passion for the movies brought about the creation of "Elefant Music Supervision", a project that has taken shape over time, with the goal of helping and collaborating on audiovisual projects of all kinds, offering musical supervision that would help the creators find the perfect music for their work. Shorts, documentaries, movies, commercial spots, television theme songs… we have found ourselves involved, sometimes directly, other times more indirectly, in a ton of national and international audiovisual projects that have used music from our company or projects that we have created with our artists' exclusive pieces. International television series like "Grey's Anatomy", "Desperate Housewives", "The O.C.", "Summerland", "Gilmore Girls", "Ghost Whisperer", "Degrassi", "Chop shop", "Exes & Ohs", "One Tree Hill" or the imminent new HBO series "Bored to Death" all use music from Elefant Records on their soundtracks. And so do Spanish series like "Gominolas", "Doctor Mateo" and "Cuestión de sexo", independent movies from all over the world, shorts, television commercials… the list just goes on and on.
One of the projects we have been very involved in this past year is the feature-length debut of Álvaro Pastor and Antonio Naharro, starring Lola Dueñas and Pablo Pineda.
Lola Dueñas received a Goya for her role in the film "The Sea Inside", directed by Alejandro Amenábar, and was nominated for another for her role in "Volver" (Return), directed by Pedro Almodóvar. She plays the role of Laura, Daniel's co-worker with whom he falls in love. Pablo Pineda is the real thing and plays his fictional alter ego, Daniel Sanz. Although this is his first time on the big screen, he's quite used to working with the media and has participated in numerous TV shows.
From the moment we read the first draft of "Yo, También", during the hot summer of 2008, we fell immediately and irrevocably in love with the project and the story; it was so unique and special, as real as life itself where love, sadness, loneliness and frustration intermingle in a plot that also has space for vindication and for changing the rules and ways of thinking of a middle-class society that is unrealistic about the true needs and necessities of people with Down's Syndrome.
Our dedication to the project, on the musical level, has been profound and exciting; little by little everything took shape and the music selection turned out to be really varied and enriching. Guille Milkyway (LA CASA AZUL) was in charge of creating small musical brushstrokes specially made for the movie. The soundtrack is atypical, with simple, bare pieces, based on emotionally charged piano melodies that can just as easily express the greatest happiness as they can sink into the deepest sorrow and frustration. Guille was also in charge of the movie's theme song, a 70s style rumba, "Yo, También", somewhere along the lines of the first recordings by LAS GRECAS or LOS AMAYA, but with that magical touch that our great master's compositions are full of, and which make it a total hit from head to toe that will stay in everyone's head and be hummed and sung until we've had enough. All of these new compositions by Guille are proof of the great variety of styles that live inside his head, and that nothing is impossible for one of the best musical composers of the moment.
There is a lot of music in the movie, as much music as there are characters and situations. Quiet moments, sweet, quotidian, romantic, sad, exciting, fun, crazy, partying, totally out of control… there is music to fit every moment and all together it makes a perfect soundtrack for understanding the movie. Guille's rumba and the songs of LAS GRECAS and MANZANITA give that Spanish touch to the movie, which takes place mostly in Sevilla, but the soundtrack also has the delicate songs of Wales' THE SCHOOL, the magnetism of CAMERA OBSCURA, the Italian romanticism of GIORGIO TUMA and FITNESS FOREVER, the delicacy of BMX BANDITS, the timeless folk-pop of Nick Garrie and RÓZSÄK and the strength and rhythm of LA CASA AZUL, SOUVENIR, BEEF, RIOT IN BELGIUM and THE GENTLE PEOPLE, among others.
Elefant Records will release the movie soundtrack this coming October 12th and it will be the perfect souvenir for everyone who, like us, falls for this great movie that has its impressive first showing in the San Sebastian film festival on September 23rd, and will be released commercially in movie theaters all over Spain starting October 16th.
The next big project of "Elefant Música Supervision" will be artistic musical direction for "Jelly Jamm", an animated musical comedy series that we will be telling you about soon, and that Guille Milkyway will be working on as well as a composer.
SYNOPSIS
Thirty-four-year-old Daniel is the first European with Down syndrome to have graduated from university. He starts a social services job in Seville, where he meets free-spirited co-worker Laura. They become fast friends, drawing the attention of both their co-workers and families. Their unique relationship becomes problematic when Daniel falls in love with her. But these rebellious souls refuse to bend to the rules and they find friendship and love as they have never known.
Tracklist: 01. I don't believe in love THE SCHOOL 02. Dedicated to Timmy the whale GIORGIO TUMA 03. En la playa 1 GUILLE MILKYWAY 04. Yo también LA CASA AZUL 05. Te amaré MANZANITA 06. En el restaurante GUILLE MILKYWAY 07. En la playa 2 GUILLE MILKYWAY 08. Separación 2 GUILLE MILKYWAY 09. I can wait forever BMX BANDITS 10. G-Lombardi magic rollercoasters GIORGIO TUMA 11. Tema de yo también GUILLE MILKYWAY 12. En el puente GUILLE MILKYWAY 13. Yo también LA CASA AZUL & SILVIA SANZ 14. Huída GUILLE MILKYWAY 15. If looks could kill CAMERA OBSCURA 16. On a wing and a prayer NICK GARRIE 17. Tema de amor GUILLE MILKYWAY 18. Que te quiero GUILLE MILKYWAY 19. ML DB (Mary Louise song) GIORGIO TUMA 20. De man devla RÓZSÁK 21. Fin de año BEEF 22. La revolución sexual LA CASA AZUL 23. Plastic city THE GENTLE PEOPLE 24. Ta-machine SOUVENIR 25. Albertone FITNESS FOREVER 26. En la azotea GUILLE MILKYWAY 27. Separación 1 GUILLE MILKYWAY 28. Kiss you in the snow THE SCHOOL 29. Feliz navidad GUILLE MILKYWAY 30. Yo también (Instrumental) LA CASA AZUL 31. Tema de amor final GUILLE MILKYWAY 32. D&B LOS MONKYS