27/10/2016
LA CASA AZUL: Re-releases in the Elefant Records 25th Anniversary Collection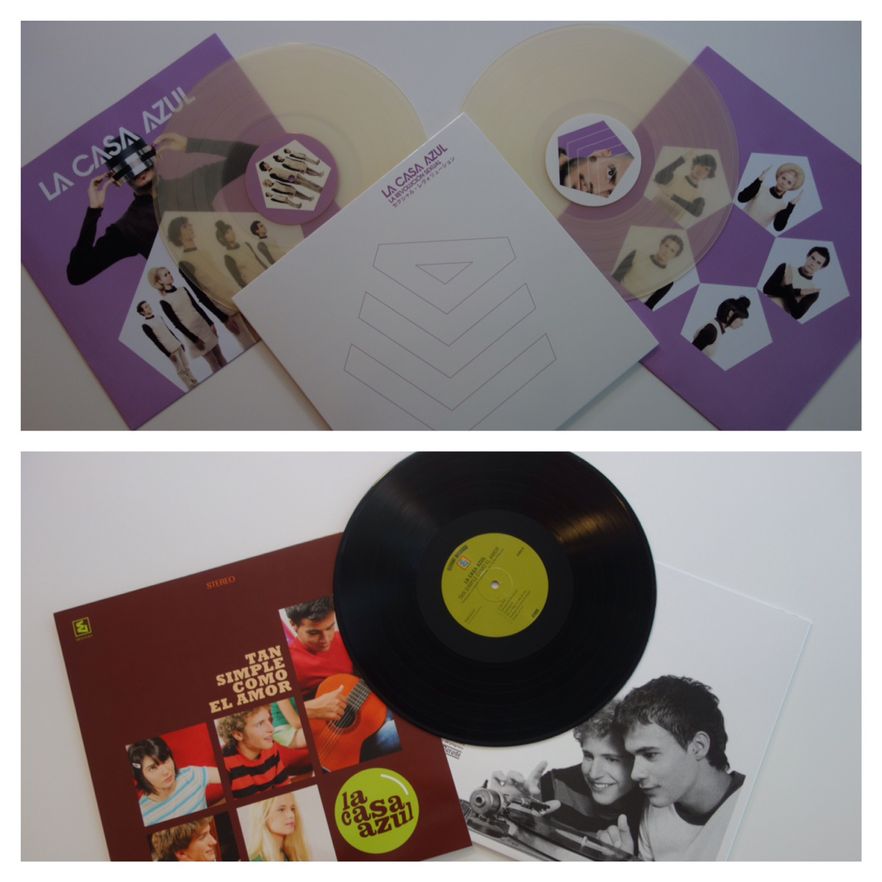 We are moving forward with our special collection of re-releases to celebrate Elefant Records' 25th anniversary. In 2014 we turned 25, and we announced our plans to release a collection of 25 editions with a focus on vinyl, on attention to every detail in every release, some extra tracks and many surprises both for fans and for newcomers who weren't able to buy the albums by THE SCHOOL, TREMBLING BLUE STARS, LE MANS, JUNIPER MOON and LOS FLECHAZOS, among others, when they were first released. We're back to new re-releases from LA CASA AZUL, from the magnificent "Tan Simple Como El Amor" (in black, 1000-copy, numbered, limited-edition vinyl), and their big hit, "La Revolución Sexual", with a special double-vinyl release, which will have the album's original songs and the extras, covers of other groups and songs from the album in other languages with special collaborations, which were included on that second part of the album that was "Lo Que Nos Dejó La Revolución". In this case, the release will be on transparent vinyl, with a different colored album cover and sleeve by Gregorio Soria, the original designer of the first edition of the album, as a numbered,1000-copy limited-edition.

TAN SIMPLE COMO EL AMOR
TRACKLIST: 01 En Noches Como La De Hoy 02 Quiero Parar 03 Vamos A Volar 04 El Sol No Brillará Nunca Más 05 Cambia Tu Vida 06 El Secreto De Jeff Lynne 07 Prefiero Bailar 08 C'est Fini 09 Siempre Brilla El Sol 10 Superguay 11 Por Si Alguna Vez Te Vas 12 Aunque Parezca Lo Mejor 13 Como Un Fan 14 Preferimos Soñar (Hidden Track)
When "Tan Simple Como El Amor" came out, LA CASA AZUL was already on the tip of everyone's tongue. "El Sonido Efervescente De La Casa Azul" had made a huge impact on pop-lovers half the world over, and there were three years of waiting before this release that confirmed that Guille Milkyway was no one-hit-wonder, but something really special, to be worshipped, who would offer himself to us in order to transport us to the most amazing places pop could go. And did he ever!
That was the album when a lot of people thought LA CASA AZUL was 5 young guys. But most of all, that was the album that confirmed that Guille was going to be around for a while. Yeah, "Superguay" excited us to the point of exhaustion, and showed us that there was an eye more and more on the dancefloor. "En Noches Como La De Hoy" opened the album with one of those melodies with a touch of ye-ye that won us over forever. "Vamos A Volar" had an irresistible touch of disco-funk. "El Sol No Brillará Nunca Más", groove and sampling, soul and disco, one of those hits that to this day is still one of the key moments in LA CASA AZUL's live show. "Prefiero Bailar" was capable of blending a sixties sound with a touch of punk-pop, only to be another of those eternal songs designed to sing along to. The closing track, "Como Un Fan", beyond perfect pop, that way of singing so fluidly yet with such a hook... And it's like this with all the songs on an album that, once again, lifts our hearts with classics like "C'est Fini", "Siempre Brilla El Sol", "El Secreto De Jeff Lynne", "Por Si Alguna Vez Te Vas"...

This album is being released on vinyl this time, after many years out of print, and will be part of the collection of re-releases celebrating Elefant Records' 25th anniversary. A 1000-copy, numbered, limited-edition.



LA REVOLUCIÓN SEXUAL
TRACKLIST:
DISCO 1: 01 La Nueva Yma Sumac 02 La Revolución Sexual 03 Prefiero No 04 El Momento Más Feliz 05 Mis Nostálgicas Manías 06 No Más Myolastan 07 La Gran Mentira 08 Chicos Malos 09 Una Cosa O Dos 10 Mucho Más De Lo Normal 11 Esta Noche Sólo Cantan Para Mí 12 Triple Salto Mortal 13 Un Mundo Mejor (Instrumental)
DISCO 2: 01 Die Sexuelle Revolution (Feat. Françoise Cactus On Vocals) 02 Love Is In The Air 03 Surf Up & Down 04 Sexual Revolution (Feat. Yeongene On Vocals) 05 La Nueva Yma Sumac (Feat. The Aprils) 06 I Want You Back 07 Señora 08 Bad Guys (Feat. Duglas T. Stewart On Vocals) 09 Sexual Revolution

If we had to choose just one album from LA CASA AZUL, it would be absolutely impossible to make a decision. They're all perfect, inimitable, and different. But there was definitely a before and after the album "La Revolución Sexual". On an artistic level it is on the same level as other albums, making a definite jump toward dance music, using thousands of samples, but it still maintains its own identity and unforgettable memories... There are infinite cultural references, the definitive, almost total embrace of dance and electronic music, among others. But in terms of audience it meant definitive recognition, the one that took him beyond a specialized audience and turned him into a phenomenon. Songs like "La Revolución Sexual", "Esta Noche Sólo Cantan Para Mí", "Chicos Malos" and "La Nueva Yma Sumac" were some of the songs responsible for this, especially the first one, which was named as one of the favorite songs to represent Spain at Eurovision.
This is a key album in the history of this group and this label, that we are now re-releasing to celebrate Elefant Records' 25th anniversary. Transparent double-vinyl that will also include the songs that were released on that delicious sequel, "Lo Que Nos Dejó La Revolución", full of covers, remixes, and collaborations. The covers range from the impressive "Señora" by Joan Manuel Serrat to "I Want You Back" by the JACKSON FIVE, to John Paul John's "Love Is In The Air" which became a classic in concerts as well as an authentic exaltation of love. The collaborations include Duglas T. Stewart (BMX BANDITS), THE APRILS from Japan, Yeongene, who is a total pop icon in Korean, and STEREO TOTAL from Germany.

Every last detail of this release is being carefully considered, and only 1000 numbered copies will be released. This is an amazing opportunity to get your hands on one of the most important albums in the history of pop in this country.