30/06/2023
CAMERA OBSCURA CAMERA OBSCURA: REISSUE [2023] "Underachievers Please Try Harder" In Orange Vinyl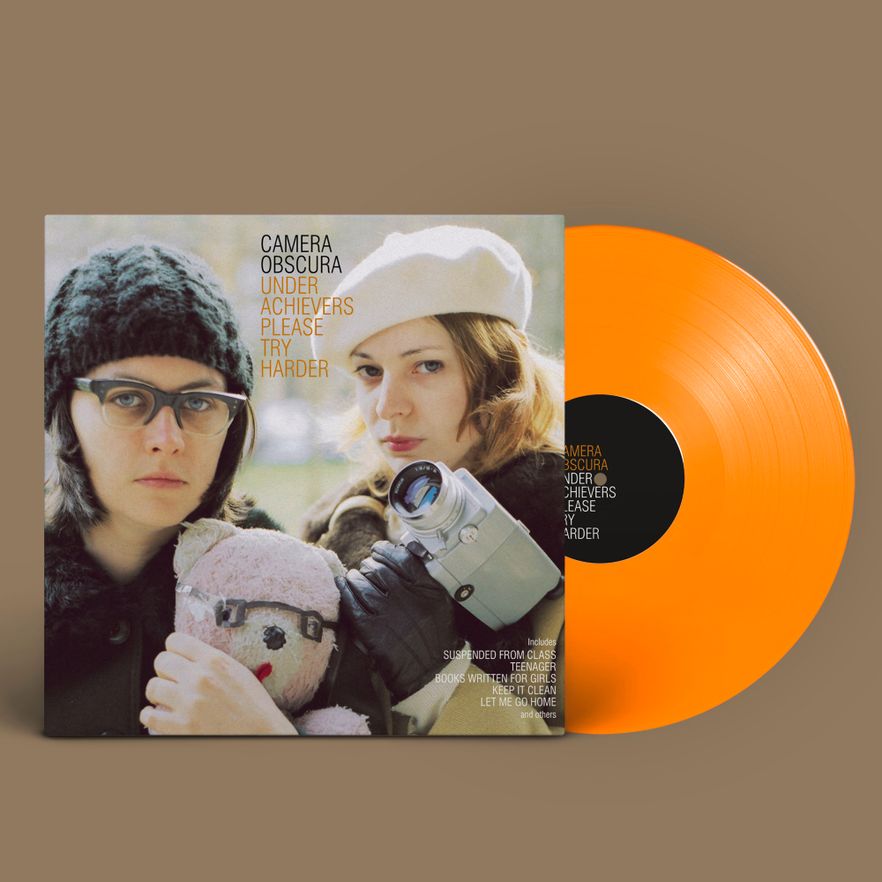 REISSUE 2023 IN ORANGE COLOUR VINYL
There are groups who grew up with Elefant Records, who were a turning point for the label and its development, and who fill us with pride when we look back and see their discography and the milestones they have reached. All of this is coming up because of CAMERA OBSCURA, that group that Stuart Murdoch (BELLE & SEBASTIAN) discovered and which he became obsessed with, to the point of producing their third single ("Eighties Fan"), directing the corresponding music video, doing the arrangements on their first album, and so many more things. We fell in love with that song and it made us license their first album, "Biggest Bluest Hi-Fi" for the whole world, and then sign them with Elefant Records and release their following two albums on our label for the entire planet, until they wound up signing with 4AD, the label that groups like COCTEAU TWINS, STEREOLAB, THE NATIONAL, GRIMES and the PIXIES spent time with.
The time has come to re-release those two sought after albums that have been out of print for so long on vinyl, "Underachievers Please Try Harder" (2003) and "Let's Get Out Of This Country" (2006). The latter was their definitive confirmation, the album that brought them to perform halfway around the world and made them known by a larger audience than the gem hunters who already loved them from their first album "Biggest Bluest Hi-Fi". "Underachievers Please Try Harder" is the album with "Teenager", "A Sister Social Agony", "Keep It Clean" and "Suspended From Class"; it is the album on which Stuart Murdoch continues showing his support for the band with the cover photo; the album produced by Geoff Allan (who has also worked with other illustrious Scottish bands like MOGWAI, TEENAGE FANCLUB, THE DELGADOS, ARAB STRAP and BELLE & SEBASTIAN); the album that quickly surpassed 100.000 sold copies, a number that causes a bit of vertigo nowadays; the album that put them at the top of indie lists in the United States, and that was included on an episode of our beloved "Gilmore Girls".
"Let's Get Out Of This Country" is the album of maturity, the album of a group that has a solid international position and how they approach this third album that will immortalize them. It was recorded in Sweden and produced by Jari Haapalainen (Ed Harcourt, THE CONCRETES), and with it, Tracyanne Campbell and company made the definitive leap with their arrangements, energy, harmonies and composition. Some of the musicians that recorded the strings had recently toured with Brian Wilson and Arthur Lee & LOVE. The album's collaborators include Victoria Bergsman from THE CONCRETES,Britta Persson and members of Swedish groups like THE TOURETTES, LAAKSO and SPEEDMARKET AVENUE. And we get "Lloyd, I'm Ready To Be Heartbroken", "Tears For Affairs", "Razzle Dazzle Rose" and "Let's Get Out Of This Country" to confirm this. And of course, they toured the ENTIRE world. And they were sounding on "Grey's Anatomy". And in the end 4AD came to sign a group that had become gigantic.
This is a special opportunity to acquire two vinyls that haven't been available in stores for many years, and that are absolutely delicious, and absolutely necessary for any pop lover's music collection. "Underachievers Please Try Harder" is being reissued in orange colour vinyl and "Let's Get Out Of This Country" in transparent vinyl.
With almost seven years of working together, we shared some of the most exciting and wonderful moments we have ever had here at Elefant, and that bonded us all together forever.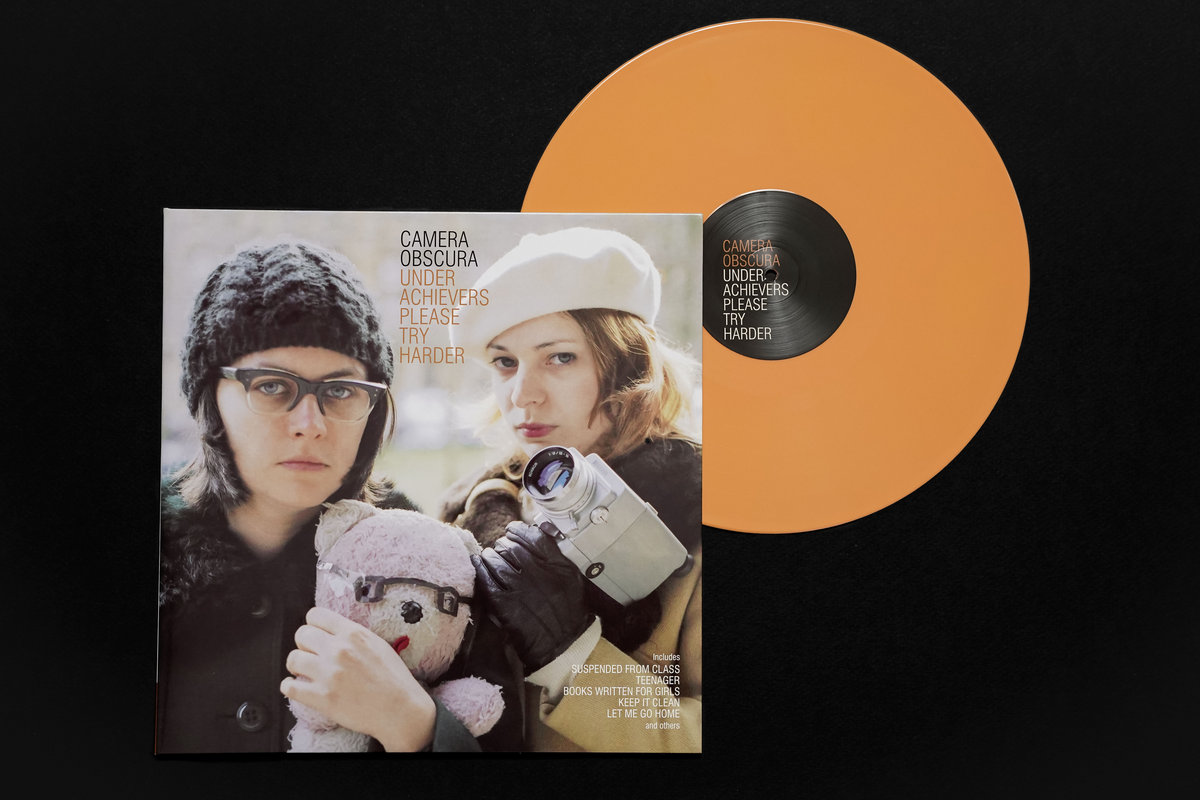 ORIGINAL PROMOTIONAL TEXT
Written by Julio Ruiz (Musical journalist and critic. He directs and hosts Disco Grande radio show in Radio 3 (RNE).
The labor of diffusion and expansion in the Spanish market was made little by little. The credentials then used to introduce the band (something that now seems not to be enough to get the whole picture) were their geographical proximity and friendship with BELLE & SEBASTIAN through Stuart Murdoch. Those first singles started to be played in the radio and made way for Elefant's release of "Biggest blues hi-fi". Some people prefered "Happy new year", others "Eighties fan", some chose "Anti-western" and its male/female alternate vocals.
Their appearance at Primavera Sound Barcelona Festival served as a mere advance for what later confirmed in a tour with overcrowed venues (El Sol Club in Madrid showed a long queue of fans, the success with the highbrow audiences in Tanned Tin Festival are just two examples). Another fact for the records: CAMERA OBSCURA played more shows in this Spanish week-and-a-half tour than in the rest of their live career so far.
On those shows we started to relish those new songs to be included in this new album, which insists again in the keys previously displayed, now improved to perfection. That collection of flavors (British pop, acoustic intimacy, backing vocals, string arrangements, sixties sound, country moods...) is present again in "Underachievers please try harder" (recorded between last year's April and December) again produced by Geoff Allan, that achieves to mantain a select and refined pulse in the album sound.
We shouldn't stop finding resemblances and parallel lines to those charming female vocals. No Harriets, Tracys, Nancys, Dustys or any French icon. Tracyanne sings like...Tracyanne. That's it. She is superb singing alone or when accompanied by John: both voices are so wonderfully pasted that it's difficult to think of a matching duet of today. She is also the main composer, signing the songs by herself or with John and Kenny.
The rest of the line-up (Gavin, Carey, Nigel and Lee) contribute to the instrumental brilliance, though there are also some additional musicians (flute, steel, strings...) which are part of the experimentation assumed by the main members in order to add more and more arrangements to improve the compositions.
The album advance is that true gem entitled "Teenager"; I'd really want to know why the two songs in the flip, "I don´t want to see you" (sung by Tracyanne) and "Footloose and fancy free" (sung by John), two intimate moments only supported by piano and organ respectively, have not been included in the album. "Teenager" is from now on a new hit by CAMERA OBSCURA. It makes you think of a film like "The Wanderers", with music by Dion DiMucci or some other classics with beach-surf-tinged guitars a la "Shadows".
When the record start you may think it's Elvis' "Suspicious minds", but no, it's "Suspended from class", one of the best tracks in the album, no doubt it doesn't open the album by chance. Main virtues: John's second vocals, the female backing vocals is it Tracyanneoverdubbed or maybe Carey? And that full-blast ending, so typical of them. Superb production.
After another fragile, sensitive number ("Keep it clean") we enjoy the best vocal tradition à la RIGHTHEOUS BROTHERS or EVERLY BROTHERS in "A sisters social agony". They were all recorded at the same time.
The country touch, when John sings and he's replied by Tracyanne, is present in "Before you cry", another future hit we first listened in their Spanish tour. Again, the shadow of that glorious tandem formed by Nancy Sinatra-Lee Hazlewood is conjured.
At the end of A-Side (vinyl version) we find the surprise of "Your picture" proving that some members of the band (namely Kenny) are fond of songwriter Leonard Cohen. Yes, it's easy to think of "Suzanne", one of the Canadian myth main hymns.
The flip opens with one of the tracks that was expecting to be delivered. It grows in crescendo till it manages to surround you (from LOVE to STEREOLAB or their contemporaries SALOON?), winning points when the guitar comes in to die in an instrumental climax. Close to "Number one son"'s conception is "Knee deep at the national pop league", another of the lengthiest numbers in the album.
John sends us to the dancefloor with "Let me go home", a song written by himself, featuring refined backing vocals in the best tradition of the classic girl groups.
We also need to mention the intimacy and nakedness of another country-tinged track (featuring a delightful steel guitar) that is "Books written for girls" and the closing with "Lunar Sea", another song of the same kind, featuring alternate vocals and written by John and Kenny.
If all this was not enough, look for the wonderful pictures (shot by Stuart Murdoch himself) of the female members of the band. Because of all this, from the sleeve to the content, I think we are in front of one of the best albums in 2003.
Text written by Julio Ruiz.