18/01/2023
AIKO EL GRUPO and PIPIOLAS Inverfest 2023 - Concert on February 5th in Madrid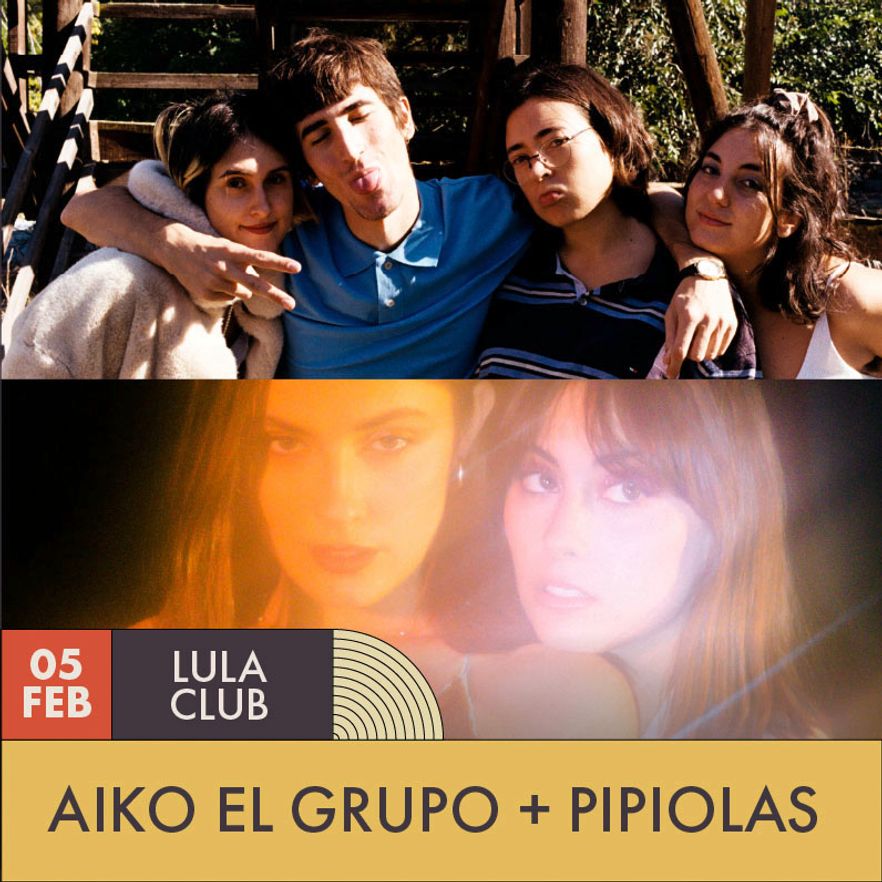 AIKO EL GRUPO and PIPIOLAS join forces in a concert that promises many surprises.
On 5 February in Madrid, one of those planetary conjunctions that happens once in a long time will take place, a musical event that promises to be overwhelming and that is set to be an essential date this winter: the concert by AIKO EL GRUPO and PIPIOLAS as part of the Inverfest festival in Madrid.
Two of the bands from our label that have had the longest run in the past year and that have given us the most to talk about join forces to remind us that they are here stomping their feet and that they don't intend to stop. The concert will take place at Lula Club and will start at 20:30h. Tickets are still available, but considering the streak they boast, we guess it won't be for long.
AIKO EL GRUPO
They are the Rrriot-punk dream come true. The quartet formed by Tere, Bárbara, Lara and Jaime released their first Mini-LP, "Va totalmente en serio...", in 2020 and it sold out almost immediately. Their songs are fun, with a lot of personality and full of shameless acid humour. Their live show, forceful and spidic, makes an impact. With the distortion pedal on 11, with a lot of strength and an unstoppable attitude, they are a steamroller of youth and freshness.
Since their first release they have been very well received by the public, who sing their choruses wherever these girls perform. With a large number of concerts behind them, they can boast of having played at festivals such as Primavera Sound (Barcelona), Tomavistas (Madrid) and the historic Contempopranea in Extremadura. They have several sold outs to boast of and have also accompanied established bands such as MUJERES or CAROLINA DURANTE.
If you don't want to miss them, apart from the concert they will be giving with PIPIOLAS in Madrid, AIKO EL GRUPO will be touring many places in Spain, thanks to the fact that they have been selected in the GPS (Girando Por Salas) call. They are a whirlwind of energy; a bomb of youth and charisma and you can't miss them.
PIPIOLAS
PIPIOLAS represent that pop full of edges, full of fantasy, in which it is impossible to get bored. In which there are great melodies, great arrangements, but, above all, an overflowing imagination and creativity. Their proposal shows an overwhelming personality, charisma, a lot of magic and a rich instrumentation that transgresses the marvellous bedroom pop. They are destined to be one of the big news of Spanish pop in the coming years and sign great moments.
The band formed by Adriana Ubani Álvarez (1997, Las Palmas de Gran Canaria) and Paula Reyes Morillas(1995, Alcorcón) is one of the revelations of this season and that is a fact. Their entry into the national pop scene has been full of details and surprising advances and the steps with which they have presented themselves in society have been very careful and full of remarkable events among which we can highlight their participation in the Radar Joven cycle of the Community of Madrid, their participation in the Monkey Weekfestival or the performances alongside consolidated artists such as LA CASA AZUL, Rigoberta Bandini in the Plaza de Toros de Murcia or GINEBRAS at La Riviera venue in Madrid.
PIPIOLAS are preparing for a year of even more movement and are ready to step on the accelerator. In addition to the date, they have with AIKO EL GRUPO at Inverfest, they will also be playing at festivals such as Festival Sónica and some others that have yet to be announced. Concerts in which they will present their new songs that are already underway in their particular pop kitchen and that promise to be a complete revolution. We can't wait any longer.