28/10/2022
MARIA RODÉS "Fuimos Los Dos" LP/CD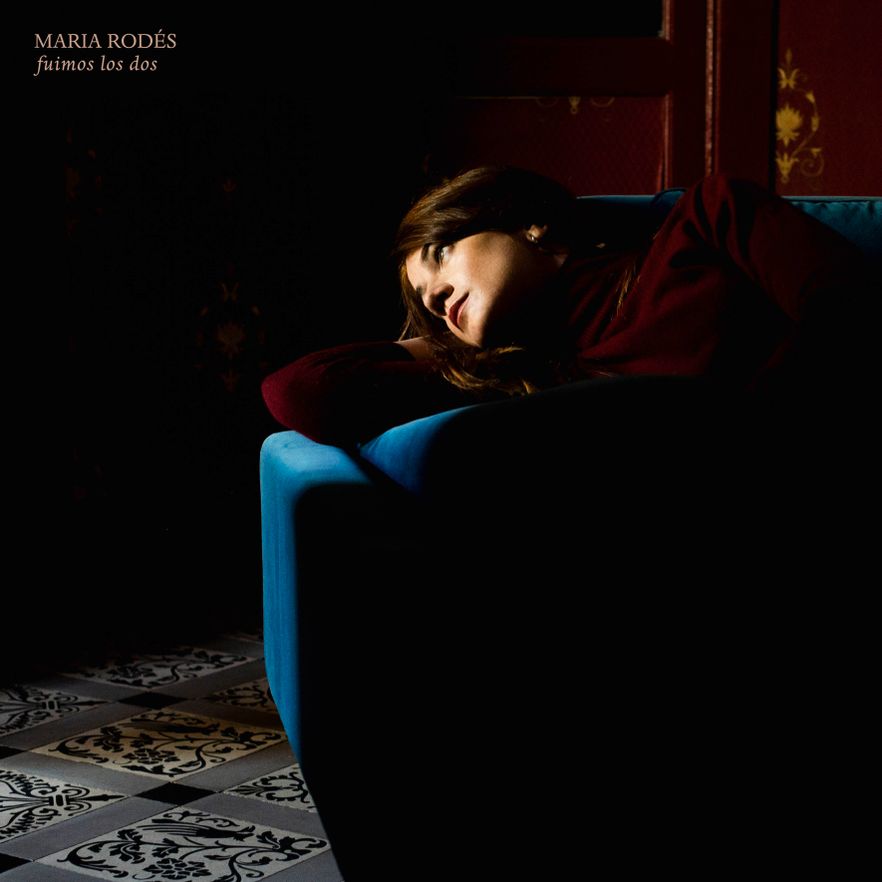 After eight albums, Maria Rodés' talent has been made absolutely clear on numerous occasions. But "Fuimos Los Dos" is a special album, and not just because it's her first solo album with Elefant Records (after that wonder she shared with LA ESTRELLA DE DAVID titled "Contigo"). We are probably looking at her most intimate work, where she combines singer-songwriting, Latin American folklore and sonic experimentation to express her vision of the end of romantic relationships. It is an absolute delight, and her marvelous voice dances between minute, delicate, exquisite arrangements.
"Fuimos Los Dos" is a bittersweet album. It tells a story that ends during the confinement, where the lockdown is an opportunity to look directly at the faults of a dying relationship: "este silencio lo tendremos que hablar" (we will have to talk about this silence) she sings in one of the songs. The thirteen tracks on the album give that silence a voice, untangling the past and the present, and taking us to other break-ups she hasn't totally gotten over. All the songs were written during confinement, like a diary, all at once and without editing, to not think too much, and to let the time pass. Thanks to this personal challenge that started out as a kind of game – writing a song a day – the singer-songwriter was able to avoid getting caught up in perfectionism and give us the perfect freshness of the original ideas.
The album is produced hand in hand with Joel Condal, and also includes guitars and charango (a small Andean string instrument) by Isabelle Laudenbach and Marina Tomás, and cello by Marta Roma, who weave a blanket of arrangements that intertwine and hold together the story of this break-up from beginning to end.
The dreamy "Recordarte" opens the album, and it begins the story where Maria risks saying "I love you" for the first time. She pays tribute to her adolescence, to that time when she dared to love openly and freely. After this carefree declaration of love – "Si lo nuestro no va hacia ninguna parte / No me importa" (If our love doesn't go anywhere / I don't care) – we get the contradictory "Prefiero No Decir Nada", where the guitars' happy Brazilian rhythm contrasts with the lyrics that let us begin to see the couple's fissures: "Sólo nos queda esperar / A que deje de brillar / Esta llama que se apaga / Este amor que se nos va" (All we can do is wait / for the shine to fade / This flame that is dying out / This love that is leaving us).
"Algo Que Pudo Ser" is a hymn to the dolce far niente (the sweetness of doing nothing) with a reggae rhythm that opens into the sixties style "Salgamos Juntos Al Jardín", a confession of desire for an absent lover. "Fuimos Los Dos", the title track with Andean sonority that mentions the break-up for the first time, talking about a past break-up that gets in the way in the present, with a really touching chorus: "Y sí, fuimos los dos / No lo digas más / Ninguno vio el sol caer" (Yes, we were both there / Don't say it again / Neither of us saw the sun set). And then right after that "Se Nos Fue La Luz" closes Side A to give way to the darker part of the album.
"Soltar Las Armas", in charge of announcing the beginning of the end, talks about silence, that silence that seems to grow larger when the couple is alone together. "Te Voy A Querer Igual" describes the day-to-day routine, foreseeing the feared abandonment, with the end of the song growing in a crescendo to the beat of a chacarera (a rural Argentine style) that repeats the song's title like a mantra. With the end of innocence comes "La Verdad", maybe the most intimate take on the album, where fear and distrust blossom, accompanied by a landscape of interwoven arrangements that seem to symbolize the singer's doubts: "Yo no puedo saber / Si me mientes o es real / Cuando me dices te quiero" (I don't know / If you're lying or if it's real / When you tell me you love me). "Oasis" comes from the heart of the desert like a comfort in the middle of a crisis, a consolation that Maria represents with the sea, a symbol of freedom that she holds onto, locked down in her tiny apartment in Madrid.
Finally, the exciting "Ay Soledad" arrives: "Todos esos recuerdos / Que tu ausencia me da / Se convierten en sueños / Cuando la luz se va" (All the memories / Your absences bring me / Turn into dreams / When the lights go out), where Maria's voice describes the feeling of loneliness we get after a break-up, accompanied by a soundscape of an empty city opening up to a surprising and experimental "Siempre Es Domingo", that puts the spotlight on the repetitiveness of the day to day. To close, like a sort of epilogue, Maria says goodbye with the ironic "Madame Bovary": "Y es que jamás pensé / Que acabaría así / Como Madame Bovary / Pero en Madrid" (I never thought / I'd end up like this /Like Madame Bovary / But in Madrid).
With "Fuimos Los Dos", we are without a doubt looking at the most honest, simple, and intimate work by this singer-songwriter from Barcelona. Maria talks to herself, doubts, ask questions, wants to believe, and then a few lines later distrusts. All of these worries come together to give us an album that is innocent as much as it is sad. There are no bright tricks to distract us from the content. But the sadness sounds different if it has a happy soundtrack and we don't know whether we should laugh or cry while listening. Love can have an expiration date, but when it ends it always shows an open door for us to walk through into a new beginning.
TRACKLIST: 01 Recordarte 02 Prefiero No Decir Nada 03 Algo Que Pudo Ser 04 Salgamos Juntos Al Jardín 05 Fuimos Los Dos 06 Se Nos Fue La Luz 07 Soltar Las Armas 08 Te Voy A Querer Igual 09 La Verdad 10 Oasis 11 Ay Soledad 12 Siempre Es Domingo 13 Madame Bovary