Biography
It´s a complete pleasure and a real honour to introduce you to the magical world of VAINICA DOBLE, one of the most important, creative, special and endearing bands in the history of Spanish pop. Though it´s pretty difficult that you may have ever heard of them, this wonderful twosome formed by Gloria Van Aerssen and Mari Carmen Santonja have been working since the early seventies -yep, this is not a mistake!!!- and have released so far seven albums: "Vainica Doble", "Heliotropo", "Contracorriente", "El Eslabón Perdido" (all in the seventies), "El Tigre Del Guadarrama" and "Taquicardia" (in the eighties) and "Carbono 14" (in 1997!).
The music composed, played and -beautifully- sang by these two lovable fairies of the woods is a very personal mixture of rock, traditional Spanish music and folk, to put it in a very simple way. A very important role is played by the words; to many, they have written some of the best Spanish lyrics ever. Their lyrics are full of fables, nursery rhymes and a sensitiveness that must have come from out of this world. Maybe that´s why VAINICA DOBLE never achieved any kind of commercial success, though they have always been supported by a small but undefatigable number of followers; some of them have eventually turned into some of the most important film makers, painters or musicians in the last years. Just to mention a name, LE MANS have always declared themselves fans of the magic spells of the twosome.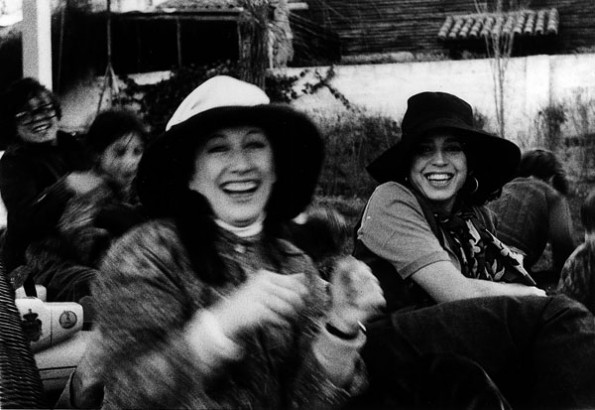 Gloria Van Aerssen and Carmen Santonja met each other in their teens, and in the mid sixties they decided to start writing songs together, mainly influenced by bands like ROLLING STONES or BEATLES, though their musical formation and tastes went far beyond rock and pop music.
After writing songs for several films and tv series, on 1970 Opalo label releases their first single with two outstanding songs: "La Bruja" ("The witch") and "Un Metro Cuadrado" ("A square metre"). It would be followed by their first album, in the same label. A superb collection of magic, innocent and eccentric songs overflowing with personality and imagination, in full contrast with the rest of Spanish musical productions of the time. This would bring poor sales, but also the beginning of a constantly growing cult around the twosome.
After a last seven inch for Opalo - a Christmas single!- VAINICA DOBLE are signed by major Ariola, which will release the band's most popular album: "Heliotropo". This is a new delightful display of the two women's talent at composing amazing songs, in which the superb vocal harmonies and the impredictable, fantastic and tender lyrics are the most outstanding elements.
Unfortunately, their music is too special to reach big audiences. Their reticence to play gigs and promote the album doesn't help either. Problems with the label and the frustration for that never coming success make Gloria and Carmen get progressively tired of music business; from then on the lapse in time between their recordings will be bigger and bigger. The constant changes of recording company, the blindness of media and audience towards their music and the band's disinterest for playing gigs will be usual in their career.
We meet VAINICA DOBLE again in 1976, with a third album called "Contracorriente" ("Against the current").This time they rock harder than ever, and the whole album means to be a claim against any kind of political oppresion (General Franco had died the year before, finishing a dictatorship of almost 40 years).
There are no more recordings till 1980, when a new album called "El eslabón perdido" ("The missing link") is out. It's a collection of old, unreleased tracks, plus some new ones. Next year there will be a new album, called "El Tigre Del Guadarrama" ("Guadarrama's tiger"), a very gloomy, disenchanted work, with little remnants of the happiness and joy of their early works. Nevertheless, it's considered one of the best albums in VAINICA DOBLE's discography.
A new period of musical inactivity - put into good use by the ladies: painting, children book writing, pottery making- is finished in 1984 with a double album, "Taquicardia" ("Tachycardia"), very experimental and iconoclastic. Pity it was again received with indifference and incomprehension. In any case, there's a new generation of fans that have growed with their music, and some of them are in new pop bands. People like Carlos Berlanga, Paco Clavel, Fernando Márquez "El Zurdo" -who even writes a book about the band- or Cano Brothers. This will happen again ten years later, when another wave of bands -TERRY IV, FAMILY, LE MANS, LA BUENA VIDA-- will reveal themselves as VAINICA DOBLE followers and fans.
The nineties bring us a curious new VAINICA DOBLE's work called "1970-1990", which includes new recordings of songs included in their first two albums, very difficult to get at the time. Fortunately, all their albums are now reissued on cd.
In 1997, when everybody assumes the band's over, they come back with a new album called "Carbono 14" . Two years later Elefant releases a CD-Single with four old unreleased songs plus a brand new track, as something connected with a big painting exhibition in homage to VAINICA DOBLE.
VAINICA DOBLE finish recording a new album, entitled "En familia", but shortly after Mari Carmen dies. The album will be finally released in late 2000, and it will be remembered not only as the definitely last one signed by VAINICA DOBLE, but as one of their finest works, very close in spirit and inspiration to their earlier, classic records. The album sleeve is designed by Javier Aramburu, famous for creating some of the most beautiful sleeves in Spanish pop music in the last ten years (from LE MANS to LOS PLANETAS). The sleeve features Gloria Van Aerssen's own handwriting, and it's one of the most beautiful and moving works by Aramburu so far.
The album is exceptionally well received by media and fans. It is chosen "best Spanish album of the year" in Rock de Lux magazine.
in November 2001 Prentice Hall Publishing releases in the States a text book called "Conexiones". The book is intended for Spanish learners, and includes VAINICA DOBLE's song "Dices que soy". The lyrics are included in the book as well as pictures and information about the band.. The songs itself is included in the accompanying CD to be used as listening exercises.
Spanish flamenco singer Carmen Linares includes a cover version of VAINICA DOBLE's "Quiero tu nombre olvidar" ( a song from "En familia") in her 2002 album "Un ramito de locura".
Discography in other labels:
"La Bruja" single Columbia 1970
"Refranes" single Opalo 1971
"Las Doce Caras de Eva" single Opalo 1971
"VAINICA DOBLE" LP Opalo 1971
"Caramelo de Limón" single Opalo 1971
"Oh Jesús" single Opalo 1972
"HELIOTROPO" LP Ariola 1973
"CONTRACORRIENTE" LP Gong 1976
"EL ESLABON PERDIDO" LP Guimbarda 1980
"EL TIGRE DEL GUADARRAMA" LP Guimbarda 1981
"TAQUICARDIA" LP Nuevos Medios 1984
"1970-1990" LP RNE 1990
"CARBONO 14" CD Polygram 1997
Discography in Elefant:
ER-206 VAINICA DOBLE "Miss Labores" Single (February 1999)
ER-318 VAINICA DOBLE "Miss Labores" CD-Single (February 1999)
ER-1081 VAINICA DOBLE "En familia" Double-LP/CD (December 2000)

Songs in compilations:
- "Dices que soy" in ELEFANT DOSMILUNO -(ER-1083 CD 2001)
- "El pintor" in POPKOMM 2001 (POP), (SGAE, 2001)