Biography
1998-2002
VACACIONES have not a long story behind them, but have the best prospects for the future.
The band was formed in April 1998, when Ruth, Angel, Rafa and Jose Alberto decided to start writing happy, dreamy pop songs, inspired by some of their faves: HEAVENLY, LOS FRESONES REBELDES, pop based on crystal-like guitars and naive female vocals. After composing a song called "Vacaciones En El Mar" they got the name for the band: VACACIONES - the Spanish for "holidays". For them, holidays mean the best moments of the year, when we can escape from the daily grind. And because playing in a band is the funniest thing in the world.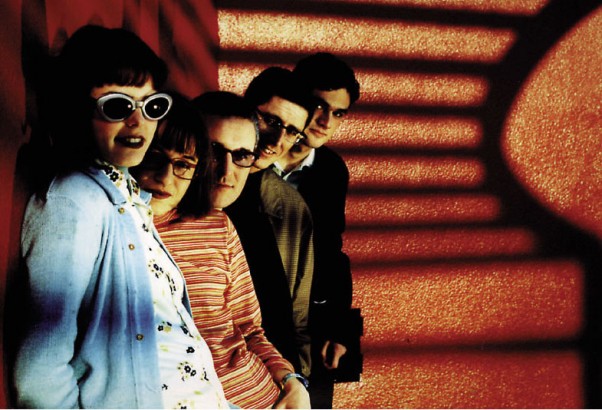 They play their first gig in July, a one-song gig! It happened at the end of a HELLO CUCA and LOS FRESONES REBELDES gig. They were invited to come up stage and play a song, helped on drums by Felipe from LOS FRESONES. They made the premiere of one of their best songs, "Poppy Girl". Shortly after that they decide to have a second vocalist and Encarna comes in; they play their second gig with her, and it´s again something very special: a end of the term party at a school, with a bunch of small children as main audience. Surely the kids had a splendid time thanks to VACACIONES´ songs.
That summer they record their first demo, which will hand it to Elefant Records´ staff during Benicassim Festival. This demo starts being played on the radio, and some expectation is aroused; it´s a very good moment for bands for them, as for the last years many pop bands alike have become very popular in Spain: NOSOTRÄSH, FRESONES REBELDES, METEOSAT... In January 1999, Elefant finally releases a single with 4 songs. It´s called "Dani" and it was recorded with the help of Carlos Campoy (FERROBLUES) and Antonio Galvañ (PARADE).
After this release, Encarna leaves the band, and Ana comes in to play keyboards and sing backing vocals; then they take part in many festivals and concerts: they play in February in Madrid with LA PEQUEÑA SUIZA; in march they appear at a party hosted by the radio show "Viaje A Los Sueños Polares", with LOS PLANETAS and POLAR. Some Elefant parties come after this: one in Barcelona in April, with CECILIA ANN and LA PEQUEÑA SUIZA; another one in Madrid in May with LA MONJA ENANA and NIZA. At the end of the show the three bands play together a special version of "Imperfecta", one of the most popular songs in VACACIONES live act. This song has been included in "Verano Del 99" Elefant compilation.
This same month they appear in a special feature of newspaper "El País", centered on new Spanish bands, while lots of fanzines and magazines interview the band and show a true interest on them. On June 25 they played in Zaragoza, with METEOSAT and D'ESTRELLITAS POWER, in a party organized by La Indiferencia 'zine. Two days after they play at the FNAC in Valencia. Meanwhile, over 1000 copies of "Dani" have been sold, quite a good figure for a debut vinyl single.
Some other relevant gigs; they played with MARINE RESEARCH on the opening party of 99's Benicassim Festival, and they supported THE FRANK AND WALTERS in Alicante in October. In November they play again with MARINE RESEARCH in Madrid and Barcelona. It was Amelia Fletcher herself the one who requested VACACIONES as opening act for their Spanish dates.
They release new songs in February 2000: a CD-Single with five new songs ("Un año de...") plus a new seven inch with a song taken from the single ("Espero una respuesta"), another new track ("Ahora sí!") and two cover versions of France Gall and LOS TRES SUDAMERICANOS. There's a promo video of "Ahora sí!", which will also be included in a future compilation called "Spanish course".

After the release of these two records Ángel leaves the band and he's substituted by Carlos on bass. They play with this new line up in many festivals and gigs, like ContemPOPranea Festival in Alburquerque (Badajoz) in the summer of 2000.
In november 2000 they include their song "Ahora sí!" in a compilation released by American label March Records. Among the contributors, bands such as BAXENDALE, WALTZ FOR DEBBIE or CLUB 8.
During 2001 the band concentrates in writing songs for their debut album, plus playing dates in festivals such as ContemPOPranea (Badajoz), Socarrat (Xativa) or Lemon Pop (Murcia).
2002-2003

The album is eventually out on April 2002 under the title of "Sonreír". It was recorded with Carlos Hernández in Refugio Antiaereo Studios (Granada), and includes fourteen (fifteen in vinyl version) tracks featuring rocking guitars, sweet female vocals and very catchy choruses, showing the band at its creative peak. Conciding with the release the band plays the Mini Pop Festival in Barcelona with bands such as SING-SING or THE RELICT.
On July 27 VACACIONES play ContemPOPranea Festival with many other bands including NOSOTRÄSH. They are scheduled for other post-summer festivals such as Bam (Barcelona) and Lemon Pop (Murcia).
During October, November and December VACACIONES play a long Spanish tour to promote "Sonreír".
Songs by VACACIONES are included in the soundtrack CD of short film "Looking for Chencho" (editada en CD por PIAS Spain) and in CD compilation "Elefant 2002", released by Mexican label Suave.
After prémiering live the songs in their album "Sonreír", the band comes back to the studio to record the extra tracks included in their following single "No me digas que me quieres", the first single taken from the album. The single is finally released on May 2003, including "SCC", "Lloverá" and a cover version of Lio's "Amours Solitaires". There's also a videoclip shot for "No me digas que me quieres", directed by Les Nouveaux Auteurs and featuring a brief cameo by our beloved Amelia Fletcher (TENDER TRAP, HEAVENLY, TALULAH GOSH...).
They play in Primavera Sound Festival and in Benicassim FIB 2003.
Discography:
ER-199 "Dani" Single 1998
ER-214 "Espero una respuesta" Single 2000
ER-327 "Un año de...Vacaciones" CD-Single 2000
ER-1085 "Sonreír" LP/CD 2002
ER-350 "No me digas que me quieres" CD-Single 2003
Songs in compilations:
- "Poppy girl" in "CONSUMA POP ESPAÑOL".-(CD Supergen, 1999)
- "Imperfecta" in VERANO DEL 99.-(CD, ER-1062, 1999)
- "Dani" in FIB 99 .-(CD Fib, 1999)
- "Poppy girl" in ELEFANTDIEZ.-(CD, ERDL-001, 1999)
- "En verano" in I LIKE 70'S (Doble-CD Arcade, 2000)
- "Vacaciones en el mar" in MERCURIO (CD with EL PLANETA AMARILLO #2 zine, 2000)
- "Ahora sí!" in LITTLE MOLLY HAS A TREAT FOR YOU (CD March Records, USA, 2000)
- "No es tan fácil" in ELEFANT DOSMILUNO -(ER-1083 CD 2001)
- "Espero una respuesta" in LOOKING FOR CHENCHO B.S.O. (PIAS CD 2002)
- "Volverás" in ELEFANT 2002 (CD Suave, Mexico, 2002)
- "Imperfecta" en ROCKDELUX canciones nacionales según los lectores (CD, SM-055 2003)
- "No es tan fácil" en MOMENTOS PERDIDOS (ER-1115 CD, 2004)