30/01/2012
ELEFANT CLUB [Madrid]: New Dates [Feb, Mar, May, June]
As many of you already know, the first Saturday of every month is the day we celebrate Elefant Club in Madrid's legendary bar, Siroco, located on 3 San Dimas Street. Siroco has been totally remodelled, to better suit their fantastic concerts and unforgettable DJ sessions, which are becoming more and more popular. Groups like THE SCHOOL, BAND À PART, FITNESS FOREVER, PAPA TOPO, LOS BONSÁIS, SINGLE, CORAZÓN, GUATAFÁN, CAPITÁN SUNRISE and DJs like Guille Milkyway, Pepito Prieto, Bob Stanley, and our very own Luis Elefant have already made stops on Siroco's stage, making every single person in the audience twist and shout, in events that are already basically obligatory for anyone who loves the best pop. Nights like these get written indelibly in one's memory.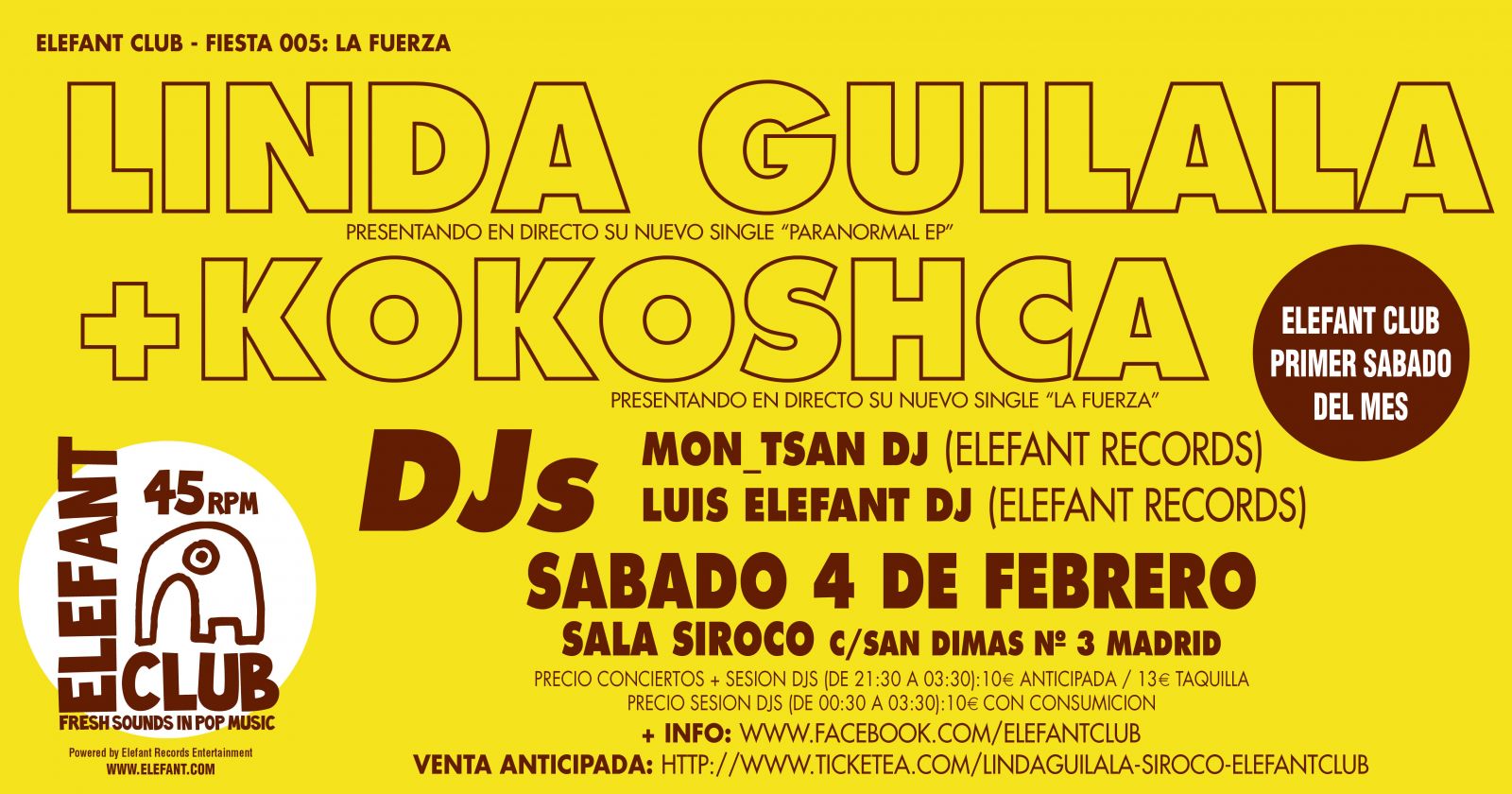 We now have new, confirmed dates for the upcoming months. To start, on March 3rd we have the "Mad Madrid 5x25" party, where 5 groups from the capital city will play for 25 minutes each, with a range of groups from established ones that have already put out albums, like BLA, to Belén and Luis from L-KAN's parallel project, to others that will soon form part of our "New Adventures in Pop" collection - as is the case with TEACHER TEACHER (a super new band formed by María (CHARADES), Cristina (WILD HONEY) y Guille (WILD HONEY, THE MITTENS) – and including some who already form a part of that collection, like ULTRANOL, BAND À PART and CAPITÁN SUNRISE. Some of the best representations of the new pop being made in Madrid, who can ensure that it will be a special, magical night, where surprises abound. And there will be DJs to finish off the party on the highest note possible.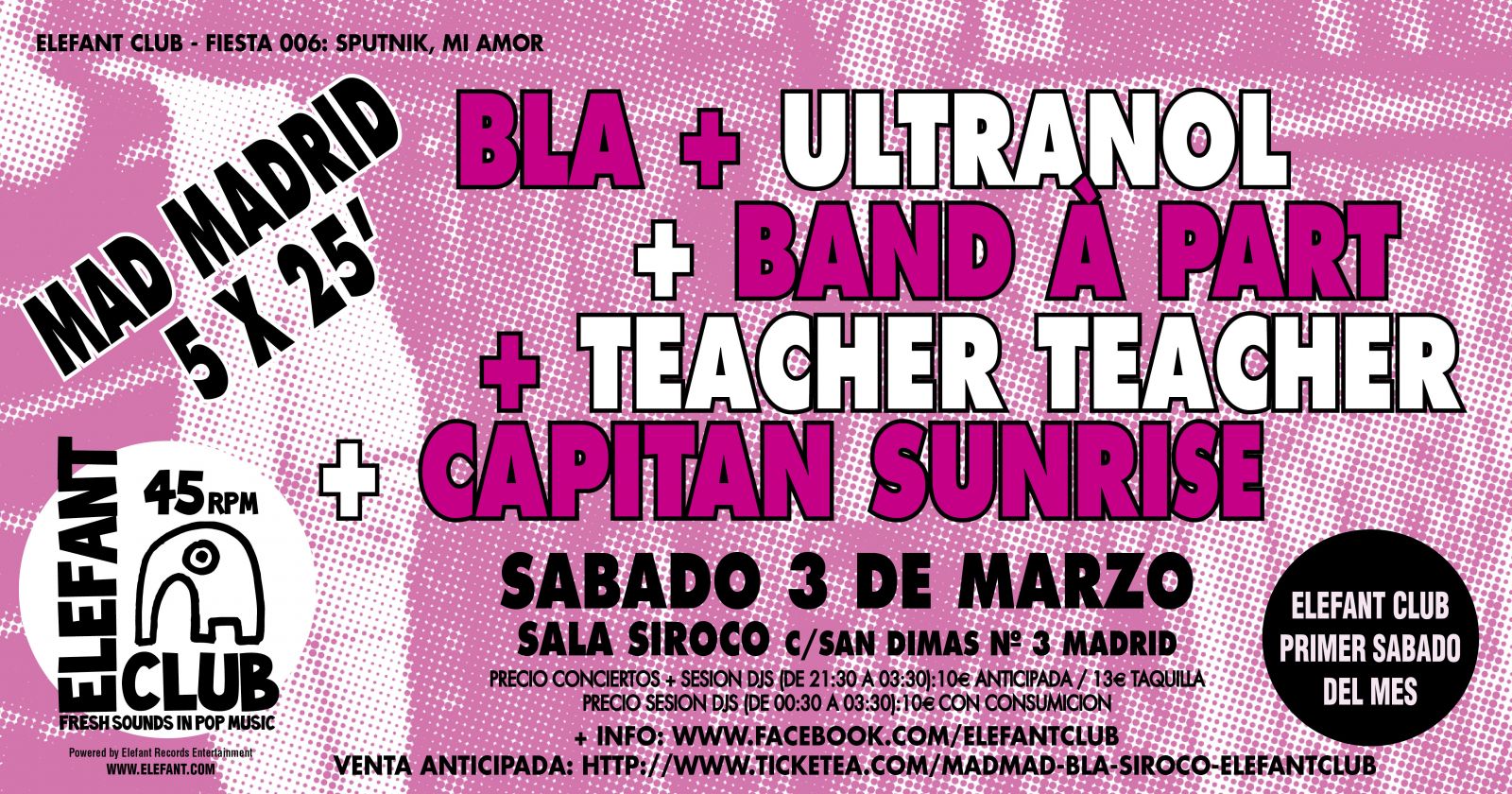 In April we're going to be closed for Easter vacations, but in May we'll be back with renewed energy! For their first show in our country, we have one of our new and absolutely marvellous groups, Britain's THE SILVER FACTORY, who will pay us a visit after their performance the previous day in the Festival Ebro Club in Miranda del Ebro. They will definitely give us a taste of their delicious indie-pop with an undisguised fondness for the sixties, as they already showed us on their debut single, "The Sun Shines over You", for our New Adventures in Pop Collection. THE SILVER FACTORY are coming to Madrid to play the six new songs from their upcoming single, "If Words Could Kill", which will be released as a limited-edition 10" vinyl in April. What's more, they'll have special guests with them on stage, and, as always, we'll have a DJ who will make the night last as long as our feet can stand.


Last but not least, on June 2nd we have a glamorous and elegant double bill. On the one hand, we can enjoy SINGLE's performance, where Teresa Iturrioz and Ibon Errazkin will give us, as always, a delicious taste of their unpredictable, original and beautiful pop. On the other hand, we've got the front woman of STEREOLAB, Laetitia Sadier, whose unmistakable voice will bring us some of the songs from her debut album, "The Trip", as well as some new songs. The fans will melt with the personal style of the songs, which separate lounge influences, space-pop and kraut. Big names for a big night. And, once again, a special DJ to top the party off with something special.

We're making a big effort to make Elefant Club an event you can't miss, a reference for all the fans of the best pop in all its different meanings. But above all, we want everyone who comes to have an amazing time. Don't miss it!
Elefant Club "Flashback 001-002": THE SCHOOL + BAND À PART + SINGLE + CORAZÓN + Guille Milkyway Dj + Bob Stanley Dj
Elefant Club "Flashback 003": PAPA TOPO + FITNESS FOREVER + CRISTINA QUESADA + Guille Milkyway Dj
Elefant Club "Flashback 004": GUATAFÁN + CAPITÁN SUNRISE + LOS BONSÁIS + Pepito Prieto Dj [Borja Prieto]
Photos:

ELEFANT CLUB 001 "Esta Noche Sólo Cantan Para Mí" [01-10-2011] THE SCHOOL + BAND À PART + Guille Milkyway Dj + Luis Elefant Dj


ELEFANT CLUB 002 "Join Our Club" [05-11-11] SINGLE + CORAZÓN + Bob Stanley Dj + Luis Elefant Dj


ELEFANT CLUB 003 "Capuchas De lluvia" [03-12-2011] PAPA TOPO + FITNESS FOREVER + CRISTINA QUESADA + Guille Milkyway Dj + Luis Elefant Dj


ELEFANT CLUB 004 "Pink Punk Party" [07-01-12] LOS BONSÁIS + CAPITÁN SUNRISE + GUATAFÁN + Pepito Prieto Dj + Luis Elefant Dj