Biography
Amelia Fletcher: vocals
Rob Pursey: guitar
Dj Downfall: bass, drum programming

TENDER TRAP is a new band formed by Amelia Fletcher, Rob Pursey and Dj Downfall. Amelia and Rob have been playing main roles in the most delicate, precious side of Uk indie pop. Names like TALULAH GOSH, HEAVENLY or MARINE RESEARCH will ring a bell in any pop afcionado from all over the world, from the States to Japan. All these bands reached a cult status in indieland worldwide due to the perfection of their crystal-like melodies.

Elefant Records has always followed the trace of Amelia and company, by releasing in Spain several of their albums: HEAVENLY's "This is Heavenly" compilation and swansong "Operation Heavenly", as well as "Sounds from the gulf stream", the only album released by MARINE RESEARCH. These records documented the constant progression of this pop bunch, from the messy teen-punk-pop of TALULAH GOSH to the most mature moments of late HEAVENLY or MARINE RESEARCH. We also invited HEAVENLY and MARINE RESEARCH to play in Spain (both club dates and Benicassim festival), a place where they have always been very well received.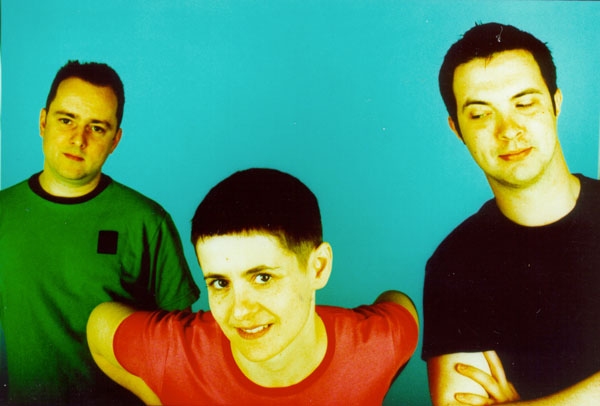 2001

TENDER TRAP is a new chapter in this delightful saga. Amelia and Rob start writing songs in 2001, trying to make them as simple and stripped down as possible. They also plan never to play live, till Stephin Merritt invites them to open for THE MAGNETIC FIELDS in Dublin; then the plan is revised.

2002

That's the moment when Dj Downfall comes in: besides playing drums in MARINE RESEARCH, Dj has also his own solo career doing electronic music; after four singles, he's about to release his debut album in prestigious XL Recordings, home of BADLY DRAWN BOY or THE AVALANCHES. In TENDER TRAP Dj plays bass on live shows and programs drum tracks.

"Film molecules" is TENDER TRAP debut album. The album title suggests the idea of "watching a film through a microscope, to find out what emotions are made out of", according to the band. A very fine collection of thirteen songs recorded at home, trying to avoid the studios as much as possible. Songs that mean to be direct and elemental in order to avoid the boring, predictive moods of the latest corporate indie pop.

"Film molecules" means a new beginning for Amelia and Rob after TALULAH GOSH, HEAVENLY and MARINE RESEARCH. They have reinvented themselves as a band, and bring us a debut which combines fun and spontaneous moments with some bitterness and reflection.

In September 02 TENDER TRAP come to Spain to promote "Film molecules". They play in Ocho y Medio Club (Madrid), a show for "Los Conciertos de la 2" (a 30 minute live show for TV) and they play in Lemon Pop Festival in Murcia (13-9-02). They also play a showcase in Madrid FNAC. In all these shows new songs are introduced, such as "Unputdownable" or "Apple core".

On October 02 the show for Radio 3/TVE2 is broadcasted.

2003

They take part in February's Minipop Festival in Barcelona; they also play an acoustic showcase in FNAC megastores in Barcelona, plus some radio sessions for Cataluña Cultura Radio and "Disco Grande Show" (Radio 3).

In September the new Elefant compilation "Moda Pop" is released, featuring a new track by the band: "¿Cómo te llamas?", which the band had previewed in their last Spanish live dates, and that has turned out to be an instant hit even before the song was released. An exquisite vocal two-piece, where Lupe (PIPAS) shares vocal tasks with Amelia. This is the surprising first bilingual (Spanish-English) song by the band. A real treat for their Spanish followers. Lupe's role was played by Ana (LA MONJA ENANA) in the band's last live dates in Spain.

Discography in Elefant:
ER-1010 HEAVENLY "This is Heavenly" CD 1995
ER-1031HEAVENLY "Operation Heavenly" LP/CD 1996
ER-148 HEAVENLY "Space manatee" SINGLE 1996
ER-1064 MARINE RESEARCH "Sounds from the gulf stream" CD 1999
ER-1101 TENDER TRAP "Film molecules" CD 2002
ER-S354 TENDER TRAP "¿Cómo te llamas? CDSingle 2003
Songs in compilations:
- "¿Cómo te llamas?" en MODAPOP (CD ER-1094, 2003)
Merchandise
Elefant Records
Turntable Slipmat


Buy
view all products
Latest activity