Biography
Tito Pintado: vocals
David Rodríguez: programming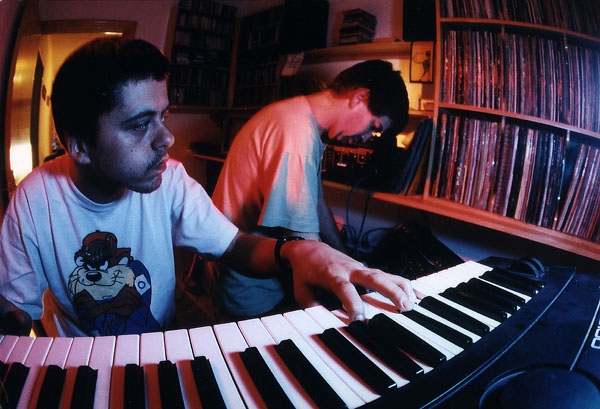 David Rodríguez from BEEF and Tito Pintado from PENELOPE TRIP are behind this happy experiment which combines home-made technology and timeless pop, without any kind of prejudice and an outcome which isn't so surprising if we bear in mind the dazzling respective careers of its leaders. Their LP "Fade In/ Fade Out", was chosen by the unanimous press as one of the very best in 1995: nobody could resist before such a "hobby" with such outstanding creative results.

Tito and David met at the Noise Pop '92 tour, and the clash of personalities generated an immediate sympathy which after some time would prove to be artistically fruitful as well. Geographic distance isn't a problem for them, in spite of the well-known inefficacy of the Spanish Mail. David, from Sant Feliu de Llobregat (Barcelona), takes charge of the musics, which he does at home in his leisure time (which must be a lot, judging from how prolific this guy is); and Tito, in Gijón (north of Spain), waits patiently for a letter to come from Barcelona: he listens to the basic lines which David has recorded and adds them vocals and other arrangements (with such a primitive recording system that we won't better even mention), before he sends them back again to Barcelona. Once they have a clear idea of the song, they only need to get into a studio and record them with such speed that is the envy of any other record label.

"Catastrophe Baby" was the title of their new record, in which they deepened in both their poppier side and the most brutal and scrawny, influenced by SUICIDE. This Mini-CD was an extended advance of their forthcoming, long-awaited LP, and includes five unreleased tracks among which there is a cover version of... SONIC YOUTH!

"Pocket Horror Symphony" came out by the end of 1997, and it is as good as we all expected: wrapped in a colourful pop cover, we find a collection of risky, subversive synth-pop songs, with obscure, pesimistic, sarcastic lyrics about a grey, dehumanized future.

Discography:
ER-1014 "Fade In / Fade Out" LP/CD 1996
ER-140 "The mix" Single 1996
ER-311 "Catastrophe Baby" CD-single extended 1997
ER-1049 "Pocket Horror Symphony" CD 1997

Songs in compilations:
- "Hi-fi ghost"" en LOOKING FOR CHENCHO B.S.O. (PIAS CD 2002)