Biography
Dani, Juanjo and Andrea were all born the same year (2001) and even though it was in different places (Juanjo in León, Andrea in Sestao and Dani in Zaragoza), they always met up in their town, Valdavida (León).


LINE UP:
DANIEL DIEZ CASAUS (guitar, bases and vocals / Zaragoza)
JUANJO CEREZAL ANTÓN (vocals / León),
ANDREA LLONA DE LA RED (vocals / Sestao)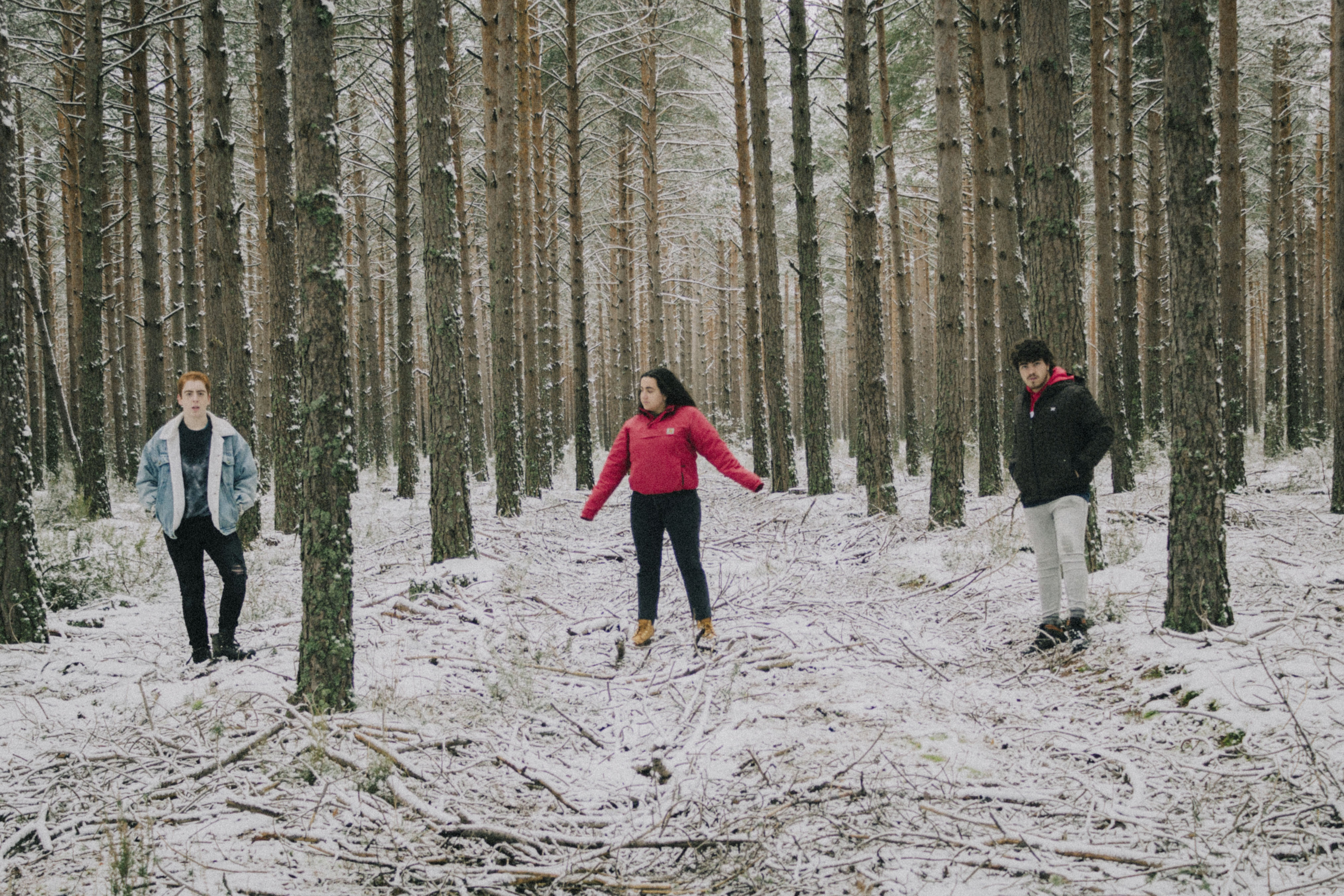 It is in this context that TELECLUB came together. Three young friends who have known each other since they were little, and who wound up putting a group together as part of the many ways they had fun together. In the beginning, they spent their time doing covers, changing the lyrics for versions that their friends wound up being the protagonists of. But things began to take shape. Clandestine nights on the terrace of the only bar in the town were the setting for their first recordings. From the bar, to Andrea's garage. And from their first demos, to Elefant Records, where they began releasing songs in 2021.

They make catchy indie-pop that is universal, easy to sing along with, and that takes inspiration from many sources. From AIKO EL GRUPO, MUJERES and JUNIPER MOON (with whom they share fierce, exact guitars) to the delicate pop of CARIÑO and LISASINSON. Their ability to build anthems from GO RONEO and LOS FRESONES REBELDES. The infinite energy of AXOLOTES MEXICANOS, YAWNERS and STEREO TOTAL. Programmed samples and powerful sound, choruses like bulls-eyes and tremendously catchy melodies.
2022
14/06/2022
TELECLUB "Mi Crush Del Autobús" Single Digital
After that surprising "Xiki Yokse" they made themselves known with, Dani, Juanjo and Andrea are back from Valdavida (León), with a new song, where they lay out their solid lyrics full of self-confident ease, and a very energetic exercise in punk-pop. "Mi Crush Del Autobús" sounds like a hit from the title alone, and as if we could expect anything less, it talks about that strange situation that is both exciting and uncomfortable, when two people's eyes meet on the bus and it seems like they could be something more than just two strangers. And it does it with freshness, ease, good rhythms and a certain acerbic tone. And the marvelous chorus, hyper-melodic, addictive. And that's what we see in the video directed by Santi Capuz, where our protagonists ride the city bus to the rhythm of the song, while evoking that special moment. The single is produced, mixed and mastered by LEFTEE, from the Valencian Toxic Pop collective, who has been very prolific and inspired lately. The cover art, once again, is by Olaya (AXOLOTES MEXICANOS), showing off how well she moves in these grounds, beyond composing and performing.
2023
29/03/2023
TELECLUB: "El Karry" Single Digital
After two outstanding hits like "Xiki Yokse" and "Mi Crush Del Autobús", they're back with "El Karry" as an advance of a new 4-song EP that will be called "Recordarás Mi Nombre". Drum machines, synthesizers, synth-pop, electropop. And, of course, guitars with distortion and overflowing euphoria. In fact, that's what "El Karry" talks about – a Saturday night that starts off like any other Saturday night and ends up being something special, unique, unforgettable. And they really get it right with the melodies, this time with a bubble gum spirit and that chorus to sing at the top of your lungs "Salir con mis amigas al Karry, hoy" (Go out with my friends to Karry, tonight), which is exactly what they recorded on their phones with their whole crew the night this song was born. Because, who said you can't combine going out and writing songs at the same time?
And with this single, there is a music video that matches the theme perfectly: a three-minute long "The Hangover", psychedelic, comic, surreal, where one of our protagonists, after a day of partying, tries to reconstruct what happened the previous night. It is a song meant to be an anthem, that can win over fans of ALIZZZ as well as of 9CKLES, and where the production by LEFTEE (Toxic Pop, LABORDE, NEVVER) and the cover art, again by Olaya (AXOLOTES MEXICANOS) take on a special role.