Biography
Jaime: bass and vocals
Murky: guitar and vocals
Manuel: guitar
Guillermo: drums and vocals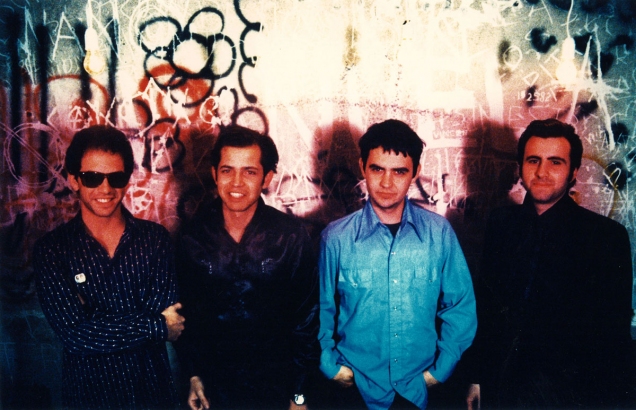 Guillermo, Murky, Jaime and Manuel form PATRULLERO MANCUSO (a name they took after the hopeless patrolman from John Kennedy Toole's novel "A Confederacy Of Dunces") since 1989. Hailing from Villaviciosa (Viciousville!), in Madrid, their lack of experience didn't complex them and soon they played every venue which let them do it (and which could cope with them!), quickly achieving a good fanbase in the then very poor Spanish scene. Soon they rised, besides, because of their strange personality and their eccentric vision of pop and rock.

Unusual sounds, dark at mospheres, bright melodies in truly original songs, lunatic attitude and wideness of mind, ideas and influences are the main characteristics of an unclassifiable band, which marked an epoque and a whole sttyle of acting and writing: with sincerity and nerve, with unfinished curiosity and with a total lack of prejudice.

One single ("Vacío EP", 1990) and two LP's ("El Trabajo De Odiar" -1991- and "Fantasía" -1993-) recorded on four tracks, a Greatest Hits ("Viva Bonito" -1994-) produced by Alejo Alberdi (DERRIBOS ARIAS), and a new EP ("Desde El Más Allá" -1994-) recorded live in RNE3 vía Jesús Ordovás sessions, all of them released on Munster Records, were their first awkward, great, unmistakable steps.

After almost two years of distraction (though not wasting their time at all: Murky has been recording with his side-project PRETTY FUCK LUCK and has launched the very fine label Ale Hop!, whilst Guillermo has played with the splendid and even more unclassifiable YOGUR and has released two delicious solo singles as GUILLER MOMONJE Y SU CONJUNTO), Elefant Records now presents their long-awaited LP, "Tortilla Estatal", with the genuine, unimitable recipes of these chefs of impossible pop. In the meantime, as an appetizer, their friend Olaf Ladousse (SOLEX, nothing to do with the Matador Swedish act) did the design for their first single on our label: "El Halcón Milenario", a tender song dedicated to the old car they use to get to the venues. They play in Benicassim Festival in 1997, presenting this album. And then they start their biggest Spanish tour yet.

They come back two years after, in 1999, with new energies, and probably their best song so far: "Mi Vida Va Bien", a hypercatchy anthem full of optimism and irony. The song is included in a cdsingles which serves as an advance for their following album, "Bodegón Musical", their new collection of impossible hits, which was presented live in Benicassim Festival 99.

Murky and Guillermo play in Ibon Errazkin's eponymous album. A MADELMAN remix of "Mi vida va bien" is included in the soundtrack of "Gente Pez", a film directed by Jorge Iglesias.


Discography in munster:
- "Vacío EP" (single, 1990)
- "El Trabajo De Odiar" (LP,1991)
- "Fantasía" (LP, 1993)
- "Viva Bonito" (LP/CD 1994)
- "Desde El Más Allá" (EP, 1994)

Discography in Elefant:
ER-183 "El Halcón Milenario" Single 1997
ER-1050 "Tortilla Estatal" LP/CD 1997
ER-316 "Mi Vida Va Bien" CD-Single 1999
ER-1063 "Bodegón Musical" LP/CD 1999

Songs in compilations:
- "El peine de la tortuga" in SUPERMARKET (ER-1051 CD, 1998)
- "Mi vida va bien" in VERANO DEL 99.-(CD, ER-1062, 1999)
- "Mi vida va bien" in BENICASSIM 99.-(CD, 1999)
- "El halcón milenario" in ELEFANTDIEZ.-(CD, ERDL-001, 1999)
- "En la era del piscis" in LE MOUCO #4 (fanzine+CD, Portugal, 2000)
- "Mi vida va bien" in GENERACION 2000 (Double-CD/Double-Cassette Outta Watta 2001)
- "Mi vida va bien" in LOOKING FOR CHENCHO B.S.O. (PIAS CD 2002)
- "Mi vida va bien" in ELEFANT 2002 (CD Suave, Mexico, 2002)
- "El halcón milenario" in MOMENTOS PERDIDOS (ER-1115 CD, 2004)