20/10/2017
PAPA TOPO: Release the soundtracks for "La Maldita Primavera" and "Nos Parecía Importante" as a digital album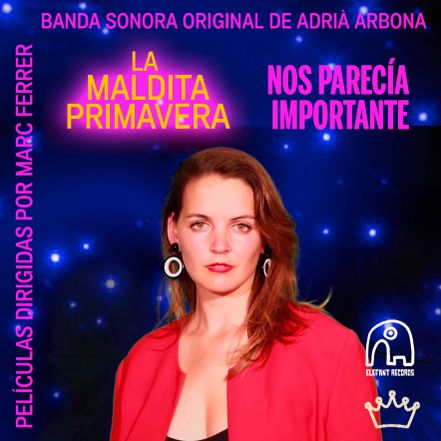 We are releasing, together on one digital album, the soundtracks for "La Maldita Primavera" and "Nos Parecía Importante", the two movies directed by Marc Ferrer withmusic written by PAPA TOPO's Adrià Arbona.

If in "Nos Parecía Importante", Marc's first work, the group made a stellar appearance playing a disco version of LOS FRESONES REBELES' "Medio Drogados", in "La Maldita Primavera", PAPA TOPO are the absolute stars, playing themselves in a crazy plot full of reptiles, surprising characters, pop music, adolescent freshness and heartbreak. The album was conceived by Producciones Inmundas, the collective through which Adrià and Marc have collaborated closely these last few years. Marc was in charge of PAPA TOPO's more recent videos, of the visuals in their concerts, and the promotional photos. Adrià has been involved in two of Marc's full length films, taking care of the music, and helping with the production of and starring in – along with the rest of the group –"La Maldita Primavera".

On the musical side, the majority of the songs on the album were produced by Adrià and Marc. Marc also participated on the arrangements of some songs and is co-author of "La Llamada" and wrote the words for "Me Besaste", the Pegamoide-style version of Debbie Harry'ssong "Be My Daddy's Baby (Lu-Lu's Theme)" for "Polyester", the 1981 John Waters movie. The album also contains two PAPA TOPO songs from their album "Ópalo Negro". Two songs that of course appear in the movies; "Je Suis Un Monstre", which actually inspired the plot of "La Maldita Primavera", and "Quédate Cerca De Mí". Two original songs, composed for the occasion and played in the film by fictitious groups, also stand out. "La Llamada", which was the advance single, is melancholic electro-pop sung by Zaida Carmona in the purest style of Jeanette or Nicole, using the stereotype of songs about desperation in the face of a telephone that won't ring."Mátame Cariño", sung by Marga Sardà, is inspired by THE FLIRTS, Bobby Orlando productions, and the 80s HI-NRG that talks about the uneasiness of love and emotional dependence. It takes the great divas of gay anthems like Raffaella Carrà, Sara Montiel and Divine as references. On the soundtrack, we can also find the song "El Mal Hermano" by the group MASONIERIA, fronted by Sònia Montoya (PAPA TOPO's bassist and one of the stars of "La Maldita Primavera"), a song in the key of techno-pop about murders, frustrations and classic composers. Incidental music with diverse styles is also an important part of this album; synthesizers and pianos, melancholy and sadness, TV show theme songs and a previously unreleased instrumental song by PAPA TOPO, "Intrigas Y Deseos".

Just like "Nos Parecía Importante", and "La Maldita Primavera", this album is a low cost production, through which Producciones Inmundas insists on challenging prevailing good tastes and the traditional production model. Time, friendship, freedom, audacity, improvisation and fun are much more important values than money. Now all we that's left to do is enjoy these songs as much as possible.