27/10/2020
PAPA TOPO "La Chica Vampira 2K20 (Feat. Maria Daniela)" Single Digital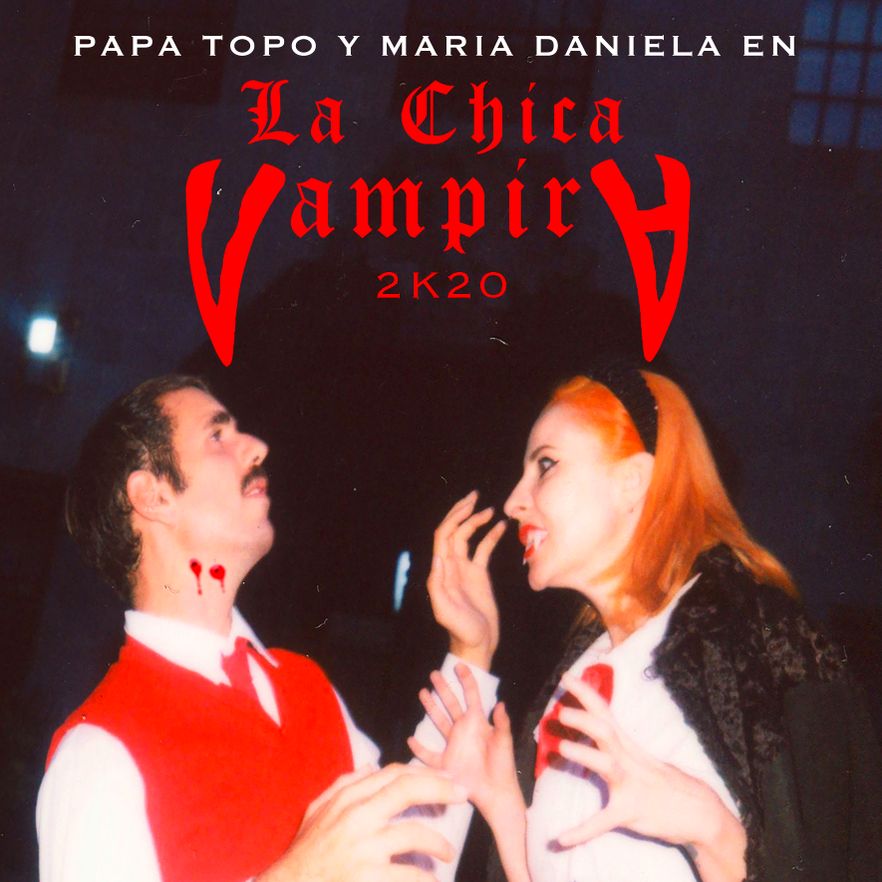 TRACKLIST: 01 La Chica Vampira 2K20 (Feat. Maria Daniela Y Su Sonido Lasser)
PAPA TOPO has always had a weakness for horror, bloody, and science fiction themed songs, so Day of the Dead (or Halloween) has always been a very appropriate moment to listen to their songs. That is why we have chosen this specific date to commemorate the tenth anniversary of "La Chica Vampira", one of the group's most memorable hits.

Ever since PAPA TOPO went on tour in Mexico, Adrià has been completely in love with the country, and has been spending some time there lately. On one of his trips, a fan that knew how much liked MARIA DANIELA Y SU SONIDO LASSER's music, gave him her entire discography, signed, and put them in touch. A year ago, Adrià was in Mexico City the weeks leading up to Day of the Dead, and he was fascinated with the festive and also gloomy ambiance that filled the city: the street alters for Santa Muerte, the markets crowded with people buying candy skulls and mortuary-themed knick-knacks, the bakeries full of Pan de Muerto (bread of the dead)… It was a totally Papa Topo-style scene and it was clear that Adrià had to take advantage of the moment and make a video there. And it was clear that it was the right time to record a remake of "La Chica Vampira" with MARIA DANIELA Y SU SONIDO LASSER!

Both the song and the video were put together in a few short days, since Adrià had to return quickly to Spain. He and his Mexican friends (led by Ulises García and Arturo Lugo), dedicated themselves in body and soul to find wardrobe, locations, actors and fans willing and able to participate. And in two days they recorded a video that is a tribute to the Mexican culture that has welcomed and embraced them so much in recent years. The result is an impossible collage of B-series vampire movies, a "La Rosa De Guadalupe" soap opera episode, the ultra-digital videos from the 2000s, Antonioni's "Blow-Up", Andy Warhol's "Dracula" and the Myspace/Tumblr esthetic of which MARIA DANIELA Y SU SONIDO LASSER was such a great archetype at the beginning of their career.
The song, produced once again by Milton (DËNVER, Milton James), picks up that punk spirit from the original demo, but just in the willingness to go a little wild. The new version is pure crazy, dizzying happy hardcore, ideal for dancing until your shoes are full of blood and you are screaming this terrifically catchy chorus at the top of your lungs.