22/05/2012
NOSOTRÄSH: We are releasing their first demo as a vinyl single.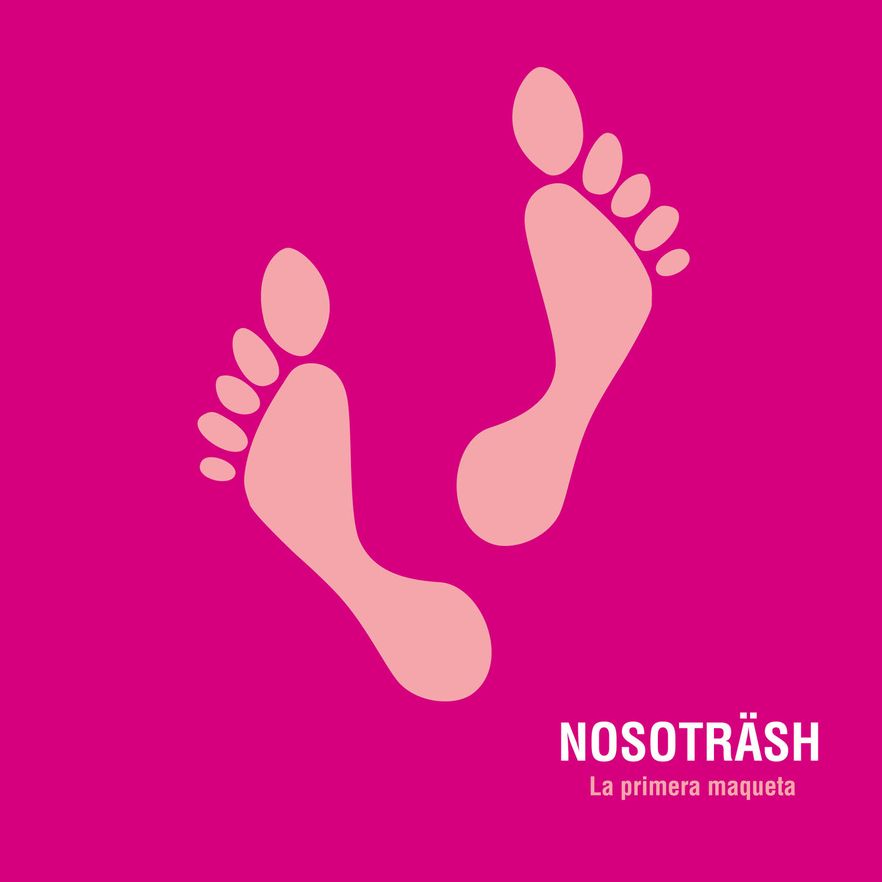 NOSOTRASH "La Primera Maqueta" (1995)

A few months ago we started the collection "Recuerdos Que Olvidé" (Memories I Forgot), which is set up to recover the lost songs and recordings of some of our favorite groups. The first release on the collection was a double 10" that gathered various demos and previously unreleased songs by AEROLINEAS FEDERALES. We're moving the collection forward with a magenta-colored, limited-edition vinyl single that recovers the very first demo of our beloved NOSOTRÄSH, who are undoubtedly one of the most representative bands of Elefant Records.
Recorded in 1995, with a line-up that, at the time, included Natalia, Bea, Montse, Eugenia and Cova, before the release of their first EP, this demo includes two original takes of their legendary "Voy a Aterrizar" and its unforgettable parapapapas. The second of these two takes is the "Vojtyla Mix" version, like a terrorist attack, opening with a sample of THE JACKSONS' "Can You Feel It". The previously unreleased song on this release is "Marie Lu", sung in English, which would never make it onto any albums. The song notably takes pleasure in the noise echoes of that era, with a bridge full of dissonances but a verse that already points to the pop abilities of these Asturians. "La Felicidad Es Un Alegre Ritmo Moderno", which was also included on their "Aterrizar EP" for RCA and where they again make use of the English language to develop their punk tendencies, is a song full of urgency and nihilism that barely reaches the one-minute mark, and which could just as easily have proudly been written by SHONEN KNIFE or BIKINI KILL. Finally, "La Clak (de Famobil)", a song that appeared on their first EP, shows us the most adored NOSOTRÄSH – the NOSOTRÄSH of delicious melodies and lyrics full of adorable femininity ("Quizás Dios es una mujer", they say in this song), mixed with irony, bitterness and candor; the NOSOTRÄSH that are irresistibly pop.
Five songs, remixed by Pedro Vigil and remastered by Xavier Alarcón, none of which have ever before been released in the versions included here. Yet they still maintain the freshness and aloofness of a group that is undoubtedly an inimitable figure in the history of Spanish pop. And, luckily, last year we were able to get to see them on stage again, playing "Popemas" in its entirety in the Primavera Sound Auditorio. We can continue to enjoy the same luck this year with the special concerts they have dedicated to taking a new look at "Popemas", their most highly-acclaimed album.
TRACKLIST: 01. Voy A Aterrizar (Canción De Amelia) 02. Marie Lu 03. La Felicidad Es Un Alegre Ritmo Moderno 04. La Clak (De Famobil) 05. Voy A Aterrizar (Vojtyla Mix)
FORMAT: SINGLE 7" [Magenta Colour Vinyl] [600 Copies Limited Edition] • REFERENCE: LOST-002