Biography
Natalia: lead vocals
Bea: guitar and backing vocals
Cova: drums and backing vocals
Montse: bass and backing vocals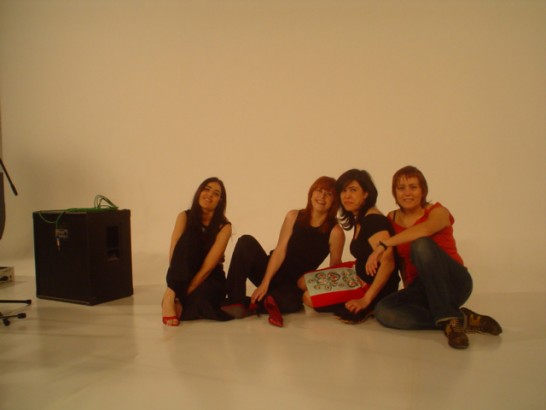 1995-1999

NOSOTRÄSH is an all-girl band formed in Gijón (Northern Spain) in 1994. None of them had been in a band before, with the exception of Cova, who had played drums for seminal Spanish noise-pop band PENELOPE TRIP in the early nineties.
In 1995 they obtained the first prize out of a demo contest organized by Rockdelux magazine, one of the most important prizes for a newcomer band in Spain. In the demo tape they included the song that would become their first hit just a few years later: "Voy a aterrizar". Due to winning that band contest, major label RCA signed them and offered the band to record their debut album, but the girls decided to wait and improve their skills at writing and playing.
RCA (and before them, the local label Astro) would release a few CD-Singles in 1997, the same year they made their debut at the Benicassim festival. They are chosen as well as best newcomer act by the listeners of "Viaje a los sueños polares" nationwide radio show.
In 1998 their first album comes out, and it's very well received by fans and media, to the point that Rockdelux magazine chooses "Nadie hablará de... NOSOTRÄSH" as one of the best Spanish albums in the nineties. This is achieved due to songs like "Mis Muñecas" (first single), "Pálida" or "Sintasol", just to mention some of them. There's also an excellent cover version of Serge Gainsbourg's "Poupée de cire, poupée de son", which was made famous by France Gall in the sixties.
1999 brings some changes: one of the members in the original line-up (Eugenia) leaves the band, and they quit RCA. They sign to Elefant Records, where they release a 4 track CD-Single and seven inch single with all brand new material, under the title of "Hacia El Sur". This record appears in a list of the most requested records by the customers of London's Rough Trade record shop. This list is published in Melody Maker magazine in February 2000. The single is also played often in several BBC radio shows, like "One step ahead", the show of Laura Lee Davies.
2000-2002

In April 2000 their second album comes out, under the title of "Mi vida en un fin de semana". It was recorded in Rock Soul Studios in Madrid, and produced and mixed in England by Ian Catt, who has worked with such bands as ST ETIENNE, SHAMPOO or TREMBLING BLUE STARS. The album is very well received by Spanish media, thanks to their superb songs and intelligent, touching lyrics. They start a long Spanish tour to promote it, and they confirm a new appearance at the Benicassim Festival. They would also play other important festivals in Spain, as Doctor Music and ContemPOPranea. In May that year they make a 30 minute live show for Spanish TV Channel 2.
In October 2000 a new CD-Single appears, with a song taken from the album ("Maldito espejo") plus two outtakes from the Catt sessions: "Rasguños" and "Mi pequeño Frankenstein". The latter is also included in an American compilation by Darla Records.
With a new line-up -Malela leaves the band and including Iratxe on keyboards- the band appeared in a TV special called "Alto y claro" in March 2001; they played their song "El enemigo en casa" (the enemy at home), as the show was about women's rights and the song deals with woman abuse. The same song (in a recorded new version) would be later included in a compilation album called "Hay que volver a empezar", an album that tries to make a social statement on domestic violence against women.
Their new album comes out in April 2002. "Popemas" features a collection of very short songs that try to escape from the usual clichés that rule pop music. The album has been produced by Ibon Errazkin (ex LE MANS and producer of Ana D and Carlos Berlanga) and features contributions by folksinger Nacho Vegas and underground rock legend Guiller Momonje. "Popemas" shows a band at its creative peak, with some of the best lyrics they've ever written. They film a video of the song that opens the album ("Arte"), shot by Les Nouveaux Auteurs. This video won the Best Spanish Video Award in MTV Spain's awards, as a part of the Short Film Festival in Palma de Mallorca.
Spanish media receive the album exceptionally; Rockdelux (best and most influential pop magazine in Spain) gives them the cover on the May issue; between May and June, NOSOTRÄSH tour the country to promote the album, including an appearance in Barcelona's Primavera Sound Festival, sharing the bill with bands such as PULP, TINDERSTICKS, SPIRITUALIZED, APHEX TWIN, BIS, LE TIGRE...
NOSOTRÄSH play in most of the Spanish summer festivals of 2002: FIB (Benicassim), ContemPOPranea (Alburquerque) and Festival do Norte (Pontevedra). For these shows, the basic line-up (Natalia, Beatriz, Montse and Cova) was enhanced with collaborations by Pau, guitar player from LA HABITACION ROJA (who had played with them during the whole "Popemas" tour) and Mar from PAULINE EN LA PLAYA.
The band was very well received in the aforementioned festivals, with the audience singing along to tracks such as "Arte" or "Tan sólo por los besos". Besides the expected repertoire, there was also room for surprises like a cover version of THE SMITHS' "Please please please let me get what I want" in ContemPOPranea Festival, where all the bands on the bill were asked to play a song by the Mancunians.
On Saturday 21st September, NOSOTRÄSH and NIZA play an Elefant Night in Paris' La Guinguette Pirate, a night hosted by French zine Lollipop. NOSOTRÄSH keep on playing in Spain during October, and in November they record new songs with Ibon Errazkin for a new single.
No doubt 2002 was the best year for NOSOTRÄSH. They turned into an essential name in Spanish indie pop, thanks to their skills at writing about day-to-day emotions using their very own language; something only a few chosen artists such as LE MANS or VAINICA DOBLE had reached before. Their third album, "Popemas", is a delightful catalogue of charming pop miniatures, songs reduced to a minimum expression that hardly ever go further the two minutes length. A great leap forward in this collection of songs full of sensitiveness and risk, something that only the best can afford to craft.
NOSOTRÄSH topped the "best of" 2002 polls in Spain:
Rockdelux: Best Spanish album, "Popemas"/ Ninth best Spanish song, "Corazón-Colilla"
Mondosonoro : Fourteenth best Spanish album, "Popemas"
Disco Grande (Radio 3): Best Spanish album on the listeners' poll, "Popemas"
Staf Magazine: Fourth best Spanish album, "Popemas"
Go Mag: Tenth best Spanish album, "Popemas"

2003

On January 21st the band plays the Palacio de los Deportes in Granada, with LOS PLANETAS, Nacho Vegas and SR. CHINARRO. The show is broadcasted nationwide by Radio 3.
"Gloria" is released in March 2003, the first single taken from their acclaimed "Popemas". This single includes four brand new songs: "Saeta Doble" (with Spanish rock godfather Fernando Alfaro singing in a duet with Natalia), "Para Qué Pensar", "Perdida" and "Porque Total", which, along with "Gloria" and "Corazón-Colilla", round off this release. During these same sessions the song "Tanga" is recorded, which will appear later on the Elefant compilation "Modapop". All these songs have been produced and arranged by Ibon Errazkin.
At the same time the single is released, they film a videoclip of "Gloria", produced by The Trio (Duprez, Marañón and Guerrero) and with the appearance of the actress Lucía Camon.
The band play live "Popemas" on TV, on Radio 3 shows (broadcast on March 12) and on the La Otra's (Telemadrid) Unplugged. NOSOTRÄSH play at the Siroco Club in Madrid, in the festivities celebrating the Working Women's Day. They also premiere "Gloria" at the Salamanca University, and they take part in the "Tribute to FAMILY" album covering the song "Portugal".
"Gloria" is chosen as 2003's Best Spanish by Rockdelux magazine in their January 2004 polls.
2004

On February 21st they play the Conciertos Únicos at the Galileo club in Madrid. This is a series of one-off concerts by several prominent Spanish artists, with the intention to offer a unique, special performance. NOSOTRÄSH's performance really rose to the event's motto. They played songs from their three albums, and invited onstage a handful of illustrious guests who are all close to the girls' own little universe: Nacho Vegas, Tito (ANTI, ex PENELOPE TRIP), Mar and Alicia (PAULINE EN LA PLAYA), Malela (ex NOSOTRÄSH), Eva (SOLEX), Diana (Yoyó, METEOSAT)... The decks were taken by their stylish and tasteful producer, Ibon Errazkin. The band did also prepare a selection of images to be projected onto a screen whilst they performed, with footage from different periods of their personal lives.
"Popemas" is released in Taiwan, licensed to Avant Garden Records, and this local release is enhanced with the videoclips of the songs "Arte" and "Gloria".