Biography
We know that in music, like with everything else, everything has already been invented. We hear it and repeat it thousands of times. That's why we fall to pieces whenever one of those strange, magical, unique moments occurs and we think we are hearing something new. And when that happens in Spanish, the feeling is even more intense. That's why we're so satisfied with our "New Adventures In Pop" collection, that brings us new groups with so many new things to say. And that's why we're so proud of groups like NEVVER debuting in this collection, which was born for bands just like them, who have so much to offer, in such new and surprising ways.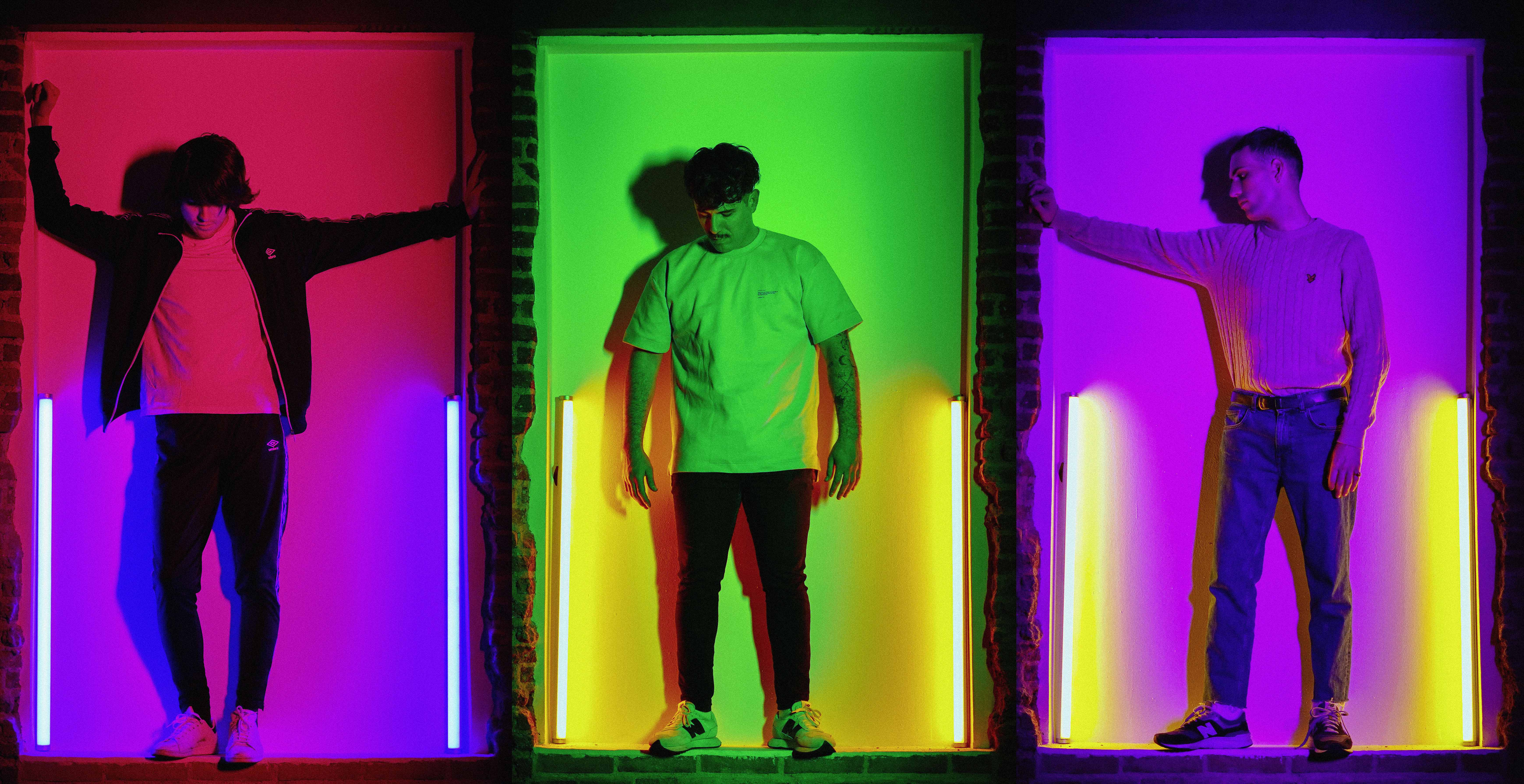 Oddly, NEVVER's first album is called "Disforia". They don't hide it; their intention is to make you nervous, to disturb, to throw you off. This trio from Getafe made up of Javier Aparicio (vocals), Borja Aranda (keyboards and guitars) and Raúl Serrano (bass), has searched among shoegaze, trap, dream pop, hip hop and synth pop to find their own voice. Their structure is surprising, but the chosen emotions make an impact, and are the vehicle that carries us along in this journey. Unlike many other urban rhythms that were the upbringing of three friends growing up together in this part of Madrid and who spent their time in an old garage, NEVVER use sadness, sensitivity and melancholy to express their frustration. Like JOY DIVISION, like DÉCIMA VÍCTIMA, like LOW, like BEACH HOUSE, they use soundscapes that activate your tear ducts, but then there is that heavyhearted flow, there is auto tune, a certain dragging groove, the eighties synthesizers… Yes, this is one of those moments where you think you are dancing to architecture, so it's better if you make up your own minds about the group's real sound.

As music fans, it is really exciting when you find yourself with music that requires so many adjectives to place it that you know the only thing you're going to do is detract from what is playing. And what's more, when the anguished message, that they express so directly, starts seeping in, distressing you, when the notes from the guitar in "Duelo" penetrate to the deepest parts of you, you see the beauty in the sadness, the one that music lovers are so deeply in love with, the one that only a lucky few manage to play and tell. On the other side, "Varsovia" touches on the more African American aspect, the flow, the beat, the rhyme, the urban, and once again the city in ruins, dark, night time, the landscape turned into a cage. But the sadness keeps on seeping through.
The final touch to add the title of the above mentioned song, if you hadn't noticed ("Varsovia" is "Warsaw" in English). A song called "Control" (the beginning of everything, according to the group). Military-style bass riffs and they sing "Quiero envenenarme de ti / Sentirme como Morrissey" (I want to poison myself with you / Feel like Morrissey), it is overflowing with magic and everything falls into place.

Welcome to NEVVER. The eight songs on "Disforia" are a multifacted universe that we are invited to sink into. With open ears and a free spirit. Without prejudices or limitations. Opportunities like this don't come around often. To enjoy the feeling again of being surprised when you listen to something new is something that no music lover can pass up. This music describes the spirit of nocturnal, silent, cryptic, turbulent, beautiful cities… Something that no one should let slip by.
2022
11/03/2022


NEVVER "Tiernos Maullidos Eléctricos" Single Digital


After a debut that revealed them to be one of the most interesting groups on the Spanish music panorama, creating a personalized mix of shoegazing, trap and other current styles, NEVVER is back with new songs. And as soon as you hit play, you can tell – some of these new songs are much more clearly aimed for the dance floor. The lyrics are still distressed, sad, but this time that personalized hybridization that we get from Javier Aparicio is a combination of house, electronic pop, techno-pop and even


bedroom-pop. Part of this is explained by LEFTEE and RARE's participation in the production, both of whom are members of the Valencia-based Toxic Pop collective, who have already produced and collaborated with other Elefant groups, like LABORDE and AMOR BUTANO.
On "Tiernos Maullidos Eléctricos" (co-produced by NEVVER and RARE), this first advance Digital Single for the upcoming album (that will be called "999" and which will be here in a few months), all of the above is made loud and clear. The lyrics about needing time and space, about redemption, are dressed up with a synth-pop base, cushioned by keyboards, ethereal guitars and arpeggiators. It's a sort of cross between M83 and THE BLAZE, ODEZENNE and even CHICO BLANCO. This new mix, the new sound, creates a very special contrast with lyrics that have also evolved in their own way to show us the darkness. The title of the song is based on a verse from the Canary Island poet Félix Francisco Casanova (1956-1976), who was ahead of his time, and who played in a band called HOVNO, with a very particular sound for that moment.
And the video, directed by Santi Capuz (LA BIEN QUERIDA, Soleá Morente, MARIA RODÉS Y LA ESTRELLA DE DAVID, etc.), shows us the group more luminous than ever, powerful, secure, direct. Amidst neon lights and wood panels, it is clear that they are a unique group, without equal on the national or international scene. Because, we love to be surprised, and we love to be excited. And if we can dance while that happens, even better.
20/04/2022


NEVVER "Tu Boca Mordiéndome El Labio" Single Digital


NEVVER has made a dramatic entrance with their new, now imminent release, "999". With the production of LEFTEE and RARE (from the Toxic Pop collective in Valencia), they have been able to focus their sound from a different perspective, getting more direct, even more danceable songs – without losing the original melancholy and roughness – as a result. The second single we're advancing from the release, "Tu Boca Mordiéndome El Labio", is the song that most clearly builds a bridge between the past and the present. Closer to trap, with that slow, dry phrasing, with just the right dose of autotune, but with cushions of sound that range between dreamlike and bucolic, and that turn the city's solitude and darkness into the most beautiful – and at the same time saddest – landscapes. This is captured in the lyric video, recorded by the band themselves, where we see the silent part of a bustling city at a time when it is impossible to find silence, and where all the characters are anonymous. With its grainy texture, openly avoiding perfectionism, we become another resident of this nameless city. Because NEVVER's songs are the city, buildings, streetlights, highways, dimmed lights, closed blinds, and people aimlessly wandering. Those are the parameters of the poetry. Because ultimately, that is what makes NEVVER's music so special, beyond the brilliant production and instrumentation. Because their verses and notes are palpable; because they are drops of urban expressionism in a neorealist poem.
11/05/2022


NEVVER "Amaneciendo Y Anocheciendo" Digital Single
The release of "999" is almost here but we couldn't do it without first showing you "Amaneciendo Y Anocheciendo", the third single from the album, and an especially relevant song that tips us off to what's to come.


We have the video directed by Daniel Cuenca – a spectacle of lights, projections, effects, psychedelia… It is the definitive touch to this group's advance toward a new level of sophistication. Black and whites, backlighting, low angles, make-up. A new era opens for a group that has always been characterized by its overwhelming personality, and they let us see it once again. And we will all be able to confirm it definitively with "999". Until then, dance sad. Or not so sad.
27/05/2022
NEVVER "999" Album
With their first Mini-LP, "Disforia", NEVVER made the first move in 2019. Their music, mixing post-punk, shoegazing and trap, opened a world of possibilities for a sound that was almost completely unheard of at the time. The way their songs dampened the urban genre with melancholy, contained their rage and was filled with poetry (establishing an invisible connection to the great Saul Williams), established a before and after for a group that was destined to be talked about endlessly in the most specialized circles. But far from settling down with a style that was already cutting edge and with so much to offer, they take a new leap with their new album. With assistance on production from LEFTEE and RARE (from Valencia's Toxic Pop collective), they have made their first full length, "999", with an eye on the dance floor, blowing it up with techno-pop or even dream-house, holding on to that strange dialogue between rage and melancholy, their poetic breath, their capacity to evoke forgotten, mistreated neighborhoods.