Biography
Jonni: vocals
Candii: keyboards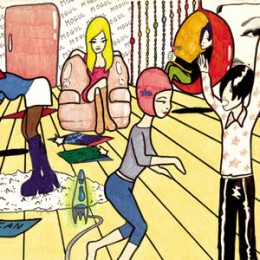 MOGUL is a girl-boy twosome from Birmingham, UK. She is Candii (keyboards). He is Jonni (vocals). They met in a disco while dancing to THE UNDERTONES' "Teenage kicks". They love cheap Casios and Speak and Spells, in fact they want to make them trendy again, as STEREOLAB did with moog synthesizers ages ago.

They love IGGY POP and Eurodisco. They want to bring SIGUE SIGUE SPUTNIK back into stardom, as well as "end World Capitalist exploitation of the proletariat, in time for next Xmas". Will they succeed? Who knows. Meanwhile, Jonni'n Candii have tons of fun with their DIY-retro bubblegum techno punk.

Today there are many bands trying to sound like in the eighties synth-pop era, but MOGUL's sassy, suburban attitude marks the difference. Jonni'n Candii are much closer to punk than most of their techno-pop counterparts. Just listen to "Bin bag" or "No kicks" to check the frenzy, urgent moods of MOGUL. Their songs don't take place in cold, futuristic worlds, but in the lowest backstreets of Birmingham.

MOGUL first song was "Jonni", included in 1996 Boa Records "Noises from the soundcupboard" compilation. A couple of years later, Org Records would release their first single: an irritant, provocative lo-fi cover version of OASIS' "Roll with it". This single would be praised by NME and got some airplay in Steve Lamacq's BBC radio show.

Two more singles would follow: Fortuna Pop's "I was starving hungry in Tesco's" and Elefant's "Rotunda". And now we proudly bring you MOGUL's debut album: "Runnin' riot" is an exciting collection of day-glo punk-techno-pop songs, as flashy and cheeky as we all expected from them. A whole bunch of new stuff ("Midland metro", "A clash of hairdos", "No kicks", "Bin bag"...) plus many songs which were in singles and compilations very difficult to get today: "Precint" from "I was starving hungry in Tesco's" single; "The story of Ort" from "Abuse your friends" compilation; "Candii is a Can fan", from a split single with THE BEATMOLLS...

The main course is "Better than sex": a smash hit single with a disco feel and venom in the inside: "Even you can understand, we're not just another rock 'n' roll band, you're so lucky just to get one look, we'll break your arms if you try to touch ... we're worth every penny we earn and yeah it goes on flashy clothes and up my nose". To make this song more danceable, the song was remixed by THE CUBAN BOYS, an electronic music collective that are considered the KLF of this new century. They have had a chart number one in UK, have remixed HELEN LOVE, and now deliver us three irresistible dancey remixes of "Better than sex".

But don't forget about the rest of the album becauser there is no filler at all: from country-techno in "Midland metro" to a cover version of KRAFTWERK's "The model" or "Candii is a Can fan", an endearing tribute to German krautrockers from the seventies, sung by Candii herself.

MOGUL are so hyperactive that there's a new albumn on the go, to be released soon by Fortuna Pop. Till that moment comes, enjoy this bubblegum-techno-punk-pop bomb. Concisely it's much better than sex!


Elefant discography:
ER-233 "Rotunda" Single 2001
ER-1095 "Runnin' riot" CD 2002

Discography in other labels:
"Roll With It" (Single Org Records, Uk, 1998)
"I Was Starving Hungry (In Tesco's)" (Single Fortuna Pop, Uk, 1999)

Songs in compilations:
"Jonni" in 'Noises from the Soundcupboard' LP Boa Records, Uk, 1996
"The Story of Ort" in 'Abuse Your Friends' CD Abuse Records, Uk, 1997
"I Was Starving Hungry (In Tesco's)" in 'Snakebite City 8' CD Bluefire Records, 1998
"I'm a Can Fan" in 'Organ Radio 5' CD Org Records Uk, 1999
"We Are Efficient" in 'Telephasic Ambience' CD, France, 1999
"Lips" in "Organ Radio 7" CD Org Records Uk, 1999
"Spit on you" en MOMENTOS PERDIDOS (ER-1115 CD, 2004)