Biography
The Argentinians Mariana Badaracco and Pablo Dahy are the front-man and -woman of MODULAR,a group that in terms of sound is close to STEREOLAB and THE HIGH LLAMAS, but whose musical language goes beyond that: fans of the analogical, cultivators of styles and unclassifiable influences, B-series horror fans, capable of playing with experimentation without leaving the pop universe or losing those unforgettable melodies...
Mariana Badaracco: voice, vocoder, piano, bass, moog, organs, orchestral arrangements
Pablo Dahy: guitars, banjo, moog, drums, drum machines
2000

Brought together by their shared musical tastes, MODULAR is formed in Buenos Aires, named after the mythical analog synthesizer, "Moog Modular" (a machine that looks like a telephone switchboard covered by miles of wires that make it possible to try out infinite possibilities of electronic sounds from the space age) that brought about what would be called "Moog Records" and "Moog Music" in the late sixties and early seventies.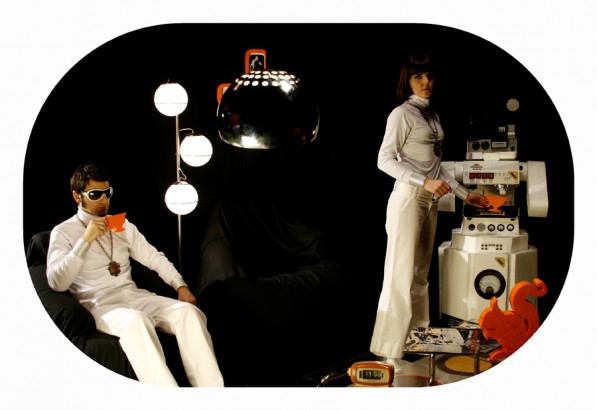 2003

They put out their first demo, "Fecundidad del Cosmos", which includes, among others, such great songs as "Invasores del Espacio", "Jardín de Pan" and "Generador de Gravedad". This first step is solid proof of the directions their music will be heading: retro-futuristic airs and fantastic splashes with a touch of kitsch. They reclaim nostalgic sounds from the sixties, from psychedelic pop, from easy listening, music from movies from the sixties and seventies, groovy bossa lounge, orchestral pop, sunshine pop and vintage electronic, as well as many other styles, in addition to paying tribute to the so-called Space Age Bachelor Pad Music, which had Juan García Esquivel among its more prominent names. In order to recreate the sounds from that era, they use old analog instruments combined with digital technology and orchestration and recording techniques used in the sixties, a passion that shows clearly in the album cover's geometric design and in the incredible arrangements. Yes, their philosophy approximates STEREOLAB's (with whom they share a passion for the Moog Modular, as Tim Ganeand Laetitia Sadier show in their "Miss Modular"), because their references are so close, although MODULAR's music has a more optimistic, colorful and direct vision than the European's.
2004

"Viaje por el Planeta del Pasto" is their second demo, and the one that will get the attention of the Buenas Aires scene. The disc has, among other songs, "Máquina del Espacio", "Encapsulados" and "Cinemascope". They delve even deeper into the imagery from B-series and fantastical cinema of the 60s and 70s, and they stand out in a scene unaccustomed to groups with such a peculiar and characteristic profile.
2005

They begin to be seen onstage, at such well-known clubs as La Cigale and Bestial Club, with other local bands like JOHN-X. They put out a new demo, "El Triángulo de las Bermudas", on which their psychedelic touches stand out, and, as with their other demos, it's released for free online. The demo is a significant step forward, and among the 11 new songs we find such great ones as "Revolución de Vegetales", "Perdidos en el Espacio", "Hombre Hormiga", "Playa Bikini" or "Flasheando", as well as an homage to Robert Moog, creator of the synthesizer that gave them their name. Elefant Records makes contact with them for the first time, seduced by their sound that is the heir to the best of space pop, full of incredible arrangements and references to admired bands like STEREOLAB and LE MANS.
They get great reviews from national media, like the website Zona Indie, and they are even included on the compilation "Canciones Pegajosas" with "Flasheando", in an album characterized by all songs sharing the Creative Commons license, which means copying, distributing, exhibiting and playing the songs is always authorized as long as there is no intention of financial gain and the author is acknowledged. Other well-known Argentine bands like HACIA DOS VERANOS, RUSIA and TURPENTINE also contribute to the album. They are compared to bands and musicians like THE HIGH LLAMAS, Giorgio Moroder and OS MUTANTES.
2006

They put another song, "Perdidos en el Espacio", on the compilation "Mezcladitos de Kidart", a project developed by a charismatic local musical activist, Pablo Pivetta, and that includes other bands such as RUBIN, TOULOUSE, APRIL SKIES and KELLIES.
Their music begins to be heard in other countries, and their affiliation for the Internet slowly comes to fruition, creating small legions of fans in countries like Chile, Brazil and Germany.
2007

Their influences abroad are definitively crystallized. First, they release "Playa Bikini" on the German compilation "When You Come, Bring the Sun", on the Elisabett De label (the label responsible for German releases for people like Brett Andersonfrom SUEDE, SAMBASSADEUR, Malcolm Middleton of ARAB STRAP or COCO ROSIE), which includes contributions from such well-known bands as THE BUTCHER BOY, RONDERLIN and BOY OMEGA.
Second, they perform in Brazil in December, where they also include the song "Encapsulados" on the compilation "Porque Este Océano Es El Tuyo, Es El Mío", on the Midsummer Madness label, that brings together independent groups like AMELIA, GEPE, RESPLANDOR and TELEGRAMA, from countries like Argentina, Brazil, Chile, Columbia, Mexico, Peru, Uruguay and Venezuela, and which definitively opens the doors to many Latin American countries for them.
2008

While they crystallize their contacts with Elefant, MODULAR releases their fourth demo, "Micro Films", which is without a doubt their most solid work to date, the most colorful and open, as the album cover shows with its esthetic similarities to the Pink Panther cartoons. The band increases its number of participants, fruit of its diverse contacts, with Matías Campo (bass),Diego Perez Arango (drums), Pablito Traine (English horn, trumpet, trombone) and Rodrigo Plaza de Ayala (guitar). "Micro Films" contains such outstanding songs as "La Poción del Dr. Hofmann", "Ovni", "Master en Tarot" or "Tour Fantástico" for all of which they record videos.
Zona Indie includes "La Poción del Dr. Hofmann" on its list of its 20 favorite songs of 2008. In addition, they participate in the tribute to THE VELVET UNDERGROUND & NICO with the song "Femme Fatale".
Their legion of fans in Latin America and Europe grows little by little and Mariana is invited to collaborate on vocals and choruses on the new album by Norway's Alexander Von Mehren along with Pete Aves (THE HIGH LLAMAS).