09/10/2012
MILKYWAY "Up, Up And Away (Home Demos 1993-2002)"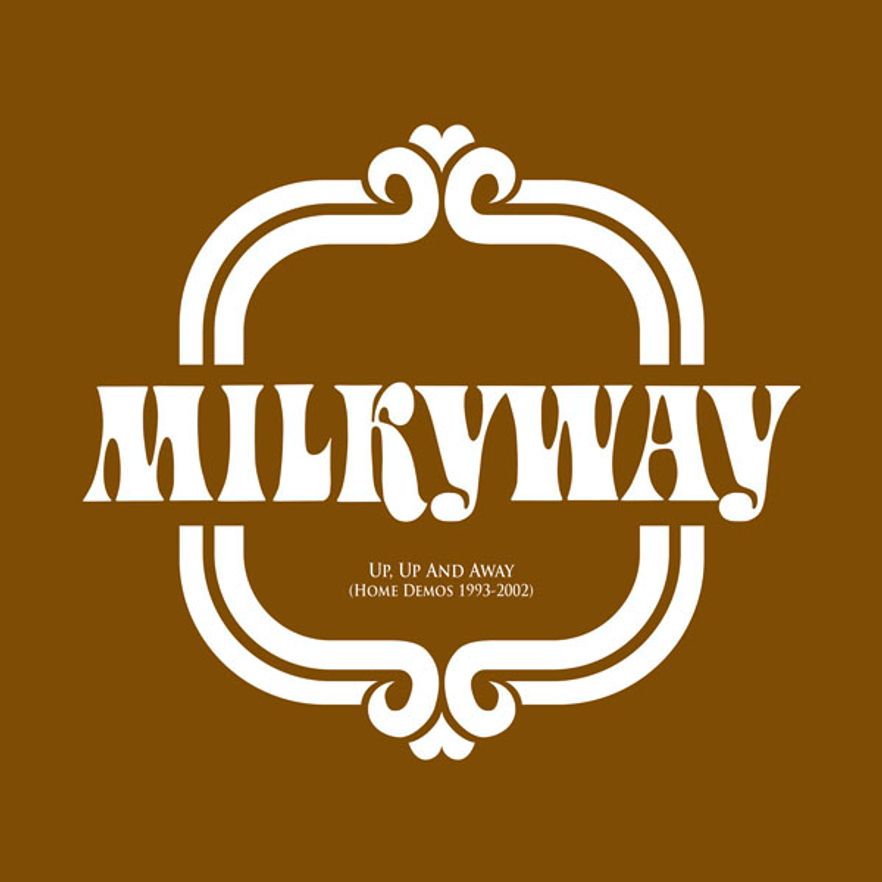 New release on Elefant's "Recuerdos que olvidé" (Memories I Forgot) Collection

One of the collections we are treating like our favorite child at Elefant, and the one that has been most well-received by our followers, is "Recuerdos que olvidé" (Memories I Forgot), which collects demos and previously unreleased recordings from some of our favorite and our most representative groups. We inaugurated the collection with AEROLINEAS FEDERALES, continued with NOSOTRÄSH, and now our third release is going to be nothing less than a limited-edition copy of MILKYWAY's first demos, which were mostly recorded before the start of LA CASA AZUL.
The demo concept has always been associated with an early stage of a song, sometimes even rougher, but always with a special charm, and in which you can trace the essence of the songwriter. "Up, Up And Away (Home Demos 1993-2002)" is full of great songs and huge hits that are so typical of our songwriter. What's amazing here is how, in 1993, in a room, with an analog 4-track (for the songs from before 1996) and a digital 8-track (the songs after 1996), there are already songs as incredible as "Over" - the final track on this album – almost 10 years before LA CASA AZUL's first full-length was released. 14 songs that highlight all the things we now know about Guille: his versatility, his wide range of styles, his unlimited imagination, and his inimitable personality when it comes to writing great pop melodies. But there are also discoveries and surprises in each and every one of the songs that comprise this album:
"In Love" (1995) first appeared on MILKYWAY's eponymous debut CD-Single on Annika (and remember that while LA CASA AZUL uses Spanish as their language of choice, MILKYWAY does his thing in English), begins elegantly, between lounge cushions with echoes of the best Soft Pop from the 60s and those la-la-la's that have returned to take us to an unforgettable place. A romantic hook, all shiny and young, where Ester Pascual's voice appears for the first time – the only name there with Guille's on the albums credits. It is a tribute to "Love So Fine" by ROGER NICHOLS & THE SMALL CIRCLE OF FRIENDS.
"Julie" (1996) starts the first danceable beats, with one of those impossible structures that jumps from URSULA 1000 to France Gal, from SAINTE ETIENNE to THE BEACH BOYS, wrapping things up with an amazingly Beatle-like chorus. Julie in my room with diamonds.
"Shine (Go To California)" (2002) is a delicious house specialty, as if THE LEFT BANK went on vacation to the sunniest part of the world to have a party, that inexplicably ends up blowing up in that techno-pop ending, owing so much to J-Pop.
"My Groovy Love" (1997) moves to the beat of sweet Eurodisco, with dream-like arrangements, a seriously catchy chorus, PET SHOP BOY stylings, and an undeniable tendency toward the dance floor.
"Fence" (1996); THE LEFT BANKE are back in their purest form, holding hands with LOVIN' SPOONFUL, who go to visit Billy Nicholas and Paul Simon, in a song with a surprisingly folky spirit.
"Silly Things" (1996), funk, disco, techno-pop, PIZZICATO FIVE, KRAFTWERK, infinite synthesizers, impossible beats, celestial harmonies… This song is impossible to categorize, with its mix of a thousand different sounds and references, to listen and dance to. Must I remind you that we're talking about Guille Milkyway?
"My Favourite Girlfriend" (1994): Another surprise with that acoustic guitar that the song starts off with, as if it were unplugged, with more folk tones, a mix of Donovan, Laura Nyro, Simon & Garfunkel… This bareness that Nick Garrie so badly wanted on his debut album, curiously enough at the hand of one of someone who is one of the masters of arrangements.
"Radio Milkyway" (1996) is an anthem. Why couldn't we enjoy this wonder before, which describes the universe of MILKYWAY so well? From home-grown techno-pop to eurodisco, from CAPSULE to HELEN LOVE, from BIS to THE HUMAN LEAGUE, from FLIPPER'S GUITAR to Jean Jacques Perrey, this tremendous sing-along hit has special meaning on this album: "It's the sound of the spring / It's the sound you've been waiting for".
"Fizzy Dizzy" (1997) is another song that was included on "In Love EP". Electro, disco, techno, house, the bpms crossing the limits of possibility, the club about to burst, and suddenly the gameboy melody comes on, everyone stops and looks at each other. Yes, that's the starting bell for the final blast, the euphoria, the dream-pop that bursts into absolute happiness.
"I Know" (1997) dives into the sunniest, most elegant part of MILKYWAY, sunshine-pop sponsored by Burt Bacharach, Henry Mancini and THE BEACH BOYS. Delicious, sublime.
"Bubblegum" (1996) is euro-pop and dream-pop, with echoes of LIO and the beloved Jacno. Another one of those marvelous choruses so unmistakably MILKYWAY, dream-like and evocative, and at the same time agile and energetic.
"Feelings" (1996); A new unforgettable chorus, PET SHOP BOYS, DEEE-LITE, NEW ORDER… melodies that chain themselves to your heart and never let go. What's more, like that string quartet in the final moments of the Titanic, the melodies haunt you with a will of their own in the most complicated moments.
"Magic People" (1997). Yes, we were missing the vocoders, so we could begin to come full circle. Somewhere between SCISSOR SISTERS and ERASURE, OMD and Andreas Dorau, comes this new magical dance-floor hit.
"Over" (1993); Toy-like sequencers, samba, electronic deconstruction, the oldest song by Guille so far. It's a surprising song, with a noticeable dark side, with that chorus full of Brazilian echoes but that opens little by little to the positivity and light more typical of his songs.
When it came to "La Polinesia Meridional", Guille Milkyway talked to us about escapism as a way of understanding life and the world, something that takes on special meaning considering what's going on in the world around us right now. In some way, this album gives even more meaning to that, now that we can see his special joie de vivre in it, that sunny vitality, that constant celebration of feelings by a songwriter who seems to have been born already bursting with inspiration that we are still enjoying to this day. And we have proof once again that what Guille has is not inspiration; it's much more than that, something innate, intuitive and incredible.