20/11/2020
MARIA RODÉS Y LA ESTRELLA DE DAVID: "Hacer El Amor" Single and video-clip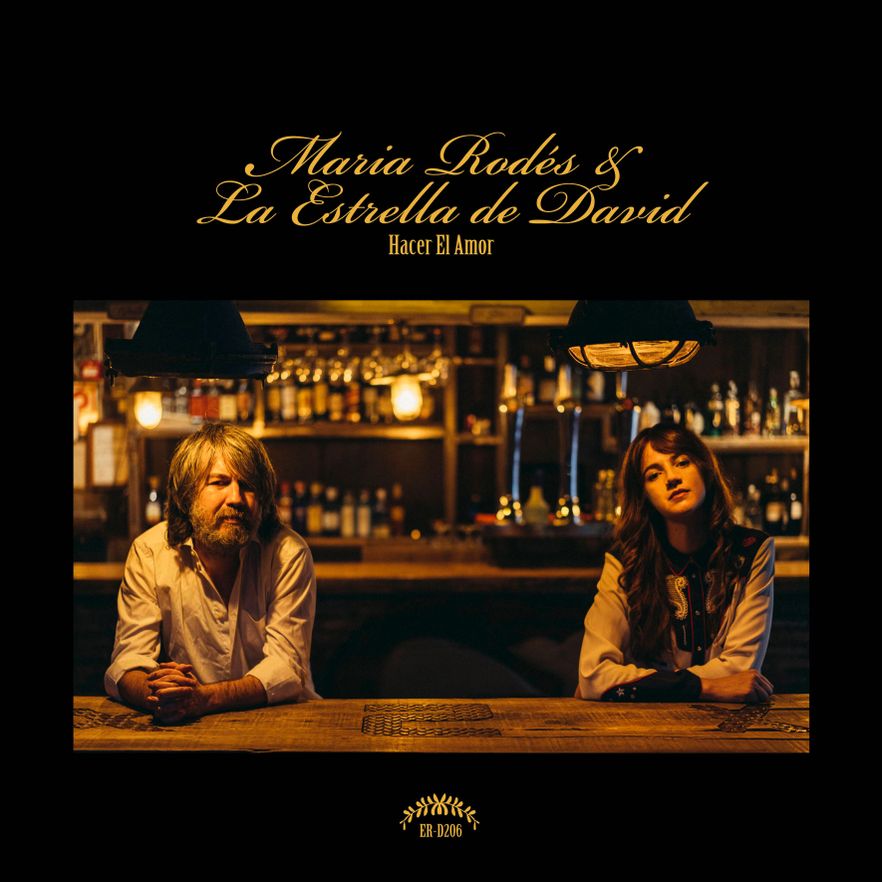 TRACKLIST: 01 Hacer El Amor
There are some unions that are just stellar (play on words intended). You can imagine how incredibly excited we are that David Rodríguez and Maria Rodés have decided to do a project together, and that this project is going to be put out on our label. MARIA RODÉS Y LA ESTRELLA DE DAVID is their own special twist on pop, full of personality, excitement, identity and imagination. And we can expect nothing less, coming from two of the most important musicians on the independent scene in this country. Let's take a quick look at what they've done:

Maria Rodés began her musical trajectory with the folk project ONIRIC, to soon after begin a solo career, with great albums like "Una Forma De Hablar" (BCore, 2010) and "Sueño Triangular" (BCore, 2012). In 2014, this active artist released "Maria Canta Copla" (Chesapik), a selection of Spanish folk songs presented in a unique and personal way. This work won over the prestigious singer and composer David Byrne, who signed her up to play the well-known Meltdown Festival in London. She has worked with Ramón Rodríguez (THE NEW RAEMON), Nacho Vegas and Raül Fernández (REFREE). In 2015 a book was published – a journal of illustrated dreams, as Maria likes to describe it – called "Duermevela" by the publisher Alpha Decay. It was a compilation of poetic texts about her own dreams, accompanied by her own illustrations. She has participated on soundtracks for movies like "No Culpes Al Karma De Lo Que Te Pasa Por Gilipollas" (Don't Blame The Karma For Being An Idiot) and "Vivir Dos Veces" (Live Twice, Love Once) by María Ripoll, and for "Villaviciosa De Al Lado" by Nacho García Velilla. In 2018, "Eclíptica" (Satélite K) won her the Puig Porret prize for best musical creation project. It also got her to sharing the stage with artists the size of David Byrne in the Noches del Botánico Festival in 2018 (David Byrne himself asked Maria to play with them). She has toured in Colombia and Mexico, where one of her albums was also released.

In September 2019, the multifaceted artist joined the cast of actors of "Las Bárbaras", a play written by the playwright Lucía Carballal and directed by Carol López, which was a huge success with audiences. This year, her latest album, "Lilith," (Satélite K, 2020) was released. It is a project created to break down the connotations of the word "witch", in an album full of magic and mythological references. Nothing too intense.

David Rodríguez, on his end, is one of the regulars around here. We would not be exaggerating if we said that he is one of the key names on the Spanish independent scene. When we organized the Noise Pop 92 tour, we met him with BACH IS DEAD, one of the groups that helped give rise to the indie scene in Spain, and who somehow opened Pandora's Box with their celebrated album "Sonotone". Soon after that, he joined our family when we released those unheard-of albums by BEEF (the first on Acuarela, which was a part of Elefant then). They played in all the national festivals, they opened for PAVEMENT, they released a handful of albums that received a lot of press and made an impact on listeners, and they were number 1 on national best album lists multiple times, in different media. Along the way, they perpetrated that singular project, which was marvelously bizarre and iconoclastic, in collaboration with Tito Pintado (PENELOPE TRIP, ANTI) called TELEFILME, where they played with synthesizers and drum kits in an inimitable exercise in cynicism and deconstruction. With their first album, they also reached the highest positions in the year's best lists. In 1999, that fantastic 7" Single under the name of JACKSON was released as a part of our Single Club. With the turn of the century, David did not slow down his production, and continued to confirm his unlimited ability as a singer, a composer, and a producer.

As this last facet, we cannot fail to mention his role as producer for LA BIEN QUERIDA's first five albums, on which he has also sang and played various instruments. This work was imperative in the creation of Ana Fernández-Villaverde's universe. So much so, that he won the UFi award for best production for "Ceremonia", among many other nominations. In fact, he has also produced for GASCA, METEOSAT, 12TWELVE, CAMPING, BALAGO, POTA, SKALEXTRIC, ASPIRINA, PRIMOGÉNITO LÓPEZ, LOS PUNSETES, TIGRES LEONES, PERAPERTÚ, ROMBO, PAYASO and Soleá Morente. On Soleá's latest album, "Lo Que Te Falta", he was also responsible for song writing and singing some of the songs, like he had already done on "Tendrá Que Haber Un Camino". As a songwriter, his work stands out with the song "Sol Y Sombra", which was co-written with Amaia for the film "Legado De Huesos" (The Legacy of the Bones), part of the cinematographic translation of Baztán's Trilogy. His forays into music composition for different publicity campaigns are also noteworthy. And, of course, we cannot leave out his alliance with Joe Crepúsculo in the project JUNCO Y DIAMANTE, with which they released the album "Las Comarcas De Catalunya Vol.1" in 2013.

In this last decade, he has continued with his personal projects as well. He has released three albums under the moniker LA ESTRELLA DE DAVID, the first one eponymous (El Ejército Rojo, 2007), "Maracaibo" (Canadá Editorial, 2011) and "Consagración" (Sonido Muchacho, 2017). He continues to show off his irony and cynicism on the albums, but also lets us catch glimpses of his warmth and the romanticism that runs through his veins. It is quite a resume.
However, there is a secret third piece in this project: Sergio Pérez García (SVPER, PEGASVS, THELEMÁTICOS) is responsible for designing and arranging, and playing almost all the instruments on this first album - still a work in progress - by this astral conjunction. In recent years, Sergio has shone with his tremendous work as a producer. Albums like Joe Crepúsculo, "Supercrepus II"; MUJERES, "Siento Muerte"; CHUCHO, "Corazón Roto Y Brillante"; Lidia Damunt, "Nacer En Marte"; CARIÑO, "Excusas"; PAPA TOPO, "Ópalo Negro"; LA BIEN QUERIDA, "Premeditación, Nocturnidad Y Alevosía"; SIBYL VANE, "Split", and dozens of other key albums of the last decade have been done under his charge. His ability to create walls of sound and weave an intensity of his own lead, in this case, to a delicacy and versatility, even embracing acoustic instruments typical in country music.
All together, they offer us this exercise in bluegrass called "Hacer El Amor", with its pedal-steel, its syncopated rhythm, and its charming lyrics full of affection. It is an advance of what will be "Contigo", the album we will be able to enjoy in 2021. And, what's more, to complete the advance, there is a video by Santi Capuz (LA BIEN QUERIDA, Soleá Morente, NEVVER, THE LAST DETAIL, etc), taking place in an environment as unique as the Bosque Finlandés, in Rascafría (Madrid). The video shows our protagonists (David and Maria) surrounded by a bucolic, autumnal scene, which evokes that harmonious life in nature that they dream of in this precious song.