31/01/2020
LISASINSON: "Atasco" Single and Video-clip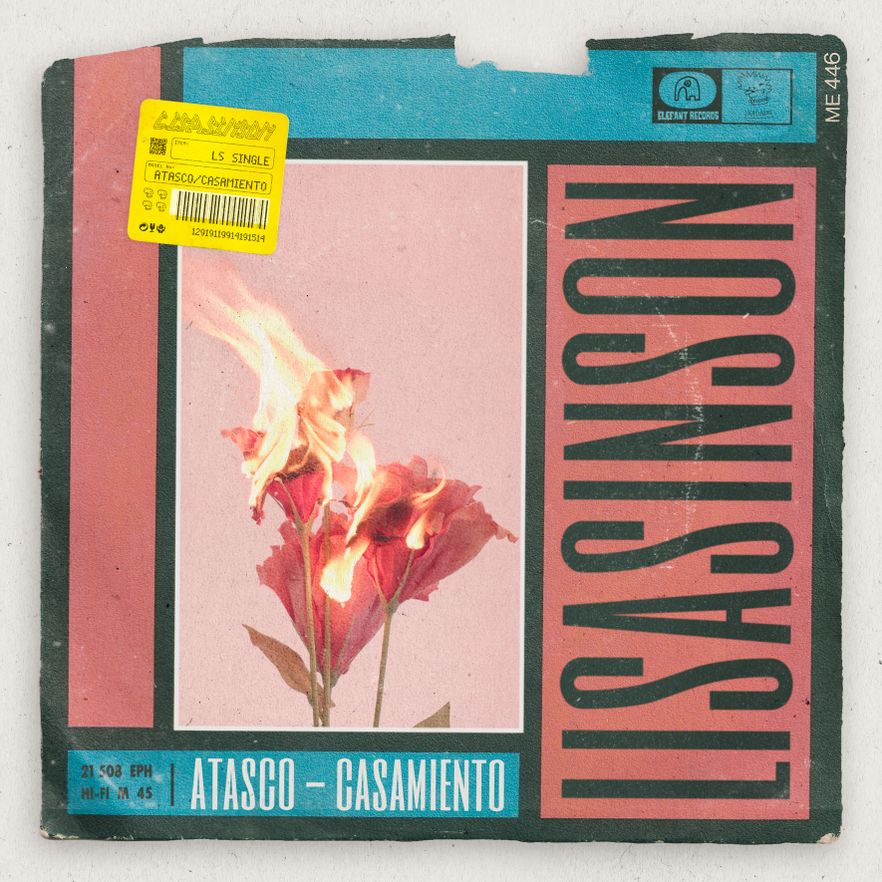 Tracklist: 01- Atasco 02-Casamiento
It wasn't so long ago that we gave you "Barakaldo", the first song from the Valencian quartet, LISASINSON, for Elefant Records. Miriam (vocals and guitar), Mar (vocals and guitar), María (drums and backing vocals) and Roser (bass and backing vocals) are creating a revolution in the pop scene with just one song. And of course, they are also traveling all over the peninsula with a live presentation of their precocious punk-pop. Today, we are finally bringing you their anticipated new Single, with two songs that confirm just how promising this group is. It is a combination of ultra-melodic punk-pop that moves between messages with a feminist, social message (inspired by the normalization of violence against certain groups in society) and the freshness and cheekiness of youth.

"Atasco" is a great example; it is a song dedicated to women who are no longer with us. Musically, it begins with that precious sixties opening, reminding us of THE RONETTES or THE SHIRELLES, to then throw itself head first into speedy guitars, while they shout at us, with concern and urgency, "Las chicas ya no volverán a bailar jamás" (The girls will never dance again). This contrast is what makes the feeling of it being an anthem even stronger, a song full of signs and symbols, but also full of evidence, solid. They are not afraid to be straight with us and, at the same time, it smells like the best punk-pop made here, like a classic. Marvelous. Something that is reinforced by the video made by the Valencian collective, Tuica. It is an exercise in visual collage, mixed-technique, from the deconstruction of grainy vintage and pop esthetic, an eighties indie video, the studio pose (attention to the strength of each of them in each of their proposals: the best surrealism) until the final stage with the instruments. At the end, you are left with a lot of feelings - the bitterness and anxiety, disappointment as young people and as women, the recovery of the true essence of punk, and rock purified by four girls with a lot to say. After you see it, you will know that you are going to be singing this song at the top of your lungs many nights, and that when you see someone doing the same you will know for sure you have a lot in common.

"Casamiento" fills the B-side with an exercise in self-confirmation, in rejection. The best kind of punk attitude, a total "fuck you", based on punch, solid choruses and cheekiness, where they make use of a line from Lisa Simpson herself: "A mí no me preguntes / Sólo soy una chica" (Don't ask me / I'm just a girl). The thing is, their songs go beyond pure immediacy, with introductions, bridges and small instrumental developments within the spirt of urgency and directness. They were recorded by Antoni Laguna in Estudio Elefante (Valencia), produced in Madrid by Juan Pedrayes (AXOLOTES MEXICANOS, CAROLINA DURANTE) and mastered by Carlos Hernández(JUNIPER MOON, LOS PLANETAS, TRIÁNGULO DE AMOR BIZARRO, AIRBAG, COOPER...)

They are just getting started and they already have a solid collection of dates all over the Spanish geography. The thing is, this looks like it is getting serious. Don't miss them if they are close to your town!