Biography
The excitement and the emotion we feel when we introduce the first songs from a newly-signed artist are always special. We just met LISASINSON a few days ago, and we were immediately won over by their bubbly-pop-punk, and we already have their first Single, "Barakaldo".
LINE UP 2021:
MÍRIAM FERRERO (vocals and guitar / Ontinyent-Valencia)
MARÍA ALBERT (guitar and vocals / Valencia)
MARÍA MARTÍNEZ (drums and vocals / Pilar de la Horadada-Alicante)
PAULA BARBERÁN (bass and vocals / Enguera-Valencia)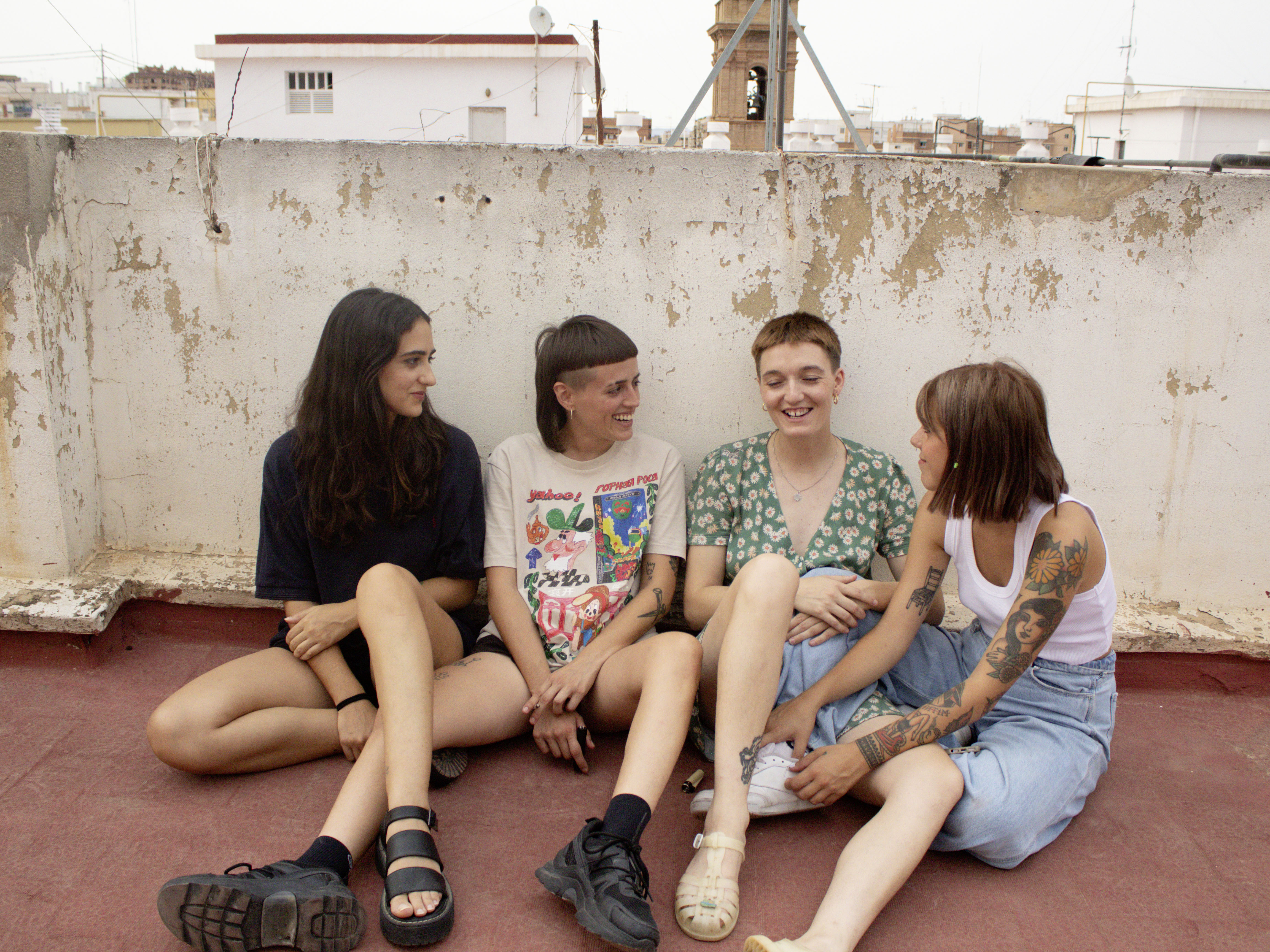 LISASINSON is a graphic and musical project that started in November 2018 at the Fine Arts campus in Valencia, with Miriam (vocals and guitar), Mar (vocals and guitar) and María (drums and backing vocals)and Paula Barberán (bass, substituting for Roser). They quickly found their identity: punk drum lines, pop guitar melodies, brazen lyrics, or as they like to call it "punky pop". And that's how "Barakaldo" came about, recorded with the indispensable help of Pau Nadal, who, in addition to recording the album, produced it and played bass on it. The first song is a clear example of what we were talking about: attitude, aim, unleashed spirits, and, fortunately, no prejudices. How would they define it? "It's an ironic song about what an idiot you turn into when you fall in love". We couldn't have said it better.

And that's when their friend Victoria Herranz shows up, with an idea for their first video, and that is the apex. There, in three minutes, we can see these three girls unleash their magic, their message that "they're three million galaxies from this world". And we understand their magnetism. And we are hopelessly in love. Total addiction, the catchy punk-pop spirit of groups like THE PRIMITIVES, TIGER TRAP, LOS ROMEOS, HEAVENLY, AEROLÍNEAS FEDERALES, LOS FRESONES REBELDES, SHOP ASSISTANTS, THE AISLERS SET, JUNIPER MOON, VERONICA FALLS, ALVVAYS, HELEN LOVE... It's the perfect formula that we love so much here at Elefant.

They are already getting their first Mini-LP ready, which they will record this summer and which will be released, as if there were any other way, as part of our collection for new, emerging talents, "New Adventures In Pop". For now, we have to bide our time enjoying "Barakaldo". Again, and again, on repeat. As they sing in the song, "A crazy disgusting night. Until we become total assholes" ("Una noche de mugre total. Hasta volvernos gilipollas integral).
2021
09/04/2021
"Perdona Mamá" Mini-Lp 10". After many advances that have only made us hungry for more - with songs like "Barakaldo", "Atasco", "Volverte A Enamorar" and "Canción Para Mi Crush" - we finally get to enjoy this Valencian group on this limited-edition Mini-LP (as part of our New Adventures In Pop collection, of course). It has nine songs that make it clear they meant what they were saying and doing on all of those advances, with that attitude that has gotten us so hooked on their sound: youthfulness, spontaneity, rebelliousness and overflowing energy. The album liner notes say it too: "These songs are about us. Getting a group together has been one of the best decisions we ever made".