Biography
Everything starts at the end of 1997, when Philippe and Suzette met after a show of the band she used to play with at the time (ME DUELE EL CORASSÓN). They discovered they shared a special fondness for French pop in its most elegant and seductive form, from Michel Polnareff to Katerine, not to mention the unavoidable Serge Gainsbourg and his entourage of fragile, perverse female voices (France Gall, Jane Birkin, Brigitte Bardot). They were destined to form a band together. A band that would obviously perform and compose all their songs in French.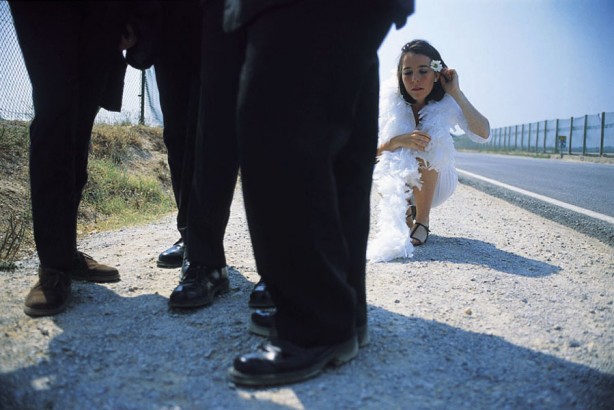 The name of the band comes after the song "Michelle" by THE BEATLES: "Michelle, ma belle, sont des mots qui vont très bien ensemble" - "Michelle, darling, those are words that go together well", said McCartney-. The line-up was completed with Michel and Jacques, who used to play with Philippe in the band PEPITO SEX.
Their set in those first days was mostly based on cover versions: from godlike Gainsbourg they performed "L´anamour" -which was also sung by Françoise Hardy-, and "Les Sucettes". They also did some Katerine gems -"Samba des jours benis" and "Le plus beau jour de ma vie"- and they usually closed their gigs with another big name, Michel Polnareff and his "La poupée qui fait non". However, the band's own material was making its way little by little into their repertoire, in the form of songs such as "Je veux être un symbol sexuel", or "La fille la plus douce du monde", both courtesy of Suzette. In addition to the great composers and the sensual voices mentioned above, other sources of inspiration include nouvelle vague film soundtracks and Brazilian sixties bossanova.
1999-2000

The band was put apart for some months due to the smashing success of another band involving Michel and Philippe -LOS FRESONES REBELDES-, but on late 98 LES TRÈS BIEN ENSEMBLE start practising and playing live again in a party with HELLO CUCA y THY SURFIN' EYES, the latter another band Michel plays with. Shortly after that, Paul from LOS SOBERANOS comes in to play some organ. This new line-up plays live for the first time at Sidecar club in Barcelona with KRYPTON. A tape containing this gig arrives at Elefant's headquarters, and the band is signed up inmediately. In May 1999 they record the songs for their first single (released both on vinyl and cd): included on it are both original songs mentioned above, plus their covers of "L'anamour" and "Les Sucettes". It will finally be released on early July, when the band plays several gigs in Barcelona: on July 2nd they played a short acoustic set to celebrate the 50th anniversary of Radio 3 Cataluña, which would be broadcasted subsequently on the "Disco Grande" show of the same station. On July 9th they played in a festival with several other bands, like fellow Elefant label mates VACACIONES.
During 2000, the band is pretty inactive due to Suzette's staying in France.
2001

In March 2001 LES TRÈS BIEN ENSEMBLE reappear with a new line-up (Michel leaves the band and Serge comes in) and a new single with three new originals plus a cover version of Brigitte Bardot's "Ça pourrait changer". In the new songs the bossanova influences are even more present.
In November 2001 the band opens for U.S. band THE LADYBUG TRANSISTOR in Apolo Club, Barcelona. In the same month and city (but this time in Sidecar Club) the band appears in Afan Pop Festival, together with Philippe's new band COLA JET SET, that also features the vocals of Ana (LA MONJA ENANA).
LES TRÈS BIEN ENSEMBLE also played at the Purple Weekend, the Mod Festival organized by Alejandro DÍez (COOPER, ex-FLECHAZOS) in León, on Thursday Dec 6th.
2002

On February 23rd 2002 they played the MiniPop Festival in Barcelona with SING-SING, VACACIONES, THE RELICT, ORLANDO and many others. The band's new line-up includes Lucien Bulles (guitarist from BUBBLES) on organ and Serge Clavier (from CURIOUS LANE) on drums.
They played an acoustic set in Apolo Club and in a Serge Gainsbourg night in Barcelona's Mond Club.
2003

They get into the studio to record the songs in their first album. To make the waiting easier to bear, there's a new song by the band on Elefant's compilation "Modapop": "En attendant Raskolnikov" (demo version). They are still in love with sixties French pop, Brazilian bossanova and American soul-pop from the fifties, not to forget their supreme master Serge Gainsbourg and their inspiring muse Françoise Hardy.
In September they take part in an Elefant MODAPOP night, along with NIZA, LA CASA AZUL and CAMERA OBSCURA, in Barcelona's Mond Club.
2005

Finally, the debut album by LES TRÈS BIEN ENSEMBLE, "Doux-Amer", is released in April. An album featuring songs inspired in the sound from the 50's, but obviously rooted in the classic recordings from the 60's, with luxuriant orchestral arrangements which seem as if they had been commissioned to a soundtrack arranger from those years. In fact, on this recording they used analogic gear, valve microphones and loads of patience, needed to recreate those classic sounds and take them to the current days with a new freshness.
In August they perform at the Festival Internacional de Benicàssim (FIB) and in September they play the Lemon Pop Festival in Murcia.
After the summer shows, Paul leaves the band and is replaced on bass by new member Ludovic Vian.
As they go on with the promotion of the album, in November 15th they record the live TV shows Conciertos de Radio 3 (aired both on Radio 3 and TVE's second channel) and LaOtra's Básico, aired in Madrid's regional channel Telemadrid.
During December, January and February, the band tours the album all over the country.
Suzette sings on the new forthcoming EP by Swedish band ACID HOUSE KINGS: "Everyone sings along with Acid House Kings" (as the EP will be called, as an in-joke twisting the title of the band's latest album, "Sing along with Acid House Kings").
Suzette sings a French language version of the song "This heart is a stone" (its new title being "Ce coeur est de pierre") on the record due to be released via Swedish label Labrador on February 8th 2006. Along with her we find other four versions by several well-known names in Scandinavian pop: Magnus Carlson, Lasse Lindh, Montt Mardié y Don Lennon.
2006

They start the new year with heavy radio and TV airplay, due to the new ad for the publicity campaign of El Corte Inglés (the biggest chainstore in Spain and Portugal). The ad features the song "À Hélene", taken from "Doux-amer".
The music for the ad is heard in radio and TV stations nationwide (and also in the speakers of the many stores El Corte Inglés has all over the country) from January 15th until March 1st.
In February they play Madrid, Barcelona and Valencia with the English cult band THE WOULD-BE-GOODS, and in June they play in England in several dates (London, Nottingham and Oxford) with the British band. On the other hand, on May 13th they play the Fairfield Café in Toulouse (France).
2007

The "Blancolor" publicity campaign decides to repeat last year's model, and the song "A Hélène" sounds again on radio and TV from February 15th until March 1st.
2008

In September LES TRÈS BIEN ENSEMBLE are back with a new album which should mean a peak in their musical career. With the new incorporation of Charles Gasqué, the one and only Carlos Andreu (GASCA), the band from Barcelona has put out an exquisite piece of work of unique pop, where it is precisely the time of leitmotif which pushes and inspires the majority of songs on this album.

"The title, "Rougeole" ("measles" in French) makes reference to something that only time can heal. Time means life and death all at once, something out of human control which inexplicably advances to a particular destiny. "Rougeole" talks about the end of a vital stage, from disappointments to obsessions and desires, from hope to desperation, from excitement to anguish, reliance, nostalgia and indifference", says Suzette. Working knowingly with references which are so proudly made apparent (Françoise Hardy, Serge Gainsbourg, KATERINE, Keren Ann, Johnny Cash, Brian Wilson, THE BYRDS, THE ZOMBIES, LOVE …), LES TRÈS BIEN ENSEMBLE give form to a mature piece of work, which finds a curious equilibrium between bitterness and vitality, between the definite inherent difficulties in life and the need of hope which helps to see the light at the end of the tunnel. An album which Suzette is amazing at her lyrics- songs such as "Sahara," "Tahiti n'est pas si loin," "Prière," "Le miroir" and "Un jour" all convert into some amazing pieces of French pop we have not heard in a long time.

Philippe des Fraisons, the lead singer and lead guitarist until now, is leaving the group after the recording sessions in order to dedicate more time to his group, COLA JET SET. Alain Roche (GASCA) will fill his shoes as guitarist..