24/01/2020
LE SUPERHOMARD: live in Barcelona and Madrid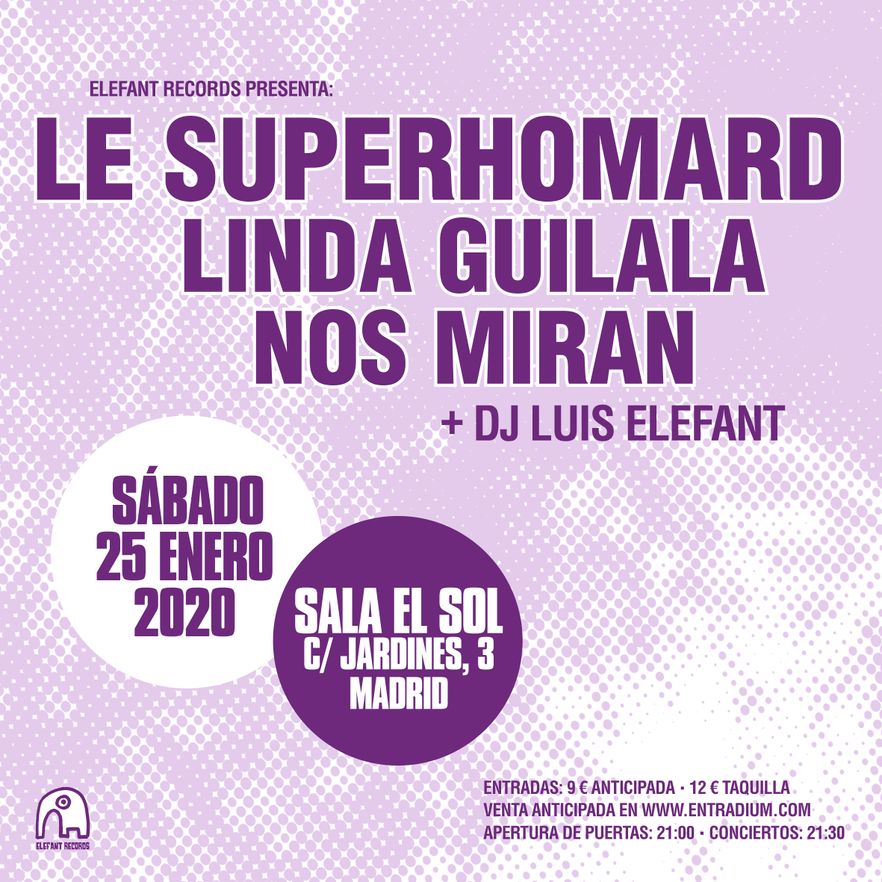 Here at Elefant, we are welcoming the new year with two parties starring the French group LE SUPERHOMARD. This coming January 25, in Sala El Sol, with doors opening at 9:00pm, we will have three bands who represent three very different sounds that are part of the palette of sounds of our label.

NOS MIRAN are one of the best new groups of last year. Sergio Rodríguez and María Quintana have developed, on their first full-length, "Todo Se Repite", a personal sound, with a foundation of electronic pop and dreamy, introspective lyrics. We have already said almost everything there is to say about LINDA GUILALA. It will be a great opportunity to see their solid live show, which already has an incredible repertoire, after having travelled halfway around the world with their singles for labels in the United Kingdom, Germany, and the United States. We are really excited to hear these new songs on stage, where they will continue to maintain that perfect balance between melody and noise, energy and evocation. Finally, we will have the opportunity to see live, for the first time in Madrid, LE SUPERHOMARD. The French band practices a kind of analog pop, following the tradition of bands as important as STEREOLAB, BROADCAST, NEU! and THE UNITED STATES OF AMERICA, with an omnipresent pop/lounge spirit. We are so curious about what it will be like to see this big moment for such a unique group, where fantasy and audiovisual esthetic is an important part of the concept that closes their fantastic first album, "Meadow Lane Park".

In Barcelona, we will be able to enjoy the French group's live show as well, exactly one day earlier, January 24, along with DOBLE PLETINA and DJ SUPERMAJO (the name used by our friend Eloy, from NELEONARD, DIE KATAPULT, the collective "Hi Jauh USB" etc.). The concert will take place in Espai Zowie in Hospitalet de Llobregat.

We can't wait to kick off the year with you in the biggest way possible!