09/10/2015
ELEFANT: "25th Anniversary Collection" Upcoming Re-Releases [LA CASA AZUL, COOPER, LE MANS]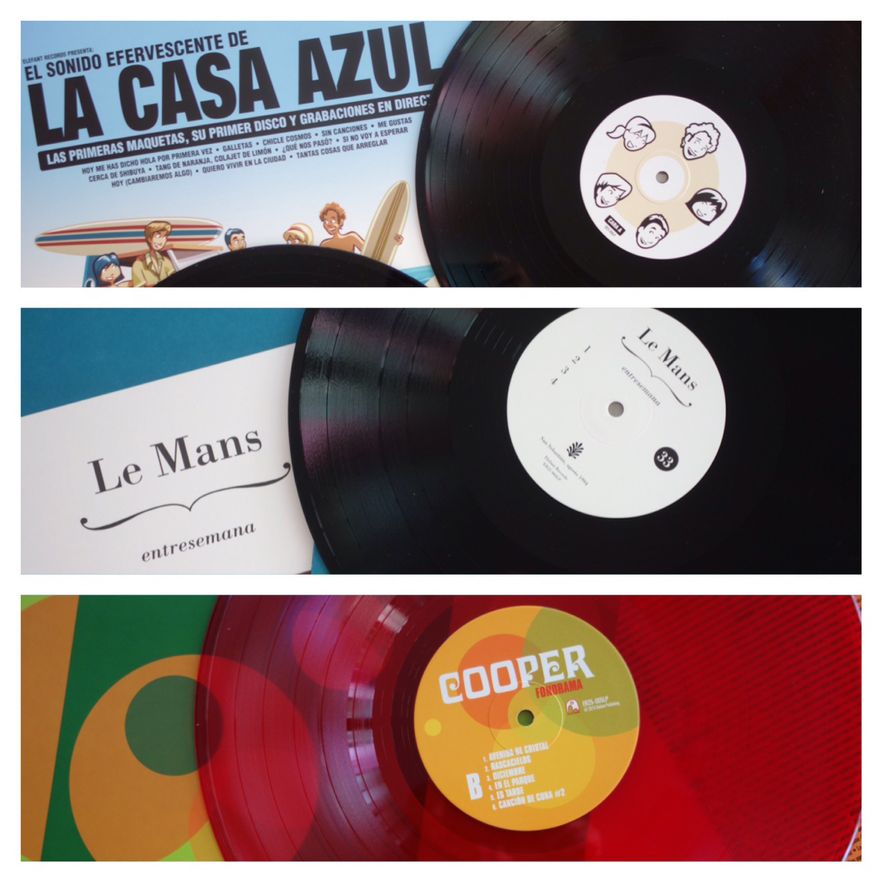 PRE-ORDERS already available on our website!

In honor of our twenty-fifth anniversary in 2014, we told you that we were going to celebrate it by re-releasing some of our most representative albums from these first 25 years of Elefant Records, as well as offer some exclusive releases. There will be 25 releases, including a documentary about the label, as well as a book. The re-releases of FAMILY's "Un Soplo En El Corazón" and LA BIEN QUERIDA's "Romancero" have already come out, and we've also released a very special homage to FAMILY's legendary album. Now three new releases have arrived from this unique collection that, little by little over the next few years, will be completed.
First, that masterpiece, the beginning of a legend. In October, we are releasing LA CASA AZUL's first album, "El Sonido Efervescente De La Casa Azul", again. But we're not just releasing it, we're pulling out all the stops: on this double vinyl, we are including all the demos and takes that we included in the previous re-release on CD, and on top of that we're adding six live songs recorded at a party for the radio program "Viaje A Los Sueños Polares" in Madrid's Aqualung club in May, 2000. That's 27 songs total for a really juicy re-release that also celebrates the 15th anniversary of the original release of an album that made so many things happen. In November, we are re-releasing "Fonorama", COOPER's first full-length album. It is an impeccable collection of songs that showed pretty clearly what line Álex Diez's post-FLECHAZOS career was going to follow, and which, ultimately, identified a sound that has always been his own. This vinyl re-release will also include two tracks previously unreleased in this format ("Sara Tiene Un Secreto" and "Canción de Cuna #2"), and which were previously available on the CD-Single "Vértigo", but had never been released on vinyl before. November will also be the month for the re-release of LE MANS' "Entresemana", their second album and one of the albums we definitely feel most proud of. This re-release felt necessary: songs like "Perezosa Y Tonta", "Con Peru En La Playa" and "Mejor Dormir" seem like they were created to feel their notes played by the needle of a record player, like a summer sunbather who lets the sand at the beach caress their back. That is why we thought it was important for this album to be released in this format, and remastered.
And in the coming months we will have re-releases from LA CASA AZUL, NIZA, THE SCHOOL, LOS FLECHAZOS...



LA CASA AZUL "EL SONIDO EFERVESCENTE DE LA CASA AZUL"
ER25-006 LA CASA AZUL "El Sonido Efervescente De La Casa Azul" Double-LP [9-10-2015]

We kind of get goosebumps when we listen to this album. Guille Milkyway is currently one of the most admired and respected figures on the national pop scene, who has followed a long path full of anecdotes, stories, and more importantly, songs and great concerts. All of this basically started with "El Sonido Efervescente De La Casa Azul". Those eight songs have grown over the years and over their various re-releases, but neither the various demos nor the live songs we're adding now from Aqualung club Premios Polares awards ceremony in 2000 detract from the overall identity. What's more, they confirm the state of grace of an artist who has never left that state. That album was... One of them, of the many that came later.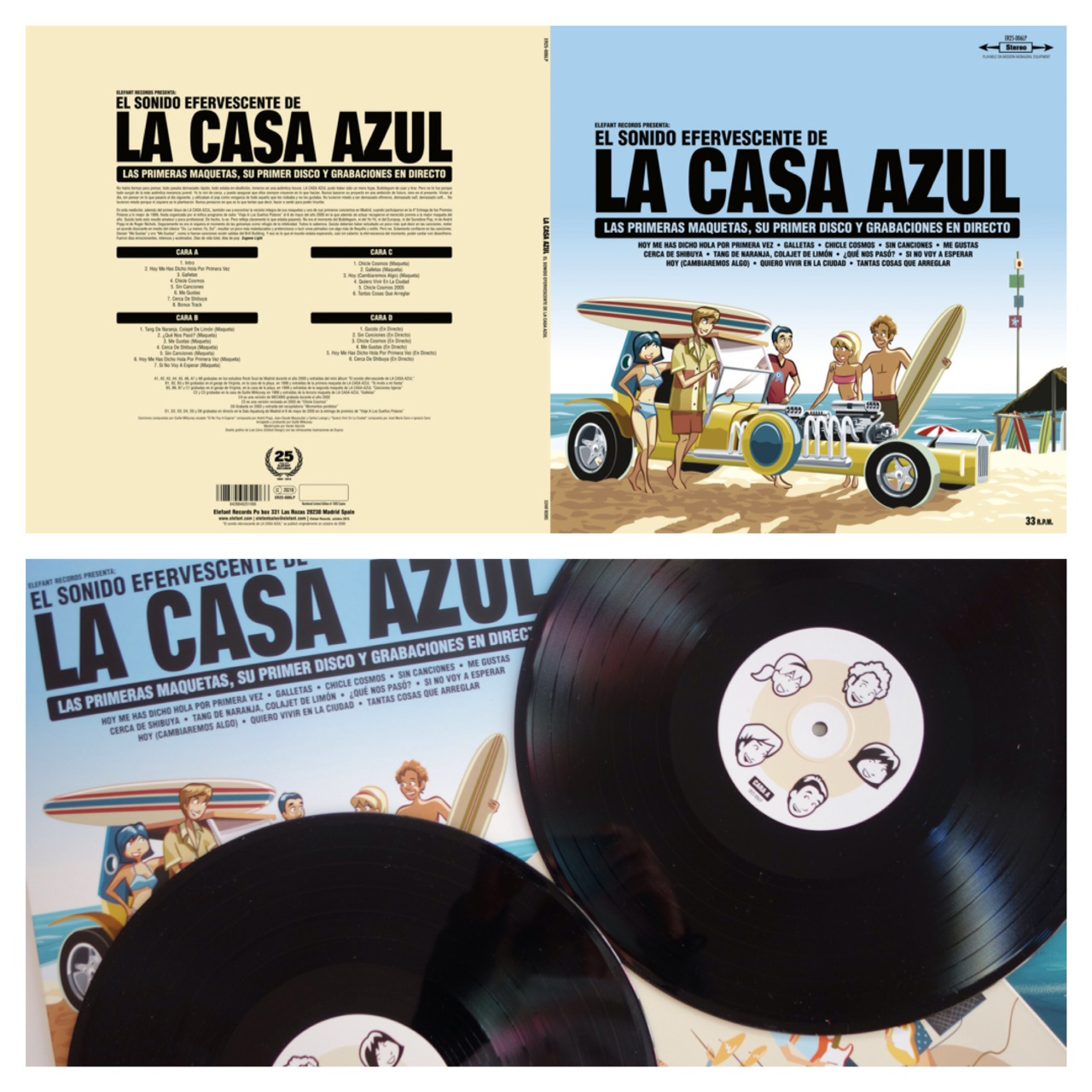 That introduction that only whet our appetites for what was coming - the unquestionable, incomparable hits like "Cerca De Shibuya" and "Chicle Cosmos", the danceable, bubble-gum pop with a touch of ye-ye of "Hoy Me Has Dicho Hola Por Primera Vez", "Sin Canciones" and "Me Gustas", the Bacharach-esque harmonies of the exquisite "Bonus Track", or the unforgettable luminosity of "Galletas". There are immortal choruses, para-pa-pa-pas, incredibly inspired and fun lines ("Sin tu amor / Los Fresones son puro AOR" ("Without your love / Los Fresones are straight-up AOR"); "Tú me gustas / Y sé que el tiempo / Te hará ver que en realidad / No soy tan feo"("I like you / I know with time / You'll see that really / I'm not so ugly")), clapping rhythms... And then came the many other delicacies recovered from the two legendary demos that became an open secret on the national scene: "Tang De Naranja, Colajet De Limón", "¿Qué Nos Pasó?", "Hoy (Cambiaremos Algo)", and so many others... To all of that, we are now adding the song that so many fans have been waiting for; one of the live songs we are including is "Quizás" (known by fans as "Si Vuelves"), which had never been officially released until now.
This album is a state of mind in and of itself - it is vital, euphoric, the definition of optimism made sound. Guille has always had this dream in his head, and little by little he has been able to make it come to life, and we feel like we are lucky to have been able to enjoy the process. Luckily, this story isn't even close to ending.

TRACKLIST: 01 Intro 02 Hoy Me Has Dicho Hola Por Primera Vez 03 Galletas 04 Chicle Cosmos 05 Sin Canciones 06 Me Gustas 07 Cerca De Shibuya 08 Bonus Track 09 Tang De Naranja, Colajet De Limón (Demo 1) 10 ¿Qué Nos Pasó? (Demo 1) 11 Me Gustas (Demo 1) 12 Cerca De Shibuya (Demo 1) 13 Sin Canciones (Demo 2) 14 Hoy Me Has Dicho Hola Por Primera Vez (Demo 2) 15 Si No Voy A Esperar (Demo 2) 16 Chicle Cosmos (Demo 2) 17 Galletas (Demo 3) 18 Hoy (Cambiaremos Algo) (Demo 3) 19 Quiero Vivir En La Ciudad 20 Chicle Cosmos (2005) 21 Tantas Cosas Que Arreglar 22 Quizás (Live Sala Aqualung, Madrid 6-5-2000) 23 Sin Canciones (Live Sala Aqualung, Madrid 6-5-2000) 24 Chicle Cosmos (Live Sala Aqualung, Madrid 6-5-2000) 25 Me Gustas (Live Sala Aqualung, Madrid 6-5-2000) 26 Hoy Me Has Dicho Hola Por Primera Vez (Live Sala Aqualung, Madrid 6-5-2000) 27 Cerca De Shibuya (Live Sala Aqualung, Madrid 6-5-2000)



COOPER "Fonorama"
ER25-005 COOPER "Fonorama" LP [13-11-2015]

To say that Álex Diez is a tremendous songwriter is to state the obvious. He had already proved it with LOS FLECHAZOS and has continued to demonstrate it with every new album he has given us as COOPER. But "Fonorama", COOPER's first album, was more than just great songs; it was a near perfectly collection of them, that fit together perfectly with each other. Maybe it was the fresh energy of starting a new project after the break-up of LOS FLECHAZOS, or maybe many of these songs had been locked in a box for ages just waiting to see the light of day, or maybe the new blood in the band (Carlos Torero on drums, Mc Cartney on bass and Mario Álvarez on guitar) was the perfect package to make these songs fly so high. Together, they created the perfect chemical reaction. The thing is, is that 15 years later, "Fonorama" still has the very same energy and freshness, as if it were the first day.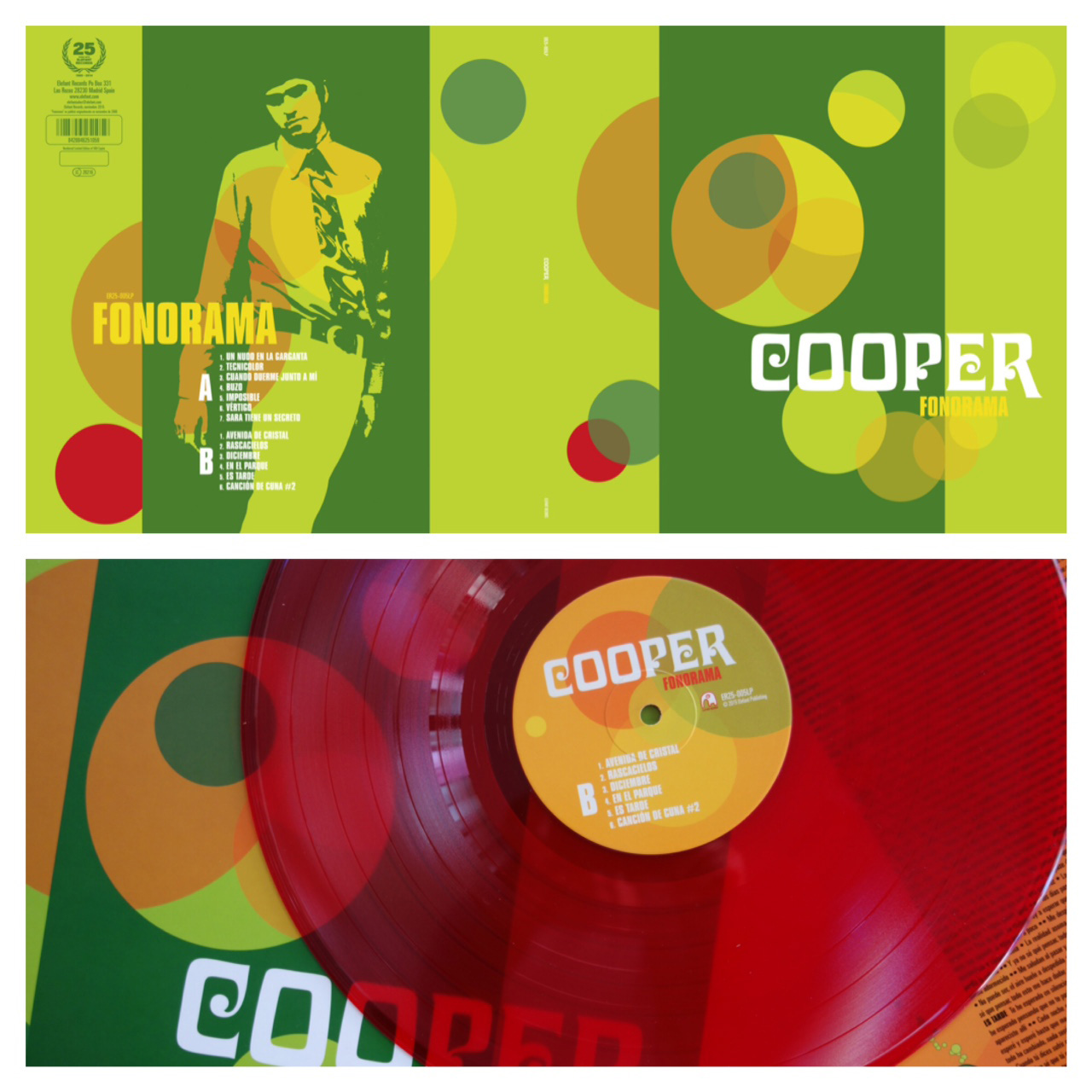 "Un Nudo En La Garganta" kicks things off with a furious guitar and Álex's eternally young voice to narrate one of those stories of small gestures and intense emotions that characterize him so much. "Tecnicolor" is one of those greatest hits that continues to be included in COOPER's repertoire more than 15 years later; it is colorful, electric, and has an unforgettable chorus. There is the psychedelia of "Cuando Duerme Junto A Mí" with its delicious chorus; the agile, carefree immediacy of "Buzo"; the power of "Imposible" with those structures and different parts that jump around with an ease that contrasts with the immediacy of a song that is surprising within COOPER's repertoire. "Vértigo" seems lazier at first, but its descending riff also ends up cradled in our memory, so that "Avenida De Cristal" takes things back up a notch. And if we were afraid of heights, now we are at the edge of "Rascacielos" and we are yelling: "Y resulta que aquí todo es igual / Y es de locos / Y ahora quién me va a ayudar a recoger / Los pedazos de mis sueños rotos" (And it turns out that everything here is the same / And it's crazy / And now who will help me pick up / The pieces of my broken dreams). "Diciembre" makes way for a velvety riff but with a deeply melancholic melody executed with energy and vitality, which gives it a strange strength as more and more voices join in. Beautiful!. "En el Parque" is another big, colorful hit, ideal, like almost all of COOPER's songs, to start the day in a great mood. "Es Tarde" is not the last song on the album, since at the end of both sides of the red-color vinyl, there are previously unreleased tracks: "Sara Tiene Un Secreto" and "Canción De Cuna #2". They are originally from the CD-Single "Vertigo", and we have them here for the first time in this format.
We can talk about thousands of references when we talk about Álex Diez's music: mod, sixties, rock 'n roll... But it doesn't really make sense anymore, as has earned himself a place as a reference himself for all fans of these sounds, and to have the opportunity to rediscover the songs of this "Fonorama" is nothing less than an indescribable pleasure.

TRACKLIST: 01 Un Nudo En La Garganta 02 Tecnicolor 03 Cuando Duerme Junto A Mí 04 Buzo 05 Imposible 06 Vértigo 07 Sara Tiene Un Secreto 08 Avenida De Cristal 09 Rascacielos 10 Diciembre 11 En El Parque 12 Es Tarde 13 Canción De Cuna #2



LE MANS "Entresemana"
ER25-004 LE MANS "Entresemana" LP [13-11-2015]

LE MANS' second album is iconic in Elefant Records' discography. Maybe all of the albums from this group from San Sebastian are, but each in its own different and identifying way. "Entresemana" was the step between "Le Mans" and "Saudade", but above all it was the album on which the group fronted by Ibon Errazkin and Teresa Iturrioz payed tribute to minimalist pop, with beyond perfect string arrangements; slippery but free touches of jazz; and that concept of melody that is so specific to them and so open and fragile but also unpredictable; the album that put them at the head of that train that vindicated the music of VAINICA DOBLE.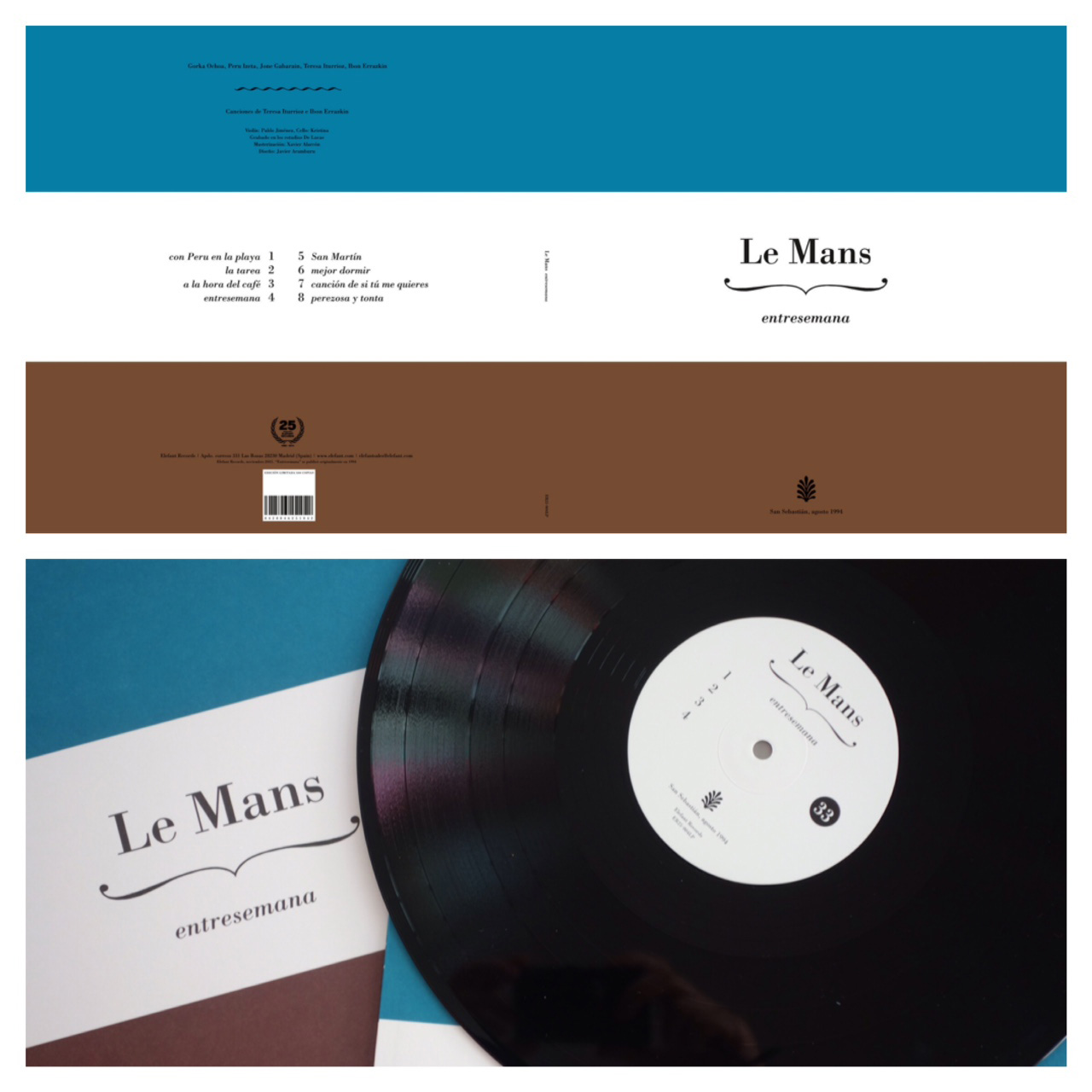 "Entresemana" seems like an album dedicated to laziness - laziness as pleasure, as emotion, and motivation. That which has never been seen. Hedonism taken to its quintessence, with traditional airs full of an irony that magisterially mixed sweetness and bitterness. They show this in lines like, "Está bien pasear y hablar" ("It's nice to walk and talk") from the song "Con Peru En La Playa"), "Me pongo la bufanda y empiezo a pasear / Saludo a los amigos, tengo tiempo para perder / Voy caminando a la hora del café, piso despacio, es fácil resbalar" ("I put on my scarf and start walking / I say hi to my friends, I have time to waste / I take a walk when it's time for coffee, slow steps, it's easy to slip") from the song "A La Hora Del Café", "Me gusta nadar temprano a las diez / En un día así / Poderme secar este bañador / Y vuelta a nadar" ("I like swimming early at ten / On a day like this / Let my bathing suit dry / And swim again") from "Entresemana", and "No apetece cocinar / Mejor dormir" ("Who feels like cooking / It's better to sleep") from "Mejor Dormir".
The album smells like the sand from La Concha beach, it has a breath of the breezes that come over Monte Igueldo, and makes this paused contemplation and exercise in intense beauty, refined by superb string arrangements that push these songs that feel sometimes like they might break but which, when you realize it, are actually holding onto you with all their strength.
TRACKLIST: 01 Con Peru En La Playa 02 La Tarea 03 A La Hora Del Café 04 Entresemana 05 San Martín 06 Mejor Dormir 07 Canción De Si Tú Me Quieres 08 Perezosa Y Tonta