Biography
Jone Gabarain: vocals
Ibon Errazkin: guitar
Teresa Iturrioz: bass
Peru Izeta: guitar
Gorka Ochoa: drums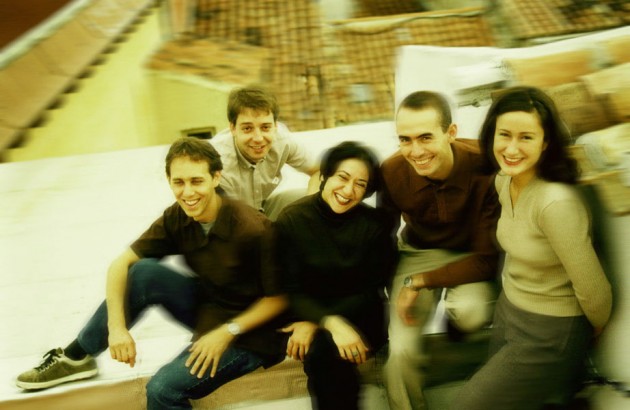 Once upon a time there was a band called AVENTURAS DE KIRLIAN. They got together in early 1986 in San Sebastián, where they all came from, and their line-up was: Peru Izeta (stand-up drummer), Jone Gabarain (vocals), Teresa Iturrioz (bass) and Ibon Errazkin (guitar). They were influenced by YOUNG MARBLE GIANTS, Cherry Red bands, early TALKING HEADS, Tamla Motown and a few assorted psychedelic bands from the 60's. But, most of all, what determined their style was the fact that none of them could play at all. So they started writing songs that never went further than one minute long and never had very complicated chord changes. They were called "minimalists" from the very start, and there wasn't much they could do about it. Anyway, that was never a big concern.
Between 1986 and 1989, AVENTURAS DE KIRLIAN recorded several demos, played live regularly in the Basque Country Area and created themselves a small but loyal fan base. They weren't alone: other bands in San Sebastián shared their unashamedly amateur approach (one of which would later on become FAMILY). In the summer of 1988, one of their gigs was attended by Alejo Alberdi. He had been a member of DERRIBOS ARIAS, early 80's eccentric lo-fi pioneers. Alejo thought that the band was terribly bad live, but he was quite impressed by the tunes. He secured them a recording deal with DRO, a label from Madrid, and the band recorded a mini-album with him as a producer in May 1989.
The album was released after the summer. Despite having good reviews, it was a total commercial failure, which lead the band to being dropped by the label around the summer of 1990. A brief period of despair followed as a result, but later in the year the band was playing live again with a new name: LE MANS.
1991-1998

Summer '91 brings the recruiting of a new member, Gorka Ochoa, as the first "proper" drummer in the band (Peru would play guitar from now on). After that, they decided to record an album on their own and then look for a label to put it out once it was finished.
The recording of the album took place between November '91 and August '93, with long gaps of inactivity in between. In the meantime, the band looked for a recording deal unsuccessfully, until Elefant Records offered to release "Le Mans" at the end of 1993.
They were never entirely happy with this album; that's why they hurried to record a follow-up in the summer of 1994, an eight-track album called "Entresemana", which showed more precisely what they were into at the moment and what could be expected in the future. "Entresemana" was released just before Christmas. As a curious fact, three songs of this album ("Con Peru en la playa", "A la hora del café" and the title track) were included in a French book (by Didier Publishing) for Spanish learners.
These last years broadened the band's influences to the maximum. A list of their favourites would include Kurt Weill, SLY AND THE FAMILY STONE, LOVE, ORANGE JUICE, Nick Drake, VAINICA DOBLE (highly influential Spanish female duo from the 70's), Julie London, Curtis Mayfield and many others. There was also a growing interest in dance music, with TRICKY, HOWIE B, LA FUNK MOB and PORTISHEAD among their faves in the moment of releasing "Zerbina": a surprising remixes album with a risky, cosmopolitan concept. Ambient, trip-hop and even jungle in a nice and refreshing present which wouldn't be an exception in LE MANS faultless, coherent career.
After "Zerbina", their evolution made evident that LE MANS had reached a point of maturity and talent which enabled them to prepare thoroughly every step, each time surprising both public and critics, bewildered by such a demonstration of elegance and intelligence. Therefore, their next move couldn't be other than the release of "Saudade", LE MANS most difficult and austere album, in which "Entresemana"'s majestic string arrangements or "Zerbina"'s exuberant dance wrapping give way to new songs with a naked, calm beauty, perfectly illustrated on Javier Aramburu's cover art. "Saudade" helped consolidate the band's international projection, being released in Japan, via Tokuma Japan (which included THE CHARLATANS, BETTIE SERVEERT or the 4AD and Too Pure catalogues among its references).
This Japanese version of the album, with a slightly different sleeve and a booklet with the lyrics in Spanish and Japanese, also included the track "Jonathan Jeremiah", a lush combination of "Saudade"'s grey landscapes and "Zerbina"'s hedonist rhythms. This song appeared in Spain as a 12", with a cover version by Basque folksinger Mikel Laboa plus a remix of "Lucien" by INSTRÜMENTAL.
In the States, Grimsey Records released a single with "Un Rayo De Sol" plus the Mikel Laboa song, followed by a CD compiling the band's first two albums -identical to the one released by Tokuma in Japan. Besides, the song "La balada de la primavera" -taken from another 12"- appeared on a split single on Texas label Bedtime Records, with RUBY DARE (USA), GOLDEN (TRANS AM's side project) and BOB HUND (Sweden). Another American label, Radio Khartoum, released in 1999 a CD compilation featuring a previously unreleased song, a cover version of FAMILY based on a poem by Federico García Lorca.
LE MANS also appear in two American independent film soundtracks: "Shampoo Horns", a Spanish-American coproduction directed by Manuel Toledano, which includes "Zerbina"; and "Highball" -a film by Noah Baumbach, featuring Eric Stolz, Annabella Sciorra, Justin Bateman and even Peter Bogdanovich himself!- has two songs by LE MANS on it: "Un rayo de sol" and "Canción de si tú me quieres". This last soundtrack was coordinated by Dean Wareham (LUNA) and also features Dominique A, LUNA, SPRING, GIRL TROUBLE or THE FEMININE COMPLEX.
1998 brought us "Aquí vivía yo" -"Here is where I used to live", what a beautiful, evocative title-, Le Mans' fourth album -released in 1999 in the States by Grimsey-. It was preceded by two excellent 12", "Mi novela autobiográfica" (which sold specially well in the UK) and "Yin Yang", each one including three bonus tracks not included on the album. With a sound far more luxurious than anything recorded by the band so far, and with the emotion, the artistic genius and the personality completely intact, or even strengthened, after so many years and so many gorgeous, timeless songs, "Aquí vivía yo" will remain as LE MANS' best... ever.
Because the album release coincides with the announcement of the band split. This wasn't a complete surprise for those who had paid attention enough to the band's latest sleeves: "Mi novela autobiográfica" boasted a big "F" on its cover; "Yin Yang" featured an "I"; and "Aquí vivía yo", an "N".
F-I-N.
Spanish for "end".
1999-2002

This doesn't mean the interest for the band had diminished. Argentinian label Indice Virgen released a five song CD-Single by the band, preceeding the release of a LE MANS compilation, with fourteen songs taken from the band's long discography. In October 2000 Ibon and Teresa were invited to go to Buenos Aires to take part in several promotion acts, which included the live appearance of Argentinian band SUAREZ playing live several LE MANS' songs.
In February '99, New Musical Express included a feature on European bands, in which LE MANS were pointed out as one of the most outstanding bands in Spanish indie scene. Other European bands featured were TARWATER, PAN SONIC or MOUSE ON MARS.
In 2001, German label Spectrumworks released a compilation called "Folky". It features the instrumental version of "Mi novela autobiográfica", plus a remix of the same track by Kabuki from Spectrumworks. At the same time the label released a Maxi-Single featuring the vocal version of the song. Kabuki's remix would be also included in several German techno compilations such as: "Traffic, various steps", released by Combination and featuring BOARDS OF CANADA, PHONEHEADS, HARDFLOOR, HIDDEN AGENDA, METAMATICS, FELLMAN & LOUISE or THE GREEN MAN; or the fourth volume of "Groove Anthology", compiled by Steffen Irlinger from WDR radio and Groove magazine. This compilation included tracks by LARRY HEARD, NEXT EVIDENCE, TAURUS, BLAZE or SEQUEL; or "Wildstyle 01", with tracks from MO' HORIZONS or RENEGADE SOUNDWAVE, among others.
The instrumental version of "Mi novela autobiográfica" can also be found in "Beach life"; this is the second volume of the prestigious chill-out collection "The Salinas Sessions". Here, LE MANS are among names like THE JACKSON 5, MARIANNE FAITHFULL or ETIENNE DE CRECY.
In May 2000 Elefant Records released Ibon Errazkin's first solo album, in which he gets far away from the sound we were used to expect from him in LE MANS. Instead, he offered us a completely instrumental album featuring a lushy cocktail of influences, as varied as attractive: reggae, New Orleans music, country, rock or even hip-hop, though all these styles are only starting points from which Ibon creates new and original music.
His second album solo is called "Escuela de arte" ("Art school"), and is an even better combination of different influences that range from folk to jazz and experimental music, showing his love for all kinds of music and his excellent taste.
Despite LE MANS was Ibon's main project during the last decade, we shouldn't forget to mention other of his many musical activities: between 1990 and 1996 he fronted DAILY PLANET, an instrumental outfit with many influences from bands with a fragile sound, such as FELT or ORANGE JUICE; they released an album ("Romance") plus several singles. He's also part of INSTRÜMENTAL, a project more oriented towards experimental dancey music. Besides, Ibon included a song ("Expo Tenerife") in Mike Alway's prestigious "Songs for the Jetset" compilation, under the aka SOUTHAMERICAN GETAWAY. With Javier Corcobado and Ana D he produced the debut album of the latter, "Satélite 99" (1997), in which he also took part as musician and composer; in fact, his guitar is more than present throughout the whole album. He accompanied Ana D as a guitarist in her first stateside tour in October 1999. Ibon also produced the last album by Carlos Berlanga, one of the most respected and popular pop composers in Spain, as well as the third album by Spanish all-girl pop band NOSOTRÄSH.
2003

At the end of the year "Catástrofe nº17" is released, the compilation all the band's fans were waiting for. An album that compiles all the singles released by the band throughout their career between 1995 and 1998. Some of them had been deleted some time ago; some other were only available on vinyl; excellent songs that will delight their less early rising fans.
2004

In March Elefant Records releases the new edition of the legendary LE MANS last album "Aquí vivía yo". It is a brand new release on digipak, re-mastered by Xavier Alarcon (VANGUARD). The cover is different, but also designed by Javier Aramburu and it also includes a 12-page booklet with the lyrics and credits of the re-release.
Before the summer, "Saudade" is also re-released, in an embellished version with an adapted cover, booklet including the lyrics and better sound, mastered by Xavier Alarcón.
After they split, their recording life is nevertheless still active. "Mi novela autobiográfica" is included on the excellent compilation "Make the style drivin' slow", released on Sony Music Japan and selected by Shinichi Osawa, better known in the music world as MONDO GROSSO.
Osawa is seen as one of the most innovative writers in Japan's acid jazz, R&B and house scenes, since he started back in 1993 with his band MONDO GROSSO. As time went by the band became his own personal project, and to the jazz, samba and bossanova influences he added other new sounds that helped design the Japanese club pop sound as we know it today. He has worked with Monday Michiru and with N'Dea Davenport (BRAND NEW HEAVIES), and he has remixed Jamiroquai, among others.
On this double-CD, LE MANS are escorted by other selections by Osawa, some of them so elegant and exquisite as EVERYTHING BUT THE GIRL, ANTENA, TOM TOM CLUB, WEEKEND, Cal Tjader&Carmen McRae or even BASEMENT JAXX and LO FIDELITY ALLSTARS.
2005

In February a new musical project comes out on Elefant Records: we're talking about SINGLE, aka Teresa Iturrioz (bass player and brilliant lyricist in LE MANS), helped and backed behind the curtains by Ibon Errazkin. Three songs that go back to that subtle combination of classicism, vocal fragility, experimentation and sonic avantgarde, wrapped in a precious cover artwork by Javier Aramburu.
You can find more information about SINGLE elsewhere on this website.
On the other hand, Ibon releases a CD compiling all the recordings by INSTRÜMENTAL, the experimental dance band he's a part of since years ago along with DJ and producer Javi Pez.
In October the ambitious project of reissuing LE MANS' full discography is finally complete with the re-release of "Le Mans" and "Entresemana", both with new artwork adapted to the digipak format by Javier Aramburu, booklet with the lyrics and revised and remastered sound by Xavier Alarcón.
Also in October comes out the second single by SINGLE, "Su recuerdo", featuring three new songs by Teresa in collaboration with Ibon. The title track is also released as a videoclip, directed by Gabe Ibáñez.
LE MANS' music has an important role too, along with big names as those of Salinger and Truffaut, in the new short film by Argentinian director Paulo Pécora. "Siemprenunca" ("Alwaysnever", 2005) is a 12-minute short movie, filmed in Super 8 (colour and black and white) and 16mm. (black and white) written, directed and produced by Pécora as a visual poem.