Biography
Ana: vocals
Juan: keyboards and programming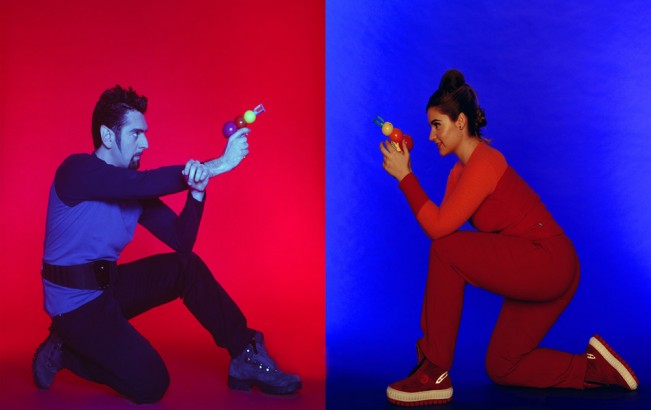 LA MONJA ENANA played their first gig in 1997, at a festival organized by the music academy that Ana, Juan and Julia attended to take music lessons. The latter would leave the band shortly after the recording of their first demo tape; the line-up will remain as the twosome we all know and love since then. Their demotape would be heavily airplayed in radio shows like Radio 3's "Diario Pop", and they soon signed to Elefant Records.
1999

In January '99 they played their first official gig supporting METEOSAT in Madrid. In May the same year they took part in a tribute celebration to infamous DJ Juan de Pablos, along with many other bands. The show was recorded and released on CD, including the two songs LA MONJA ENANA played that night. At the same time, "Diario Pop" listeners chose their demo tape as the best of the year.
Their first CD-Single, "Pídeme un deseo", is out in August 1999. After the summer, they premiere it live in several gigs, including an Elefant night in Madrid with NIZA and JUNIPER MOON. They also appear in a Digital Channel show, and they record a session for Radio 3's Jesús Ordovás show. One of the songs ("Casa de muñecas") would later appear in a compilation called "Pop 2000", released by Radio 3.
2000

In January 2000 British weekly magazine Melody Maker chooses their CD-Single as the best Single of the Week. It's probably the first time in the history of Spanish pop music that a Spanish single obtains that honour. They also get a review in Japanese magazine "Beikoku Ongaku", and some airplay in John Peel's BBC show and WZBC Boston radio.
In February 2000 Elefant released a CD-Single by UK band SUPERCUTE, featuring a song -"Jamie Theakston"- remixed by LA MONJA ENANA. There's also a remix of the same song made by another Elefant band, LA CASA AZUL.
They continued playing live, including a 30 minute show for Spanish TV channel 2.
In November 2000 they included a song (a cover version of an 80's Spanish band called ALASKA Y LOS PEGAMOIDES) in a compilation released by American label March Records. Among the contributors, bands such as BAXENDALE, WALTZ FOR DEBBIE or CLUB 8.
2001

In march 2001, a new Elefant compilation ("Elefant dosmiluno") featured a brand new track by LA MONJA ENANA, called "Me enamoré de un robot".
In July 2001 they played Madrid's FNAC store with NIZA to premiere the "Elefant dosmiluno" sampler. In October they played Ocho y Medio club in Madrid.
The last months of 2001 were full of news related to LA MONJA ENANA: in November, Prentice Hall Publishing released in the States a text book called "Conexiones". The book is intended for Spanish learners, and includes two songs by LA MONJA ENANA: "Bajo tierra" and "Cartas de amor". Song lyrics are included in the book as well as pictures and information about the band. The songs themselves are included in the accompanying CD, to be used as listening exercises.
The band plays some gigs in Russia in December 2001, being probably the first Spanish band playing in that country. Apart from several shows in Moscow and Yekaterinbourg, they are included in the bill of the "International Electronic Music Festival" that takes place in the town of Izhevsk during December 1st and 2nd.
Back from their Russian trip, they play again Madrid's Ocho y Medio Club, this time with Elefant's THE PANCAKES (from Hong-Kong).
2002

On March 1st 2002, Ana marries Felipe from LOS FRESONES REBELDES: it's the pop wedding of the millenium! The day after, the young couple presents on stage their new band, COLA JET SET, in a night hosted by Juan de Pablos, along with bands like NIZA and SOUVENIR.
In March 2002 the band collaborates with Spanish synth-pop bands L-KAN and EL AVIADOR DRO in a collective album called "¡Qué mutada!", released by PIAS Spain. There are two songs composed and played by the three bands together, plus songs by each of the bands: LA MONJA ENANA contributes with two new numbers plus a new recording of "Por amor al arte" and a cover version of "El intruso", originally by EL AVIADOR DRO, sang by Servando Carballar (EL AVIADOR's singer). During April and May, the three bands will tour together all over the country to promote the album. There was even a website, www.quemutada.com, where one could find information on the project, tour dates, buy merchandising, etc.
Their second CD-Single, "Un cadáver que abre un ojo" ("A corpse opens an eye"), is out in November. The title shows Juan's admiration for fifties pulp novels.
The record is opened by "Números" ("Numbers"), an intricate novel about spies that transmit instructions to each other through combinations of numbers. Again, the scenery is a cold, grey and futuristic place, Orwell-like. To make the track complete, it features real recordings of short-wave voices repeating numbers. "Amor cuántico" ("Quantic love") is a romance story between two scientists, that gets complicated due to the problems of quantic mechanics.
"Los días de Perky Pat" is a new tribute to their beloved Philip K. Dick. Taking the title of one of his short stories, the song is about the difficult times gone through some settlers on their hard daily grind on Mars; the only way to escape is by taking massive amounts of hallucinogenic drugs. "Everything is sorted out by taking some soma", say the lyrics. It's funny how LA MONJA ENANA can create such funny, colourful songs out of quite lurid themes.
"Me enamoré de un robot" was originally included in the "Elefant Dosmiluno" compilation and remains as one of the band's highlights; a story of love and robotics that mix candour and venom in a superb way.
The closing number, "Estoy solo" is another futuristic fantasy told with much humour and cheekiness: the character is appalled to realise he's the only survivor of a nuclear disaster; but pretty soon his despair will turn into happiness when he starts noticing the advantages of the situation.
On November 29th they premiere the single at the Ocho y Medio Club in Madrid. With the club packed with people, LA MONJA ENANA proved once again that their special sense of humour, their willingness to have fun and entertain are their greatest strength.
2003

Ana is invited to sing one of TENDER TRAP's new songs played live at the gig this British band played in February in Barcelona.
In July the band take part in the premiere party of the famous TVE show La Bola de Cristal's retrospective book and record, at the Mond Club in Barcelona, where they also play at the FNAC store.
In August they play an Elefant Party along with JUNIPER MOON and COLA JET SET as part of the "Operación Bikini" parties held every year at the well-known club Siroco in Madrid.
LA MONJA ENANA take part in the Tribute to FAMILY album project, covering "Al otro lado".
2004-2005

In January 2005 they play the festivities celebrating the 25th anniversary of the mythical Radio 3 show "Flor de Pasión", directed by Juan de Pablos.
Whilst they keep working on new songs for their forthcoming releases, Juan and Ana play Paris' at the OPA club on May 5th 2005, at the official party launching the release of their first album for the French market. Avignon's record label La Bulle Sonore releases in France "Un secret terrible", a compilation comprised of their two singles, but which also adds to them a good handful of extras: songs taken from the "¡Qué Mutada!" project plus some other lost tracks and previously unreleased songs taken from their demos, as well as an additional track for the "Amor cuántico" videoclip.
Among the extra material included in this French compilation we can find lost tracks such as their cover version of FAMILY´s "Al otro lado" or "Otra dimensión", a cover version of the original song by Spanish afterpunk stalwarts ALASKA Y LOS PEGAMOIDES. Another demo that appears for the first time on "Un secret terrible" is the fantastic cover version LA MONJA ENANA did of Spanish underground dance hit "A por ti", originally sung by freakish gothic TV diva Tamara.
In September, this same compilation is released in Mexico through the Molecula Records label, under the title "Un secreto terrible".
2006

They play the Plastidepop Festival in Zaragoza, and also at one of the famous "En Plan Travesti" parties in Madrid.
By the end of the year LA MONJA ENANA include the song "Navidad" on the Christmas compilation "Cuentos de Navidad", the fourth volume of the yearly series "Teoría y práctica melódica" released yearly by Spanish label Jabalina, where they appear along other Elefant artists as CORAZÓN, MIRAFIORI or LA CASA AZUL.
2007
The band is going to enter the studio for the recording of their next record.
In March they will play in Siroco (Madrid) at the anniversary party of "Flor de Pasión", the radio show conducted by DJ Juan de Pablos in Radio 3.
2008

In April LA MONJA ENANA release their first album "Humo y espejos", filled with indirect messages to the world of science, literature, music and film. Both the title and the presentation of the album, a theatre illustrated in a pop-up digipak, make references to particular obsessions about appearance and reality, always concealed within the catchy melodies. Eleven songs and a cover of a Jonathan Richman song.
Text written by Belén of the group L KAN : The fact is, LA MONJA ENANA has numerous fans in Spain anxiously awaiting for the release of their album, "Humo y Espejo." We are folks who sell out their concerts, sing along to their songs and know the perfect gestures which go along with each line. We understand the references of Philip K. Dick and Jack Clayton in their older songs and with their brand new songs, we'll catch on to the references of Lemony Snicket in "Café Kafka" and of Jorgen Leth in "Humano Perfecto." We are people who admire how all of this may convert into a song and sound so great, catchy and melancholic at the same time. We are people who are elated that a group like LA MONJA ENANA exists, because, someone finally has written a song like "Heróes del Pasado" about the glorious oldies and because they dare with one of the most unusual songs by Jonathan Richman, "I'm a Little Dinosaur," offered as a bonus track on the album. I have the amazing luck to have heard and learned all of the new songs and that's why I must recommend, a part from the previous new songs mentioned, the catchy "Canción de Amor nº 3" a musical story about the things a technopop musician would do for love, with Battiato style guitars. The song "Ciencia Cotidiana" is about all of the scientific phenomena produced in our daily lives and is also another fine choice. Don't miss out on "Trucos de Salón," "Raccord," "Nomeolvides" or "Veinte Preguntas" all of these are fantastic songs about love, science and strange phenomena. This is one of the amazing things about LA MONJA ENANA: their terrific ability to speak about the rare stuff in life in a very simple and down-to-earth way.
In July, they travel to Mexico and Los Angeles to play a few shows with L-KAN in the most important cities [Mexico City, Monterrey, Tijuana and Los Angeles]. The concerts were a huge success with the audience.
In summer they make the video for the song "Trucos de Salón". The Escuala Trazos team, who has always known how to perfectly transmit the group's philosophy in images, directs the video. The video is filmed in the style of the movies from the 20s and 30s.
In December they perform in the Centro Andaluz de Arte Contemporáneo in Sevilla, in the "Cambiamos Música por Juguetes" cycle.
Discography in Elefant:
ER-320 LA MONJA ENANA "Pídeme un deseo" CD-Single (August 1999)
ER-346 LA MONJA ENANA "Un cadáver que abre un ojo" CD-Single (December 2002)
ER-1135 LA MONJA ENANA "Humo y espejos" CD (April 2008)

Discography in other labels:
BS-001 LA MONJA ENANA "Un secret terrible" CD (2005)
Songs in compilations:
- "Sintonía Flor de Pasión" and "Me da igual", in 20 AÑOS DE FLOR DE PASIÓN (CD Siroco, 1999)
- "Cartas de amor", in VERANO DEL 99 (CD ER-1062, 1999)
- "Estrella fugaz", in ELEFANTDIEZ (CD ERDL-001, 1999)
- "Cartas de amor", in 10 ANIVERSARIO SIROCO (CD Siroco, 1999)
- "Casa de muñecas (live)", in POP 2000 (CD Radio 3, 2000)
- "Otra dimensión" (cover version of a song by ALASKA Y LOS PEGAMOIDES), in LITTLE MOLLY HAS A TREAT FOR YOU (CD March Records, USA, 2000)
- "Me enamoré de un robot", in ELEFANT DOSMILUNO (CD ER-1083, 2001)
- "Me enamoré de un robot" and "Estrella fugaz", in MORZEFISH TOUR COMPILATION (Russia Cassette, 2001)
- "Los inocentes", "Criticar", "Por amor al arte" and "El intruso", in ¡QUÉ MUTADA! (CD Pias Spain, 2002)
- "Amor cuántico", in MODAPOP (CD ER-1094, September 2003)
- "Al otro lado", in HOMENAJE A FAMILY (CD SM-064, 2003)
- "Villapingüino", in MOMENTOS PERDIDOS (CD ER-1115, 2004)