26/03/2021
LA BIEN QUERIDA: Reissues in Vinyl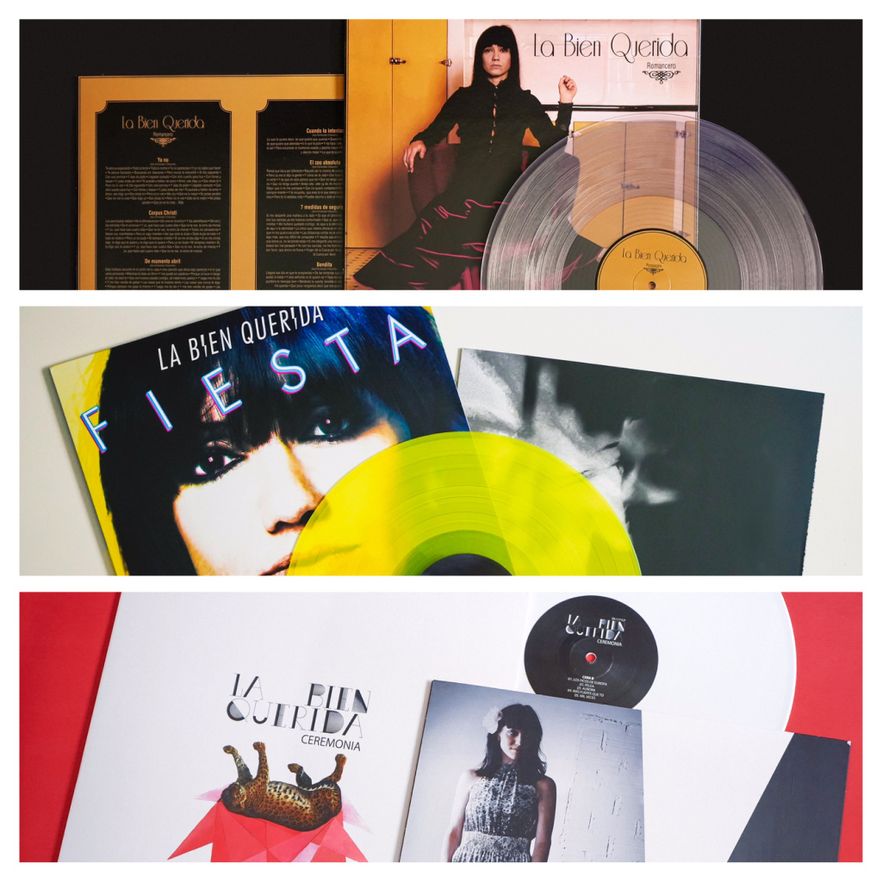 Vinyl collectors have been searching desperately for copies of LA BIEN QUERIDA's albums for a long time now, since they have been out of print for years. Here at Elefant, we are going to put an end to this situation, in reverse chronological order, in March, April and May, and with copies worthy of such a situation.
So, the first to come out, skipping over the recent "Brujería", will be "Fuego". Fire corresponds to the south, to the color red, to summer, to the heart. The fire of passion, of love and cholera, fire of the spirit and intuition. As Ana herself said: "It's an album that talks a lot about a desire that reaffirms life, pleasure, self-realization, freedom. The process of living established by desire. A desire that is not dark or confusing but luminous and clear". As with the original release, the album will be double black-color vinyl with a fold-out gatefold album cover. Songs like "Dinamita", "7 Días Juntos", "Recompensarte" and "Los Jardines De Marzo" make it clear just how great this album is.

This will be followed by "Premeditación, Nocturnidad y Alevosía", which will be released for the first time all together on vinyl, as the last release in this format was limited to just three Maxi-Singles of four songs each, which later comprised the final CD. It is a major work of art – complex, multi-faceted, dark. The perfect crime, an endless conspiracy. Once again, the fold-out cover does justice to that wonder that reveals itself little by little, made by Ana herself, and on green, double vinyl. "Poderes Extraños", "Muero De Amor", "Vueltas", "Alta Tensión" and "Disimulando" are marvelous songs that have been living in a special corner of our minds for many years.

"Ceremonia", the album that let the electronica loose, that overflows with devotion to NEW ORDER, the album where everything changed forever, will be released in the same exact format as the original vinyl, with a different cover for the vinyl and for the CD, each made by Ana as the connecting axis, and with songs like "A Veces Ni Eso", "Arenas Movedizas" and "Carnaval", which are now included in LA BIEN QUERIDA's greatest hits. The album will be white vinyl again.

"Fiesta" will also be the same as the original release, with a black vinyl, reminding us of that celebration, and making us think of how far we have come. This is the album that brought her initial success to its peak, and that definitively opened the world up to her, with its great songs like "Hoy", "Queridos Tamarindos", "Sentido Común" and "Noviembre".

And "Romancero" is where it all started. The one that introduced us to her talent, her ability to write unforgettable lyrics that forever touched our hearts. "De Momento Abril", "Corpus Christi", "9.6", "Bendita", "Golpe De Estado", "A.D.N."... 12 incredible songs on an album that is without a doubt one of the great Spanish pop classics of all times. A timeless album that originally, in 2009, was only released as a CD, and was re-released in 2014 as an LP, but the 500 copies made were all gone in seconds. This new release will be on transparent vinyl.
But it's not over yet; to close this collection of re-releases, we are putting out a very special, magenta-colored 7" Single with her most recent releases: "Un Gatito", her marvelous collaboration with the producer ALIZZZ (who has worked with Rosalía, C. TANGANA, Amaia, Andrés Calamaro and Jorge Drexler to name just a few), and her version of "Soy Rebelde" by Jeanette, which has recently been used in the ad campaign for "La Prohibida" cider.

2021 is going to be a very important year for LA BIEN QUERIDA and their songs are once again going to light up our darkest days. And while Ana finishes giving shape to her new album, which she is already hard at work on, all of these reissues will make the wait that much sweeter.