Biography
Few contemporary national bands have as much strength as KOKOSHCA, the trio from Pamplona.
Iñaki's voice, which is well accompanied by Amaia and Javi, transmits an intensity and spins vocal pirouettes that are difficult to compare to anything else coming from our geographical coordinates. The husky tone of GALLON DRUNK, the piercing pop spirit of LOS BRAVOS, the unclassifiable accent of PATRULLERO MANCUSO and the naturalness of the TV PERSONALITIES, echoes of wild garage, and the title of their single for New Adventures in Pop (after two limited-edition studio albums on CDR for the wonderful label Birra y Perdiz, a compilation of rare songs released on cassette by Nosotros Los Rusos and a digital-release live album) which already says everything.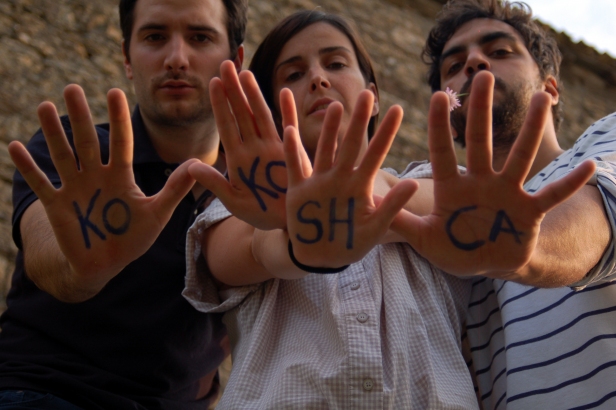 "La Fuerza" is truly marvelous. The compulsive and unrelenting passion that runs through the song's four minutes, the amazing interpretation by Iñaki, trap the listenerand hold them captive with those dark, unknown impulses the song talks precisely about. It is, quite simply, a masterpiece. "Nena" is an effective garage-pop song, with loose, furious riffs that is set up like a little tour de force, a crescendo of festive airs and brazen moments, that narrates the life of a girl who so admires the people around her that she hasn't had any time to admire herself, with that ending as elusive as it is unsettling. "Mi Chica Preferida" plays with those surf parameters in a similar way to what THE RAVEONETTES do, but with that almost hypnotic chorusthat repeats until you've had your fill: "Alísate el pelo, alísatelo ya"(Straighten your hair, straighten it now). Humor and treachery. Finally, on "El Bosque" they maintain the dosage of mystery, this time with keyboards in the mix as well as Amaia's voice, as if it were a soundtrack of a horror film, the search for shelter, where there are homages to SUICIDE, and to the shouts of Alan Vega in "Frankie Teardrop". "No sentirme sola al despertar en él" (To not feel lonely upon waking up in it). Martial minimalism, baroque ambience and spacial kraut-ness, for a band with a rock spirit and undying energy, full of chiaroscuros that make an exercise of getting an unpredictable and undescribable experience inside their music. We hope this single helps turn so many of you into KOKOSHCA FANS. We already have.