18/03/2016
JUNIPER MOON: Double-LP vinyl release of their first album with extra tracks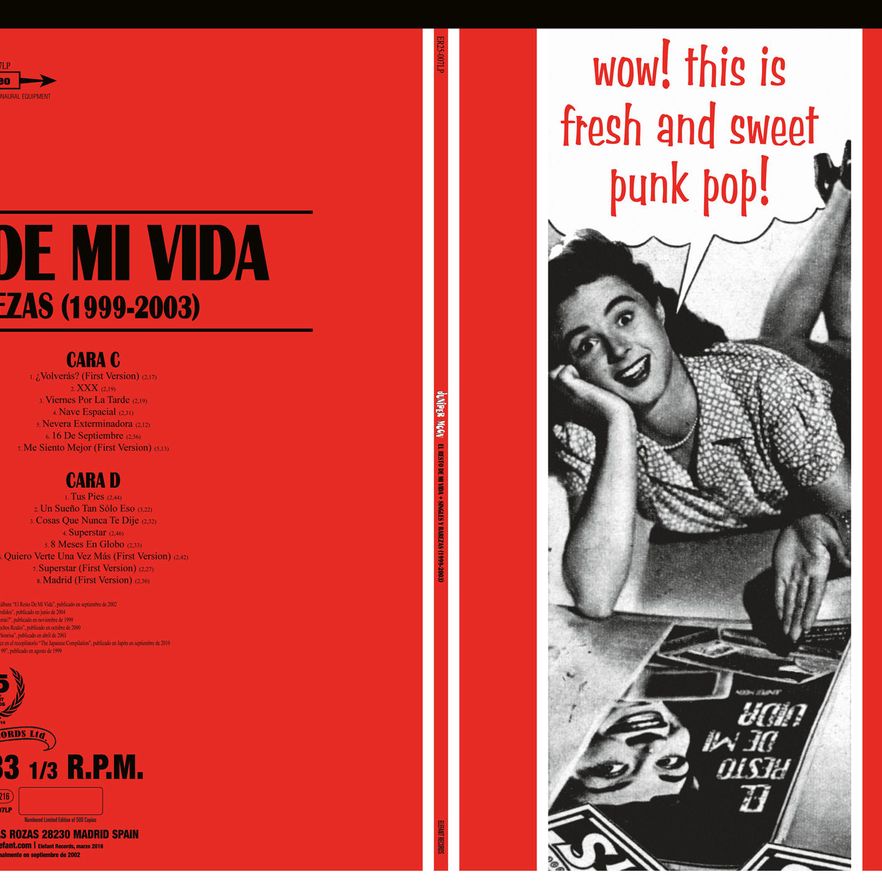 JUNIPER MOON "EL RESTO DE MI VIDA + SINGLES Y RAREZAS (1999-2003)" Elefant Records 25th Anniversary Collection
JUNIPER MOON's story was brief but intense. In their short eight years of history (in which they only released material between 1999 and 2003) they managed to earn themselves an important legion of fans in our country, as well as considerable international recognition, as Steve Lamacq (BBC), Ken Stringfellow (THE POSIES) and Sean Tyler (Rough Trade) all publicly stated, or as we can judge by their participation on important complications, like that "Indiepop 1", on which they shared grooves with PRIMAL SCREAM, THE JESUS AND MARY CHAIN, MY BLOODY VALENTINE, FELT and MCCARTHY, to name just a few. Their speedy, energetic punk-pop was an injection of energy like that of few groups we have heard. That's why bringing back their songs on this vinyl re-release of their only album, "El Resto De Mi Vida", is such an immense joy. Joy that is made even greater with the inclusion of all the songs from their singles, their contributions on compilations, and even demos and early versions. This is another re-release in the commemorative series for Elefant Records' 25th anniversary, giving shape to a collection which includes re-releases from FAMILY, LA CASA AZUL, COOPER, LE MANS and THE SCHOOL.

We don't need long introductions to talk about the songs from that album produced by Carlos Hernández. Their speedy, hyper-melodic sound can make you think in equal parts of TALULAH GOSH or LOS PLANETAS, of THE AISLERS SET or SHOP ASSISTANTS, of the RAMONES or of FASTBACKS. Songs like "¿Volverás?", "Me Siento Mejor", "Madrid" and "Sólo Una Sonrisa" have already earned a place in the pantheon of the best Spanish pop of the last thirty years. When "¿Volverás?" was released and Juan De Pablos began to play it compulsively, we all knew that the quintet from Ponferrada (León) had an exciting, promising future. Their stops at several festivals (Contempopranea, Benicassim, Lemon Pop...), and their constant presence on the best radio stations and the best programs, their appearance on the most prestigious year's best lists (LaNetro, Mondosonoro, Rockdelux, even Rough Trade themselves!) all attested to it. The international recognition, the singles and compilation albums with Josef K and PRIMAL SCREAM, among others, were the cherry on top, the chronicle of a hit foretold. Lamacq was already playing them with "¿Volverás?" and Tyler admitted that he decided to learn Spanish so that he could enjoy "El Resto De Mi Vida" in its original version, and affirmed that he played the album in Rough Trade (Portobello) every single day for more than two months. Unfortunately, in 2005, at a peak in their career and with only one album released, JUNIPER MOON broke up, leaving behind hopes and dreams, but also a handful of memorable songs.

That's why this numbered, limited-edition, double vinyl release also includes all the songs from the singles "¿Volverás?" (1999), "Basado En Hechos Reales" (2000), and "Sólo Una Sonrisa" (2003), which include early versions of "¿Volverás?" and "Me Siento Mejor". And if we add to that the songs taken from the Elefant compilation "Momentos Perdidos" (2004) and "Verano Del 99" (1999), plus two really early versions of "Quiero Verte Una Vez Más" and "Superstar", originally published on a Japanese compilation in 2010 on the Waterslide Records label, we find ourselves with a super complete release of all the songs ever recorded by JUNIPER MOON. Many of these songs had never been out on vinyl before.

Since their disappearance in 2005, JUNIPER MOON have continued making hits and recruiting new fans all over the world. Especially in Japan, where in 2010 they released that compilation we mentioned in the previous paragraph, which included all their singles along with previously unreleased songs and a few live recordings; or in the U.S., where their song "¿Volverás?" was used in a 2014 TV and radio campaign for the country's biggest mobile phone service provider, Verizon Wireless. Movies, TV shows, even reality shows like MTV's "Alaska y Mario" have used JUNIPER MOON songs on various occasions.
Listening to these songs with hindsight gives us the feeling that time goes as fast as a JUNIPER MOON's song. And we can be happy that they haven't lost even a drop of their energy along the way. Iván and Eva are still going strong in LINDA GUILALA. We are also trying to keep fighting with the youthful energy that defined us 25 years ago. And we hope that the effects of bringing back this incredible collection of songs has a similar effect on you all. We're sure it will.